Nakoula Basseley Nakoula Sentenced To A Year In Jail For Probation Violations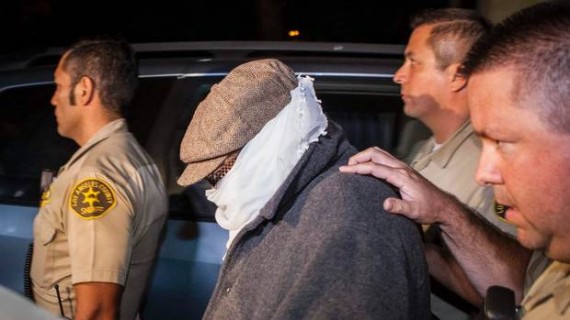 The producer of a controversial anti-Muslim film that led to anti-American riots in several Muslim nations back in September, and who was arrested on charges that he had violated the terms of his Federal Probation shortly thereafter, has been sentenced to a year in jail:
LOS ANGELES (AP) — The California man behind an anti-Muslim film that led to violence in many parts of the Middle East was sentenced Wednesday to a year in federal prison for probation violations in an unrelated matter, then issued a provocative statement through his attorney.

The sentence was the result of a plea bargain between lawyers for Mark Bassely Youssef and federal prosecutors. Youssef admitted in open court that he had used several false names in violation of his probation order and obtained a driver's license under a false name. He was on probation for a bank fraud case.

Shortly after Youssef left the courtroom, his lawyer, Steven Seiden, came to the front steps of the courthouse and told reporters his client wanted to send a message.

"The one thing he wanted me to tell all of you is President Obama may have gotten Osama bin Laden, but he didn't kill the ideology," Seiden said.

Asked what that meant, Seiden said, "I didn't ask him, and I don't know."

U.S. District Court Judge Christina Snyder accepted the plea agreement and immediately sentenced Youssef after he admitted to four of the eight alleged violations, including obtaining a fraudulent California driver's license. Prosecutors agreed to drop the other four allegations under the plea deal, which also included more probation time.

All parties agreed that none of the violations had to do with the content of "Innocence of Muslims," a film that depicts Mohammad as a religious fraud, pedophile and womanizer.

However, Assistant U.S. Attorney Robert Dugdale argued Youssef's lies about his identity have caused harm to others, including the film's cast and crew. Deadly violence related to the film broke out Sept. 11 and spread to many parts of the Middle East.

"They had no idea he was a recently released felon," Dugdale said Wednesday. "Had they known that, they might have had second thoughts" about being part of the film.
Based on the allegations against him, it seems fairly clear that Nakoula, who apparently also goes under the name Youseff along with a number of other aliases, had violated the terms of his probation so I don't necessarily have a problem with the sentence. However, I find myself agreeing with Jonathan Turley about the manner in which this entire story unfolded:
When the Administration arrested Youssef, it seemed to go out of its way to be sure that there were ample opportunities for filming him being dragged way in cuffs — an image that was immediately broadcast around the world. It sent a chilling message to some that the government can generally find some grounds to punish you when you cause a controversy — even if you are not prosecuted for the underlying speech itself. Violations of probation conditions are quite common and rarely result in re-incarceration. Probation terms tend to be sweeping and most such violations result in warnings or brief appearances before the court.

None of this excuses Youssef's actions, particularly in his acquiring of the driver's license. Yet, the speedy arrest (and now conviction) leaves many civil libertarians uneasy as to whether the Administration found a way to "hoist the wretch" by other means than blasphemy.
Ken at Popehat, who is a Los Angeles attorney familiar with the criminal proceedings in Federal Court there, makes similar comments:
Mr. Nakoula's revocation proceedings required a probation officer (an employee of the judicial branch) to file a revocation petition and Judge Snyder (also in the judicial branch) to approve it. If the Obama administration — the executive branch — contacted the United States Probation Office and pressured the probation office to file revocation proceedings because Nakoula made the film, I think there should be a Congressional inquiry. I'm aware of the statement by Charles Woods, the father of the Navy Seal Tyrone Woods who was killed by terrorists in Benghazi, who says that Secretary of State Hillary Clinton told him that the government would punish the filmmaker. Mr. Woods is justifiably furious with the administration and Ms. Clinton's words to him are not to be taken at face value, so this report is not conclusive evidence to me. But it's a piece of evidence, and Congress might think it sufficient to start an inquiry. Under existing selective prosecution law it might not beunconstitutional for the administration to suggest that Nakoula's supervised release be revoked for conduct that would get anyone else revoked. Nakoula's conduct is absolutely the sort that does, and should, routinely result in revocation of supervised release. But we should know whether or not the administration had a hand in it, and there should be consequences — even if they are only political — if they did.
I tend to agree. There is such a thing as prosecutorial discretion, and not every Probation violation gets the kind of immediate attention that Nakoula's did here. If there was pressure from the Executive Branch on the Judicial Branch to go after Nakoula because of the international attention that had been drawn to him, then that's something that we ought to know about.