Glenn Reynolds Calls for Obama to Resign
Apparently, questioning someone who may have violated their probation on the way to contributing to a series of international incidences is a major civil liberties violation.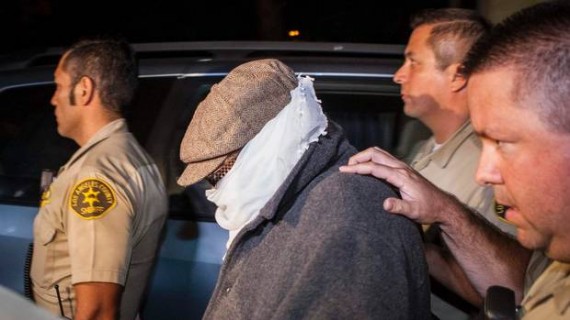 As Doug Mataconis noted earlier today, the filmmaker behind the Innocence of Muslims,  Nakoula Basseley Nakoula (aka, Sam Bacile) has been taken into custody for questioning.  Nakoula is currently on probation for bank fraud.  Doug notes:
Under the terms of his probation, Nakoula is essentially required to cooperate with any request from his Probation Officer to appear for questioning, so he really had no choice as to whether or not he was going to appear. Additionally, if he has violated the terms of his probation then he could be in danger of being sent to Federal Prison to serve out his sentence. So, legally, there was nothing improper about what his Probation Officer(s) did here.
Ok, so here's the deal as I see it at the moment:  Nakoula is behind a film that is supposedly the motivation behind rioting in various Muslim countries and is possibly part of the motivation behind actions that lead to the death of several Americans, including the US' ambassador to Libya.  Nakoula plead guilty to a federal crime and is on probation for said crime and may have violated the terms of his probation and is obligated to speak to authorities.  The authorities have decided to exercise those rights and talk to  Nakoula.
This is problematic how?  Surely, given the situation, there are reasons to want to speak to Nakoula to find more out about the film.  Such questioning does not violate his right to hold unpopular views nor does it stop him from sharing them.  And the only reasons such questioning exists as an option is because Nakoula plead  guilty to federal crimes.   This is not the authorities dragging someone away simply because he made a controversial film.
It is worth underscoring the following(via the LAT and quoted by Doug in the linked post) :
The probation department is reviewing the case of Nakoula, who pleaded no contest to bank fraud charges in 2010 and was banned from using computers or the Internet or using false identities as part of his sentence.
So, it is possible that he violated the terms of his probation in making this film.  How is it problematic that he would be questioned in this context?
Given the probation situation in the context of a federal crime, is it not due diligence to question the man?  What if he actually has information that is relevant to the situation and he was not questioned, despite the perfectly legal opportunity to do so?  Would that be proper? Would that not be grounds for criticism of a different type?
I am willing to reassess this initial reaction, but I am not seeing a major civil liberties issue here because of the probation situation.
Glenn Reynolds, however, thinks that the president should resign over this issue:
By sending — literally — brownshirted enforcers to engage in — literally — a midnight knock at the door of a man for the non-crime of embarrassing the President of the United States and his administration, President Obama violated that oath. You can try to pretty this up (It's just about possible probation violations! Sure.), or make excuses or draw distinctions, but that's what's happened. It is a betrayal of his duties as President, and a disgrace.
Ok, so because LA County sheriffs wear khaki colored uniforms (as do many law enforcement officers across the country) that justifies conjuring, multiple times in the post, images of Nazis paramilitaries?  This strikes me as inappropriate, to be kind.
Also, I find it odd (and profoundly partisan) for Reynolds, a law professor, to gloss over the probation issue.   I am trying to understand why Nakoula wouldn't be brought in under these circumstances.  And, further, I am thinking that law enforcement would be rightly criticized for not taking the chance to legally speak to Nakoula.  How this amounts to a major civil liberties violation that should result in a presidential resignation is profoundly unclear to me.
I would be objecting had Nakoula been picked up by authorities simply for making a controversial film.  That he is a confessed felon on probation changes this equation because it means that Nakoula himself created the legal opening for his subsequent questioning—especially since the posting of a film online would appear to have violated the terms of said parole.
I also find it disingenuous that Reynolds is suggesting that the President directly ordered the LA County sheriffs to bring in Nakoula, because it doesn't work that way.  But why let such things get in the way of a good narrative?
To sum up:  the authorities have the legal means to question a person directly responsible for a film that is currently linked to massive rioting in a number of countries and not only should the authorities not exercise that right, but the president should resign because of this option?   Did I get it right?
Update:  (Based on a comment I posted below):
One last general thought: if Reynolds had simply noted the story and expressed reservations about the event, as Doug did in his post, that would have been a legitimate response.  I am sympathetic to concerns about law enforcement overstepping its authority as a general proposition.
But, instead we get: "By sending — literally — brownshirted enforcers to engage in — literally — a midnight knock at the door of a man for the non-crime of embarrassing the President of the United States and his administration, President Obama violated that oath." This then leads to a call for the president's resignation.
If one cannot see how this is hyperbolic and unreasonable, I suspect I will be unable to persuade you otherwise.
How the questioning of a felon on probation for 90 minutes (which was done voluntarily, according to press accounts) is equivalent in any way to Nazism (which, in case anyone does not know, is what the brown shirt reference is) does not understand what Nazism was. Since I would like to think that a person with a professorship at a major university ought to have at least a passing understanding of the concept of Nazism, I find Reynolds worthy of criticism on that count. That he considers me noting this as a form of hackery in an update to his post is telling because it is a non-response (also mischaracterized my post as calling this as being "routine" which I did not).