Christine Fox, 'Top Gun,' and the Casual Sexism of 1985
Christine Fox, the real-life inspiration for Charlie of "Top Gun," and the casual sexism of 1985.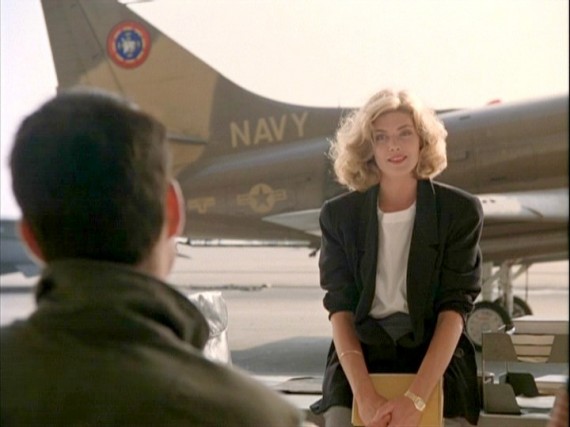 Erin Simpson, who earned the nickname "Charlie" as a civilian professor teaching Marines, passes on an article from way back in 1985 on Christine Fox, the real-life woman was was the inspiration for the "Charlie" character in "Top Gun." Aside from the interesting back story, the casual sexism is comical.
When the fighter pilots at Miramar Naval Air Station in San Diego hear the sound, they snap to full alert. Click. Radar operators close their eyes and just listen, knowing precisely what is coming their way. Click. Click.

High heels in the hallway. Softer than a sonic boom, less penetrating than an F-14 afterburner, the footsteps of 6′ Christine Fox, 30, nevertheless carry the impact of a preemptive strike. "They always know when I'm coming," she says with a sigh, "because I'm one of the few people around here whose heels click."

To Navy aviators—described by one of their own as "chauvinistic, macho, self-centered, overzealous, close-minded, hardheaded, egotistical and highly capable"—the sight of Fox striding through headquarters is as enjoyable as a scared MiG pilot running for home.
It gets better:
Fox is a civilian employee of the Center for Naval Analyses (CNA), a Navy think tank. In 1983 she was dispatched to the West Coast to serve on the staff of the admiral who commands airborne early-warning and fighter aircraft for the U.S. Pacific fleet. Says Capt. Monroe Smith, until recently the operations officer for the wing: "She's the smartest woman I've ever met. I like women for a lot of things and being smart isn't usually one of them."
And then there's this:
In fact, the unmarried Fox has never become involved with an aviator, a state of affairs that has not gone unnoticed by the aviators. Captain Smith figures that "she's a genuine straight arrow." Comdr. Harry Hunter, who works in the same office, says "She's so professional that her looks don't become a point of interest. When she walks in you say 'wow,' but 30 seconds later you're talking business."
And, well, sigh:
Lt. Linda Speed, an administrative officer at the TOPGUN school, has another theory on sex and the single pilot. "These guys compartmentalize their lives," she says. "Flying is in one box. Women and dating are in another. Sometimes it's hard for them to put work and women in one box." The atmosphere at TOPGUN is so masculine that when Fox walks over on business, the guards sometimes ask whether she's there to pick up her husband's check.
Oh, and this:
Fox is in the final days of her tour at Miramar; this week she returns to CNA headquarters in Alexandria, Va., where she will work as a research study director. When she arrived two years ago, says Commander Hunter, the attitude in operations was, "God, we're going to get stuck with a girl." Now that she's being replaced, he says, the attitude is, "God, we're going to get stuck with a guy."
What ever became of Fox, call sign "Legs"? She went on to become president of CNA and has, since November 2009, served as Director, Cost Assessment and Program Evaluation at the Pentagon. She's stepping down later this year. No word on her next assignment.