Miramar Air Show Canceled. Just Because, That's Why.
The Pentagon has canceled a popular air show even though it operates at a profit and takes place next fiscal year.
UPDATE: The story is getting substantial pushback in the comments to the effect that, even if the air show is raking in sufficient money to pay for the flyovers, it doesn't follow that the air show is paying for the flyovers. Indeed, as a Marine lawyer notes, they really can't. That is, there's no way for a private air show to pay for military jet fuel or the time of military pilots.  These are indeed fair points.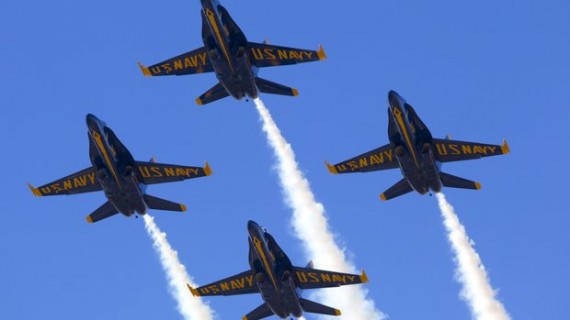 The Pentagon has canceled a popular air show even though it operates at a profit and takes place next fiscal year.
San Diego Union-Tribune ("Miramar air show grounded"):
The Pentagon has grounded military flights for the Miramar Air Show, making it unlikely that the popular annual event will take place this year.

Marine Corps Air Station Miramar was informed Friday that the Defense Department has rejected the station's request for military flight demonstrations, Capt. Anton Semelroth, a Miramar spokesman, said in a statement.

The reason given was department-wide budget cuts as a result of sequestration. The Pentagon comptroller announced in March that all aerial demonstrations would be grounded starting April 1.

"That policy has not changed," according to the July 11 decision letter signed by Rene C. Bardorf, deputy assistant secretary of defense for community and public outreach. "In fact, no flyovers or aerial demonstations have taken place except those in support of active duty funerals and the repatriation of remains of those formerly missing in action."

Problem is, the Miramar Air Show makes money. Marine Corps and Defense Department officials were unable to provide a detailed accounting of costs and net revenues Friday, but past air shows have brought in more than $17 million, according to estimates.

"There is no reason financially to cancel any of this," a Pentagon official told U-T San Diego, asking not to be named because of the sensitivity of the topic. "This is very political. It's all administration appointees wanting to create clamor. They're trying to blame this on Congress, when it's their fault."
Certainly, Congress deserves a lot of blame for its inept approach to fiscal austerity. But this certainly sounds silly on its face: the show makes money. And, in any case, it takes place at the beginning of the next fiscal year, which hasn't yet been slated for sequestration (although it almost certainly will unless there's an unexpected clue transfusion).
Despite plans to use only local aircraft units to limit costs, "the perception of permitting aerial demonstrations at the Miramar Air Show when similar justification was denied for the academy graduations is problematic since neither event rises to the national or international level of significance," according to Bardorf's decision letter.

It stated that the air show would cost the Defense Department an unspecified amount. Pentagon officials were unable Friday to immediately explain the discrepancy over costs, since Bardorf and others are on furlough because of the budget cuts, a spokesman said.
That's funny right there, I don't care who you are.