Civil-Military Relations and Partisanship
Many commenters on civil-military relations change their tune according to whose ox is gored.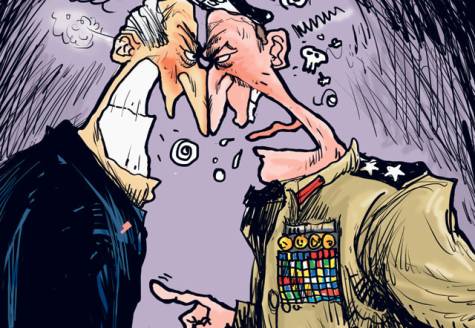 Andrew Exum publishes this email from a "particularly careful student of civil-military relations":
How many of the people who think we have a serious civil-military problem because the military is controlling Obama (or whatever word one wants to use) also a) complained when Shinseki spoke out about the Iraq war strategy, b) thought Rumsfeld was correct in general to ride roughshod over the generals in 2001-2003, and c) thought that the generals complaining about Bush's Iraq strategy should have piped down and been quiet?
Ex retorts that "we should always be having a dynamic debate about these issues lest we grow complacent" but concedes that "it's worth noting how partisan preferences shape when and how people choose to get their panties all up in a twist on this."  In an update, he cites some inconsistent postings on the matter from Andrew Sullivan.
Fair enough.  But I would contend that the examples given by the civil-military relations student aren't drawn with particular care.
a) Eric Shinseki was the Army Chief of Staff and was testifying under oath to the Congress, which is charged with overseeing and funding the armed forces under Article I of the Constitution.   Asked a direct question about how many forces he believed, in his professional opinion, were necessary to complete the mission in Iraq, he gave it.    Even though I was by that time a proponent of the war, it never occurred to me that Shinseki did anything other than his duty.
b) Donald Rumsfeld was the Secretary of Defense and had every right to "ride roughshod over the generals" who he correctly thought were fighting for institutional perquisites against his preferred vision for transforming the military.  He did it in a particularly demeaning manner which was counterproductive to his aims and insulting to men with decades of honorable service.  Bob Gates has demonstrated that its easier to catch flies with honey than vinegar, having managed much more severe cuts in programs desired by the Services through deft internal maneuvering.
c) For the most part, the generals in question were retired from active duty.  I wrote several posts at the time, both defending their legal right to do so and worrying about the impact on civil-military relations.   The problem was the perception that the generals were speaking for their former institutions rather than giving their personal opinions.  This was especially true for generals very recently departed from active service.
One of Ex's commenters recommends Colonel Matthew Moten's essay in the current issue of Foreign Affairs, "Out of Order: Strengthening the Political-Military Relationship."  I read it on the plane last week and second the recommendation.  It is, alas, not yet available online for non-subscribers but should be released once the next issue hits the stands.  It addresses some of the issues above in detail.
Image Credit: Nino Jose Heredia, Gulf News