Eric Shinseki Out As Secretary Of Veterans Affairs
Eric Shinseki resigned as Secretary of Veterans Affairs this morning, to the surprise of absolutely nobody.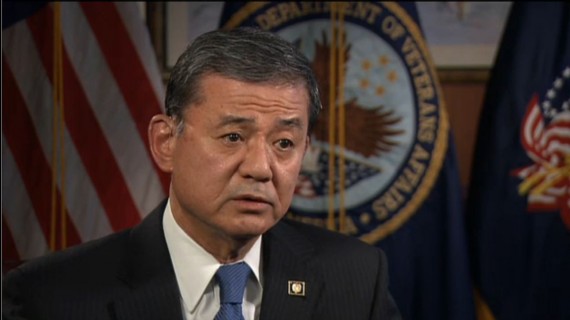 To the surprise of absolutely nobody, President Obama announced this morning that he had accepted the resignation of Secretary of Veterans Affairs Eric Shinseki in the wake of the widening scandal involving the V.A.'s health care system:
WASHINGTON — Eric Shinseki resigned as secretary of the Veterans Affairs Department Friday after meeting face-to-face with President Obama about mounting evidence of widespread misconduct and mismanagement at the agency's vast network of medical facilities.

In a statement Friday morning after the meeting, Mr. Obama said that Mr. Shinseki had offered his resignation from the post he has held since the beginning of the president's administration. "With regret, I accepted," Mr. Obama said.

"He has worked hard to investigate and identify the problem," the president said, adding that Mr. Shinseki told him that "the V.A. needs new leadership to address it. He does not want to be a distraction."

Mr. Shinseki, 71, had said for weeks that he wanted to stay in his job to confront accusations that officials at the department's hospitals had manipulated waiting lists to cover up long delays in scheduling appointments for thousands of veterans.

In a speech Friday morning to a veterans group, he apologized and described his agency as having "a systemic, totally unacceptable lack of integrity." He vowed to fix what he called a "breach of integrity" and said he had already initiated the firing of top managers at the V.A. medical center in Phoenix, where allegations of mismanagement first surfaced.

But his contrition and promises of action came too late to save his job.

In an interview for the "Live With Kelly and Michael" show that aired before he met with Mr. Shinseki, Mr. Obama said he was preparing for a "serious conversation" with his cabinet secretary about "whether he thinks that he is prepared and has the capacity to take on the job of fixing it." The meeting took place Friday morning in the Oval Office.

A preliminary report released Wednesday by the department's inspector general corroborated many of the most disturbing accusations and offered a grim portrait of widespread mismanagement at the medical center in Phoenix. The report said investigators were finding similar problems at other veterans hospitals around the country.

"Our reviews have identified multiple types of scheduling practices that are not in compliance with VHA policy," the report's investigators wrote, adding that "inappropriate scheduling practices are systemic" across the system.

President Obama said last week that he would wait for the results of several investigations into the hospital allegations before taking any action to hold Mr. Shinseki or other officials accountable. And until this week, several top lawmakers in both parties said they continued to have confidence in Mr. Shinseki to remain in charge.

But that support from Capitol Hill began to crumble Wednesday evening as lawmakers digested the inspector general's report. Senator John McCain of Arizona, a Vietnam veteran and a Republican defender of Mr. Shinseki's, called for him to resign, and several Democratic lawmakers became the first to break ranks and also demand his departure.

"After seeing the report released today, I believe Secretary Shinseki should step down," Representative Carol Shea-Porter, a Democrat from New Hampshire, said in a statement late Wednesday. "We need new management at the V.A. to lean hard on wrongdoers and clean house wherever necessary."

Like many in Congress, Ms. Shea-Porter described Mr. Shinseki as "a great man and a war hero," and thanked him for his service. A Vietnam veteran who lost part of a foot after stepping on a land mine during combat, Mr. Shinseki rose to become a general and the chief of staff for the Army.

But the quiet and reserved officer who had made many friends among members of Congress appeared to have run out of time as the hospital scandal dragged on.
As I stated earlier this week, it was clear that Shinseki's days were numbered long before he walked into the Oval Office this morning. While there is no evidence, and no suggestion, that Shinseki was personally aware of the secret waiting lists and other abuses that have been discovered at the VA hospital in Phoenix and the problems that were evident elsewhere in the country, it happened under his watch and the fact that he was apparently unaware it was happening at all casts his abilities as an executive in a bad light. He also fell fall short of implementing the reforms to the health care system that were being talked about when he took office, and indeed long before them. President Obama was correct to point out that Shinseki did accomplish many good things in his time at the department, but this is a major failure that is likely to only get worse when more information comes out. More importantly, though, Shinseki was doomed because he lost the confidence of Congress. By the end of the day yesterday, it appeared as though there were more Democrats calling for him to step down than there were Republicans, meaning that nobody on Capitol Hill was going to protect him from the inevitable firestorm he would face in the future if he stayed. We got a preview of that Wednesday night during an unusual late night session of the House Veterans Affairs Committee where Members of Congress on both sides were being very harsh in the criticism and questioning of the Veterans Affairs Department witnesses before them. If Shinseki had not voluntarily stepped aside, President Obama would have eventually had to do so himself, and that would have been an unfortunate end to a career that began in the Army some 50 years ago.
I was somewhat surprised that the President didn't have a successor ready to name today when he announced Shinseki's resignation. The end game in this affair was self-evident at least a week ago if not longer, and one has to assume that advisers in the West Wing had begun the process of talking about potential replacements even before that. Having a successor to name at the same time that you're announcing a resignation that came about as a result of an embarressing and potentially political damaging scandal seems like it would be the politically smart thing to do. Of course, given that it's a Friday it's possible that the White House decided that it would be better to announce a replacement in a separate event on a day other than one that is, as The West Wing famously put it, 'Take Out The Trash Day.' For the time being, the agency will be run by Shinseki's chief deputy and, no doubt, everyone will be paying attention.
Inevitably, of course, speculation will soon turn to who might replace Shinseki for the remainder of President's term. While the Department of Veterans Affairs isn't exactly a high profile position in the Cabinet, the appointment of its Secretary has typically been politically important due to the strength of the various veterans organizations in Washington and, of course, the veterans' vote.  Since the department was established during the George H.W. Bush Administration, every single appointed Secretary of Veterans Affairs (not including those who have served as Acting Secretary for short periods following a resignation) has had some military service experience. One presumes that the White House will want to continue with this tradition. Additionally, given the nature of the current scandal it would seem that someone with a relatively high profile that could make it through the Senate easily would be the ideal candidate. That is admittedly not a very long list. Some of the names I've heard mentioned as potential replacements, such as former Senator John Warner or Colin Powell, might not be the right fit because of their age. Others, such as David Petraeus, have too much baggage from previous positions to make an appointment viable. One name that might have some potential is former Virginia Senator Jim Webb, who briefly served as Secretary of the Navy under Ronald Reagan, although that appointment didn't go so well when he butted heads with the White House because he didn't think they were expanding the Navy fast enough. Webb served in Vietnam and has long worked on veterans issues even when he wasn't in public office. Whether he'd be willing to take the job is another question entirely. Another possibility is Congresswoman Tammy Duckworth, an injured Iraq War vet who worked at the agency before running for Congress, and winning, in 2012. It strikes me, though, that whoever the nominee is, it will have to be someone with a credible record of executive experience. I'm not sure Duckworth fits that requirements. In any case, I suspect that we won't have to wait too long for the announcement of a nominee.