Clarence Thomas Worries Respect for Institutions Fading
In other news, there's gambling going on at Casablanca.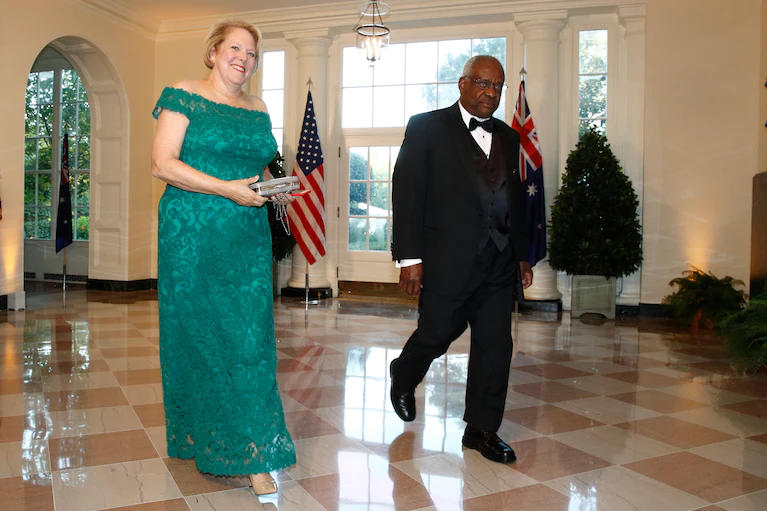 WaPo, "Clarence Thomas says he worries respect for institutions is eroding"
Justice Clarence Thomas said Friday that the judiciary is threatened if people are unwilling to "live with outcomes we don't agree with" and that recent events at the Supreme Court might be "one symptom of that."

Thomas, speaking to judges and lawyers at the 11th Circuit Judicial Conference, did not speak directly about the leak of a draft opinion that would overturn Roe v. Wade, a colossal breach of the court's procedures.

But he referred a couple of times to the "unfortunate events" of the past week, and in a question-and-answer session led by a former clerk, he said he worried about declining respect for institutions and the rule of law.

"It bodes ill for a free society," he said. It can't be that institutions "give you only the outcome you want, or can be bullied" to do the same, he said.

The court's longest-serving justice said he also worried about a "different attitude of the young" that might not show the same respect for the law as past generations did. "Recent events have shown this major change," he said.
In the abstract, I agree with Thomas here: we have an independent judiciary and the highest court is routinely going to be asked to settle very hard questions, often balancing strong competing interests. If we're going to have tantrums—threatening to pack the court or to simply ignore its rulings—every time an opinion comes down that we don't like, the rule of law is diminished.
But, of course, none of this is happening in a vacuum.
The process for vetting, nominating, and confirming federal judges—and, especially, Supreme Court justices—has become increasingly politicized. Thomas himself was seated despite credible sexual harassment allegations. A Democratic President was denied a hearing on a nominee in order to hold the seat open. And then a Republican President who lost by two million votes was able to fill that seat and two more—including an 11th-hour appointment to replace the court's liberal lion.
Presuming the leaked draft opinion holds, Thomas and four others—three of whom were part of the aforementioned tranche—will have violated one of the most sacred tenets of his institution in overturning a 49-year-old precedent that established a new Constitutional right. And done so in a rather sneering manner.
And that's to say nothing of the attempt to steal a goddamn presidential election in which Thomas' wife was an active participant and he at least a silent bystander. Talk about your "bullying" and lack of respect for institutions!