Clinton Acting Like She Won, Alienating Bernie Fans
Backers of the losing candidate for the Democratic nomination are surprised that they're not getting their way.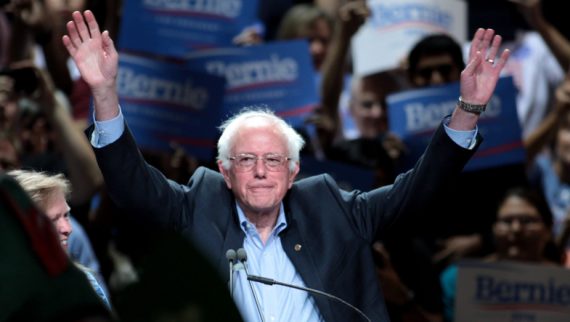 Two POLITICO stories circulating today have me bemused.
Bernie Sanders delegate Bill McKibbin charges that "The Clinton Campaign Is Obstructing Change to the Democratic Platform."
The Democratic platform process is finally underway, and the main issue is this: Did the campaign of Bernie Sanders really alter the Democratic Party? The answer is not yet entirely clear, but on many key issues so far the Hillary Clinton campaign has been unwilling to commit to delivering specifics about fundamental change in America, which have been at the heart of Sanders' campaign.

I've had a front-row seat to the first round of the process, as 1 of 5 delegates Sanders named to draft the platform. (The Clinton campaign named six, and Debbie Wasserman Schultz, chair of the Democratic National Committee, added four more.) We spent two weeks listening to powerful testimony from citizens around the country, and then on Friday in St. Louis we started taking votes.

And it was there that the essential dynamic quickly emerged. The Clinton campaign was ready to acknowledge serious problems: We need fair trade policy, inequality is a horrible problem, and unchecked climate change will wreck the planet. But when it came to specific policy changes, they often balked. Amendments against the Trans-Pacific Partnership trade agreement and backing Medicare for all failed, with all the Clinton delegates voting against.

At which point we got (about 11 p.m., in a half-deserted hotel ballroom) to the climate section of the platform, and that's where things got particularly obvious. We all agreed that America should be operating on 100 percent clean energy by 2050, but then I proposed, in one amendment after another, a series of ways we might actually get there. A carbon tax? Voted down 7-6 (one of the DNC delegates voted with each side). A ban on fracking? Voted down 7-6. An effort to keep fossils in the ground, at least on federal land? Voted down 7-6. A measure to mandate that federal agencies weigh the climate impact of their decisions? Voted down 7-6. Even a plan to keep fossil fuel companies from taking private land by eminent domain, voted down 7-6. (We did, however, reach unanimous consent on more bike paths!)

In other words, the Clinton campaign is at this point rhetorically committed to taking on our worst problems, but not willing to say how. Which is the slightly cynical way politicians have addressed issues for too long—and just the kind of slickness that the straightforward Sanders campaign rejected.
I mean, it's almost as if Clinton thinks she, not Sanders, is the nominee and is crafting the platform under which she's running for president around her policy views rather than his. The nerve!
A longform piece by Bill Scher examining "The Left's Beef With Tim Kaine" is more of the same.
As many as 22 million potential voters in November are thought to be Sanders-leaning Democrats, and they're looking for evidence that Clinton is paying some heed to the surprisingly strong insurgency of the socialist from Vermont. Bernie's success was a clear anti-establishment uprising, strong enough that his supporters expect their agenda will now help shape the future of the party. But choosing Kaine may send them the opposite message: This is her party now, and you aren't the ones calling the shots.
But it is. And they aren't!
Since when did the losing side get to write the platform and dictate the vice presidential pick?
Oddly, the major press is egging them on by pretending that the race isn't over.
The New York Times has given Sanders op-ed space this morning to spout off, in a piece titled "Democrats Need to Wake Up," about what the Brexit has to teach US political leaders and bills him as "a candidate for the Democratic presidential nomination." Why is the NYT still pretending he's a candidate? That he hasn't quit the race doesn't change the fact that she has already amassed the delegates to win.  For that matter, given the number of actual experts out there on Europe, finance, and global trade, why give Sanders valuable space to regurgitate his stump speech disguised as analysis?
None of this is to say that Clinton wouldn't be wise to take some steps to placate Sanders supporters or to come to grips with the disgruntlement that gave rise to Sanders, Trump, and Brexit. There's a political mood out there that's different than anything I've ever seen and she'll need to make some concessions to it to win in November, much less govern effectively come January 20. That's leadership in a democratic society.