Congress and the Big 12 Shakeup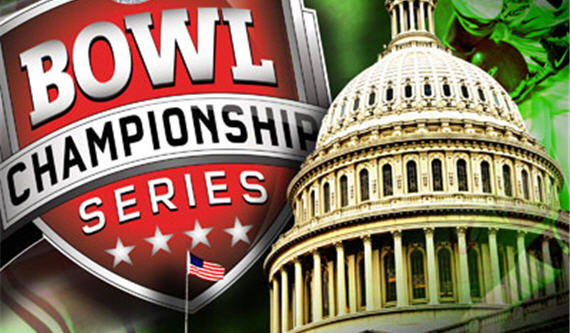 I suppose this was inevitable:  Congress is now considering getting involved in the college football conference shakeup we discussed yesterday.
Plains state senators fretted Thursday over a major impending realignment in college football's major conferences. Lawmakers representing states with universities in the Big 12 conference urged against moves that would break up the conference, and explored options to affect the schools' decisions.

The University of Nebraska is expected to announce Friday that it will join the Big Ten, while the University of Colorado will reportedly join the PAC-10. Those moves are expected to add to pressure for an even larger watershed realignment, which could see schools like Missouri and Notre Dame join the Big Ten, and powerhouses like the University of Texas Longhorns joining up with the PAC-10.

Sen. Sam Brownback, a Republican who's running for governor of his home state of Kansas, said he'd spoken to Nebraska's governor and two senators — as well as one of the university's regents — about the move, which could leave his state schools in limbo.  "People look at this as though it's a done deal, but that Nebraska board of regents has to vote on this, and that's a big thing," he said on KMBZ radio in Kansas. "So I really hope that in that elected body of the Nebraska board of regents that they say, 'Wait a minute. Let's take a little time here and think about this and let's see what we might want to change in the Big 12 before we bolt."

Sen. Chuck Grassley (R-Iowa), meanwhile, said his staff is exploring options through nonprofit and antitrust laws to approach the realignments.  "I'm concerned about what's happening the Texas universities and the PAC 10 and what would possibly be leaving some Big 12 teams out in the cold," Grassley said in a Wednesday conference call. "All I can tell you is my staff's looking into what can be done from a non-profit, anti-trust standpoint."

Grassley's Iowa colleague, Sen. Tom Harkin (D), expressed frustration toward the move.  "While I am opposed to the kind of mischief that's going on with the Big 10 and the Pacific conference," Harkin said in a conference call, according to the Gazette Online, "I just don't know if this is a proper place for Congress to get involved unless there is something dealing with anti-trust or something like that, like interstate commerce."

At least one senator expressed a more mixed view. Sen. Kit Bond (R-Mo.) lamented the possibility that a move by Missouri to join the Big Ten would affect the school's traditional rivalries, but noted the potential lucrative opportunity the move could pose. (The Big Ten's nascent television network has proven lucrative so far for conference members.)  "This decision is up to the university, who no doubt will be taking into account the traditional rivalries, but also the financial opportunities," Bond said in a Wednesday conference call. "I don't know which way they're coming down, though I would certainly miss seeing the Tigers beat the Jayhawks. That's always a high point of the fall for me."
Actually, while I hope and expect that Congress will ultimately stay out of this matter, it's not completely unreasonable that they should be interested in it.   College sports are a multi-billion dollar enterprise and it's rather difficult to argue that it's not part of interstate commerce.
Indeed, Tom Harkin seems to be striking the perfect balance:  Questioning whether it's the business of the Congress while focusing on legitimate questions, notably anti-trust.   Certainly, given the potential for the have-not schools to be permanently locked out of the competition if things go as some predict, that's not unreasonable.