Conservatives and the Individual Mandate
Is the now-familiar refrain that the individual mandate was originally a conservative idea really true?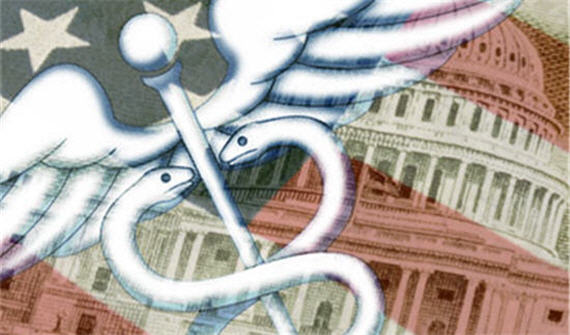 David Frum chides conservative opponents to the individual mandate, using the now-familiar refrain that it was originally a conservative idea. But is that really true?
The hard part isn't having principles. The hard part is remembering them.

Was it only yesterday that conservatives argued that state-mandated health and retirement savings accounts were the secret to a well-functioning national healthcare system? Singapore and Chile were the star examples—Singapore even more than Chile. Here's the online magazine of the American Enterprise Institute praising the Singapore health model in 2008…
In addition to that article, he also cites "a glowing report on Singapore from Cato's Michael Tanner." There are, surely, other examples.
But the fact that some individual scholars at some conservative (or, in the case of Cato, libertarian) think tanks or that a single article in a conservative/libertarian magazine supports an idea doesn't necessarily mean that "conservatives" writ large support something, or even that it's a widespread idea among conservatives.
As Ramesh Ponnuru points out,
[W]e shouldn't overstate the case. I think an accurate description of the history of rightist opinion on this question would look at three separate groups: politicians, think tanks, and grassroots conservatives. This last group never really focused on the individual mandate, and never really had any reason to. I doubt that it would ever have been popular with this group.

The think tankers were divided, with the Heritage Foundation an outlier. It was an outlier, too, in the broader right-of-center intellectual world. (For whatever it's worth, I was reading NR pretty closely in the mid-'90s and do not recall its ever endorsing the mandate.)

The politicians were the group most likely to embrace the individual mandate. Most of them gave no serious thought to the issue but thought it would be helpful in resisting various liberal health-care plans, and knew that the Heritage Foundation favored it.

So yes, conservative opinion on the mandate has changed. But I don't think it's right to suggest that most conservative voters or conservative policy thinkers ever supported it. I think what happened is that as soon as grassroots conservatives focused on the mandate, they hated it—and they were right to hate it, in my view-and both the politicians and that one outlier think tank responded to their sentiment.
He notes examples of prominent conservatives excoriating the idea at the time, too.
Political movements are complicated things, indeed. American conservatism, certainly, is a pastiche of many groups who disagree with one another on a host of issues. When people make such silly charges as "How can conservatives claim they love freedom when they want to regulate what goes on in the bedroom," for instance, they're conflating two strains of conservatism comprised of people who can't stand one another.
Additionally, as I've noted before, Heritage's endorsement of the idea came in 1994 during the "HillaryCare"* debate. That's important because it wasn't being advanced as a standalone policy proposal but rather as a more free market approach to the goals being touted by the Clinton Administration. Note, for example, that there was no push to implement it when a Republican took office and held it for eight years. And this was a Republican president who massively increased the government healthcare footprint by championing and passing into law the Medicare prescription drug boondoggle.**
On this particular issue, I myself am far outside the conservative orthodoxy. Indeed, while I suspect he and I privately agree, I'm to the left of President Obama on this issue, favoring some sort of single payer system with a private, supplemental insurance add-on for those who can afford it over the available alternatives.
As to the mandate itself, I'm in exactly the camp Ramesh describes: I never gave it a moment's thought prior to the post-2009 healthcare reform debate. It just wasn't on my radar screen. I happen to both think it's a pretty good idea within the constraints of what's politically possible (which, I hasten to add, my own preference for single payer is not) and that it's quite probably unconstitutional.
___________
*While I continue to support the coinage "ObamaCare" as a non-pejorative description, "HillaryCare" has no benign meaning.
**In the sense of being unaffordable. The underlying argument, that medical coverage that doesn't include coverage for necessary drugs is not medical care at all in today's world, is actually one I found and find persuasive.