U. S. Sending Abrams Tanks After All
An object lesson on the challenges of alliance politics.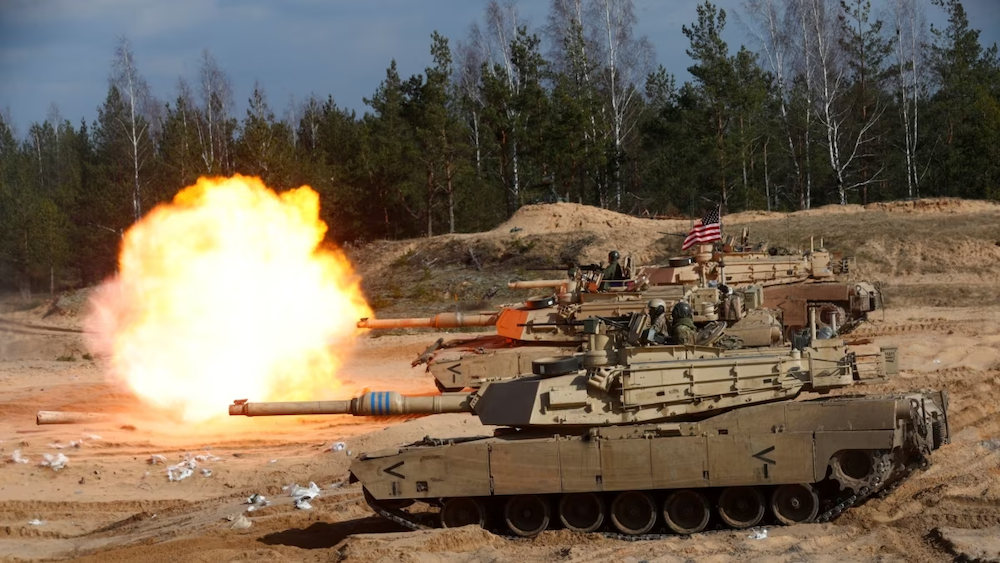 After months of resistance, the Biden Administration will send a contingent of M-1 Abrams main battle tanks to Ukraine so that Germany will allow more suitable tanks to be sent.
Defense One Technology Editor Patrick Tucker("US to Send 31 M1 Abrams Tanks to Ukraine"):
The United States will send Ukraine 31 M1 Abrams tanks—enough to arm a battalion—after training their crews in the months ahead, senior White House and defense officials announced Wednesday.

Combined with promised deliveries of U.S. Bradley Fighting Vehicles and other countries'tanks, light tanks, and other armored vehicles, one senior administration official said, Ukrainian forces will soon receive "hundreds" of armored vehicles of various types.

The announcement came one day after German officials said they would provide 14 German-made Leopard 2 tanks, in coordination with Poland and other allies who will send their own Leopards. Their ultimate goal is to send Ukraine 88 tanks, enough for about two battalions.

A senior defense official told reporters Wednesday, "In the weeks, and really the days leading up to [the announcement], we did hear some major commitments by allies of additional armored vehicles and tanks, including the Challenger [2] tanks from the UK. Certainly, the U.S. and the Netherlands are still working to deliver 90 T-72 tanks, which we had refurbished and about half of those are arriving on the battlefields now. You also have France announcing their Amx-10 [RC] light tanks. And then in the armored vehicle category and the infantry fighting vehicle category, in addition to the U.S. Bradleys–and we're over 100 at this point–you also have the 40 Marders from Germany. And Sweden also has announced 50 CV90s. And there's a host of Soviet-era BMPs that were also announced. So you're going to see hundreds of armored vehicles, exceptionally capable vehicles, and tanks arriving in Ukraine."

A senior administration official said that discussion between allies on how to help Ukraine has intensified ahead of a possible Russian push to claim territory.

"We do expect that Mr. Putin and the Russian military will try to go on the offense here in coming weeks and months, as the weather gets better," the official said, adding that the administration aims to help Ukraine "have the ability to retake the to reclaim their sovereign territory. And that means everything that is recognized by international borders," including Crimea.

The defense official said that the Abrams represent a "long-term commitment." The United States will provid them through the Ukraine Security Assistance Initiative, or USAI, as opposed to via presidential drawdown authority. That's important because the USAI, as a funding mechanism, takes more time. But administration officials said that the goal is to enable Ukraine to maintain and use the tanks long-term.

The defense official said, "Because this is a procurement under USAI, we're talking months as opposed to weeks. And as with other capabilities, you've seen us do this before, if we do not have [it] readily within U.S. stocks, then we go the procurement route to make sure that we can procure the right capability for Ukraine. And that is what we're doing here with the Abrams in terms of sustainment, maintenance, and training."

The official continued,"We will have the ability to put in place a very careful training program. But also a very careful program to be able to maintain and sustain these tanks, which do require a good deal…of assistance."

The United States will also send eight M88 recovery vehicles to service the tanks in the field.
Defense One Global Business Editor Marcus Weisgerber ("US Army Readies Ukraine Abrams Tank Options For Policymakers") adds:
Now that the White House has pledged to send M1 Abrams tanks to Ukraine, the Army is working up various plans to help the Ukrainian military operate the maintenance-hungry and fuel-thirsty battlefield behemoths.

"The Army is developing options that will be presented to senior leaders," Douglas Bush, the Army's top acquisition official, said at a Pentagon briefing just hours after President Joe Biden announced the coming transfer of 31 tanks to Ukraine. "I think there are multiple courses of action and it's not just the tanks. We have to be able to deliver the tanks, the support equipment, the training, the ammunition, the fuel, you know, the total package fielding like we do with other Abrams partners."

Bush, a West Point graduate who was an Army armor officer, said the Abrams "has a significant logistics aspect to it." Typically, the U.S. provides training and other related equipment with foreign arms deals so that the weapon remains effective.

"I assume that that will be part of what's provided," he said.

Bush said that policymakers will decide the timeline for sending the tanks to Ukraine and that "the Army will make whatever they want to happen, happen."

The U.S. has not built new Abrams tanks since the early 1990s. With the Cold War over, thousands of Abrams that were built to fight the Soviet Union were put into storage, according to Dean Lockwood, a military vehicle analyst with Forecast International.

These days, defense contractor General Dynamics remanufactures Abrams tank hulls for the U.S. Army and allies in Lima, Ohio. The overhauls produce "essentially a spanking brand-new tank for about half price," Lockwood said.

Currently, the U.S. has about 8,000 Abrams, but "significantly less" are battle-ready, he said. The U.S. draws from those tanks in storage and remanufactures them for allies, such as Poland, which is buying upwards of 350 Abrams.

General Dynamics executives said Wednesday that the Abrams production line can meet the demand of sending tanks to Ukraine.

"Staffing is not an issue here. There is plenty of capacity on the combat vehicle side [of the company] both tracked and wheeled [vehicles]," CEO Phebe Novakovic said on the company's quarterly earnings call. "So to the extent that the U.S. government intends to execute any contracts with respect to some of these bilateral agreements they are developing…it's well within the capacity of the industrial base to accommodate."

The transfer of U.S. and European main battle tanks to Ukraine marks a shift in the types of weapons transferred by the United States and its allies from standoff defensive weapons to an offensive system on the front lines.

"A tank, by definition, has to be at the very front," he said.

The U.S. will likely remove classified electronics from the Abrams before shipping them to Ukraine, similar to what it did with a Stinger missile part last year. Yet Lockwood noted that even a somewhat stripped-down Abrams, if captured by Russian forces, could help Moscow look for vulnerabilities or reverse-engineer NATO technology.

"I suspect there are a lot of people in the Army who are not happy about this whatsoever," he said.
US Defense Department leadership resisted this move for weeks but, ultimately, alliance politics made it the least bad option, as a team of reporters from POLITICO ("Inside Washington's about-face on sending tanks to Ukraine") explain:
In the weeks after Volodymyr Zelenskyy's Christmastime visit to Washington, U.S., German and other European leaders became locked in an increasingly ugly tit-for-tat over whether to send tanks to Ukraine. As language got heated behind the scenes, neither the U.S. nor Germany would budge — even as the standoff exposed a rare breach between two of Kyiv's biggest backers.

Ultimately, President Joe Biden decided it was more important to show a unified front and send the tanks — a move that could go down as one of the most consequential decisions in the multinational effort to arm Ukraine.

Biden concluded it was important to move in lockstep with an ally, despite the Pentagon's misgivings, and put an end to the dispute. Backed by some of his top aides, including Defense Secretary Lloyd Austin, Biden early this week agreed to send 31 Abrams main battle tanks to Ukraine. Germany, meanwhile, is sending 14 of its own Leopard tanks to the front line, and gave permission to other countries to re-export their German-made tanks as well, for a total of about 80 Leopards.

Biden "knew the only way Germany would do Leopards is if we did Abrams and allied unity is the most important thing to him. So Secretary Austin sent a proposal on how to make it happen," one U.S. official said.
The US reluctance was easy to explain: the Leopard is an older design and much easier for a burgeoning army such as Ukraine's to maintain. Most of its neighbors, including former Warsaw Pact mates like Poland, already use the Leopard and have stockpiles of parts and ammunition. So, why insist on the Abrams being part of the deal? Why not step up and be the main provider of something?
Throughout their talks, German officials felt that the Pentagon was more reluctant than the White House, but there was also a growing awareness that Berlin's insistence on the American tank was increasingly upsetting U.S. officials, who stressed that Washington was already supplying widespread military support and that it was Berlin's moment to step up.

Pressure within Europe continued to mount on Germany to make a move. On Jan. 11, Polish Prime Minister Mateusz Morawiecki spoke by phone with French President Emmanuel Macron and discussed how to convince Scholz to drop his resistance on tanks.

Macron suggested he and Morawiecki tag-team Scholz into submission ahead of last Friday's meeting at Ramstein Air Base. A few days later, Morawiecki traveled to Berlin, where he met with conservative opposition leaders, but not Scholz.

Back in Warsaw on Jan. 18, Morawiecki broke a major diplomatic taboo by threatening to send Ukraine Leopards without waiting for export approval from Germany. Scholz's chancellery was livid, but officials there knew they were running out of time.

Scholz last week told Biden on a phone call and U.S. lawmakers in Davos that no Leopards would make their way east unless Abrams accompanied them. In Scholz's mind, the two were inextricably tethered.

Scholz has been adamant in his discussions with Biden that supplying Leopard tanks to Ukraine marks such a qualitatively new step that the U.S., as the world's biggest military power but also Germany's guarantee for nuclear deterrence, must be involved.

They also wanted to demonstrate unity toward Putin. "It was important to the chancellor from the very beginning … that we take every step with as much unity as possible," said Scholz's spokesperson Steffen Hebestreit.

The allies had for the past year kept a surprisingly enduring unified front on Ukraine, contrary to the assumptions made by many before the conflict started, above Vladimir Putin in Moscow.

But the debate over the Leopard was turning toxic quickly and most of all unusually public. At Davos, the Polish President Andrzej Duda and Lithuania's Gitanas Nauseda voiced their frustration with Germany and Scholz in private conversations. By then, Scholz was ignoring Duda's calls to meet together and discuss the next steps on the Leopard. For his part, Scholz returned the hostility from the new eastern allies of NATO. He has been particularly angry with the right-wing Polish government's sniping at Germany.

After Davos, the hope in Washington and European capitals was that everyone could agree on a path forward during a meeting of 50 countries at Ramstein Air Base in Germany last Friday. There, Ukrainian Defense Minister Oleksii Reznikov gathered with the defense chiefs of 12 European countries who field Leopard tanks, including Germany. But Berlin said it was still mulling it over.

The frustration prompted Polish Foreign Minister Zbigniew Rau to tweet: "Arming Ukraine in order to repel the Russian aggression is not some kind of decision-making exercise. Ukrainian blood is shed for real. This is the price of hesitation over Leopard deliveries. We need action, now."
While Poland's emotions are easy to sympathize with, especially given their shared history with Ukraine, it's not unreasonable that US and German leaders factor in other considerations.
For the US, repelling the Russian invasion is an important military goal but a tertiary one. It checks the "liberal international order" box and serves as a de facto proxy war that is seriously weakening our identified secondary adversary. But, even aside from concerns about the logistics of supplying these to Ukraine, there's the matter of maintaining readiness in the, frankly unlikely, possibility of a near-term war with China.
For Germany, the prospect of being a leader on national security policy for the first time in the post-WWII era is rather daunting. They're simply unwilling to take on any significant risk without Washington taking the lead, or at least appearing to do so.
With no deal with Washington in sight, the chancellor was under increasing pressure from his own coalition partners as well as European countries, especially Poland. After the failure to achieve a breakthrough, attempts to rope in the U.S. continued over the weekend, with two men — new German Defense Minister Boris Pistorius, who had only been appointed days before, and Scholz's powerful right-hand man, chancellery minister Wolfgang Schmidt — playing a key role, two officials said.

Biden was constantly updated by his senior staff on the talks as he heard arguments for and against sending Abrams.

The president knew Ukraine needed Leopards — which are abundant across Europe and easier for the Ukrainians to use and maintain than the Abrams — on the battlefield as soon as possible. He started to lean toward sending the M1s after seeing bipartisan support for the transfer, and realizing the Germans would not budge.

Ultimately, Biden decided to send American tanks after Austin recommended providing 31 M1s, the size of a full Ukrainian army battalion.

The U.S. could have sent just one tank to seal the deal with Germany, but Austin decided to send a full battalion. This shows the decision was "not a symbolic gesture, but something the secretary thought was the right thing to do," the second official said.

Hours after reports of Biden's decision emerged, news surfaced that Scholz was ready to approve the Leopards. But not everyone in Germany's ruling coalition was happy. Anton Hofreiter, a lawmaker from the Green party, one of the coalition partners of Scholz's Social Democrats, said the chancellor lost time by insisting on the U.S. linkage and antagonized close allies.

"It would have been better for Germany's international reputation to decide more quickly. In particular, many countries in Europe were annoyed to make the delivery dependent on the United States," Hofreiter said.
Sure. But that would have required leadership and courage.
After a discussion of the logistical challenges and timeframes laid out in Weisgerber's report, we get this:

In a Wednesday morning call with Ukrainian Defense Minister Oleksii Reznikov, Austin didn't give a timeline for when the first Abrams might arrive. The priority for now, he added, should be on training the Ukrainians on Leopard tanks, along with U.S.-supplied Bradley infantry fighting vehicles, and new mobile howitzers and other heavy armor recently announced by Western partners.

In an interview, Ukrainian Prime Minister Denys Shmyhal was far more optimistic about the timeframe.

"We are aware of the fact that training soldiers to operate Abrams tanks takes months. But we are also convinced that the United States have decided to provide Ukrainians with the insight, rapid training program for tank cooperation," he said. "And this may mean that jointly with the highly motivated Ukrainian fighters, this training might take weeks rather than months."

Now that the dustup appears to have been settled for now, not everyone is ecstatic at how the whole process played out.

"Germany is still very afraid of Russia. That is the reality," said Oleksii Goncharenko, a member of Ukraine's Parliament. "They are still playing these games about defensive weapons versus offensive weapons. It is nonsense because the war is a defensive war for us."

A senior Polish official said Scholz's delay was looked at "with embarrassment." The chancellor "bears full political and moral responsibility for his decisions, and he will be accountable for his decision to voters and history."
I suspect history will not remember Scholz's name and that the German voters won't care one way or the other. Regardless, Ukraine will get its tanks.