CQ Brown Next Joint Chiefs Chairman
As widely expected, Air Force Chief of Staff Charles "CQ" Brown will become the nation's top military officer.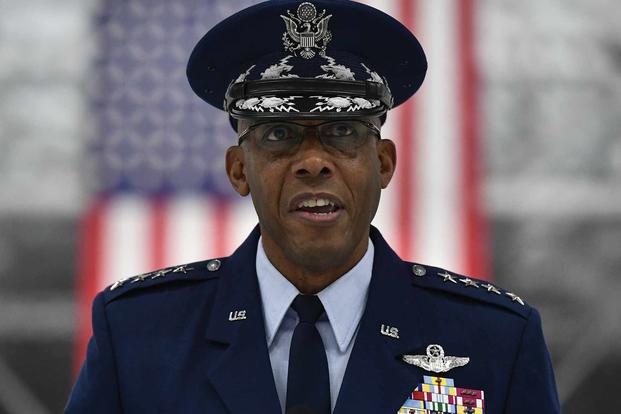 WaPo ("Biden expected to tap Air Force general as next Joint Chiefs chairman"):
President Biden is expected to nominate the chief of staff of the Air Force, Gen. Charles "CQ" Brown Jr., to serve as chairman of the Joint Chiefs of Staff, choosing a deeply seasoned officer and fighter pilot with experience commanding troops in the Middle East and the Pacific to be his next senior military adviser, according to three people familiar with the matter.

If confirmed by the Senate, Brown would replace Gen. Mark A. Milley, whose tenure as chairman coincided with a tumultuous period in history, one that included the U.S. Capitol attack, the deadly evacuation of Afghanistan, and the American-led effort to train and arm Ukraine as it fights invading Russian forces. The pugnacious Milley clashed frequently — and sometimes publicly — with the man who tapped him for the assignment: President Donald Trump.

Biden zeroed in on Brown as his preferred candidate after also interviewing Gen. David H. Berger, the commandant of the Marine Corps. Berger has recently told colleagues that he intends to retire, a senior military official familiar with the matter said. Like others, this person spoke on the condition of anonymity to discuss the high-profile personnel move. A Marine Corps spokesman could not immediately be reached for comment.

[…]

Brown became the first African American to lead a branch of service, and he acknowledged when taking the job that doing so came with "immense expectations." If confirmed as chairman, he will become the second African American to serve as the Pentagon's top military officer, following in the footsteps of Gen. Colin Powell, who ascended to the job in 1989 after serving as President Ronald Reagan's national security adviser. It would mark the first time the Pentagon's top two jobs are held by African Americans.

Even keel and affable, Brown has led the Air Force since June 2020. In that time, he has warned that the service must accelerate how quickly it modernizes or risk losing its superiority. To that end, he has pressed for the retirement of aging warplanes in favor of more advanced aircraft, stressing that U.S. dominance in the sky may not apply in the future. He has also prioritized improving working conditions for Air Force personnel, and put an emphasis on diversity and racial justice.

"I want these things to be enduring well after I'm gone — if someone wants to look back and say CQ Brown was part of that, fine — but I just want to make our Air Force as capable as possible," Brown said during a recent appearance at the Brookings Institution.

While awaiting his confirmation to become Air Force chief of staff, Brown memorably released a video describing his experience as a Black man in the military after the police killing of George Floyd. He said in it that he was aware of the "immense expectations" that came with his historic promotion, "particularly through the lens of current events plaguing our nation."
NYT ("Biden to Name Air Force Chief to Top Military Post, Officials Say") adds:
In appointing another African American man to a senior Pentagon position, Mr. Biden may be setting up a contentious period on Capitol Hill. But the president is also symbolically ripping apart the message telegraphed in a photograph of his predecessor, President Donald J. Trump, surrounded by Pentagon leaders who were exclusively white.

Some 43 percent of the 1.3 million men and women on active duty in the U.S. military are people of color. But for decades, most of the people making crucial decisions were white and male.

Now, that appears to be changing.

[…]

Nothing is final until Mr. Biden announces his pick, and it is unclear when he might do so. But the officials, speaking on the condition of anonymity before an announcement, said General Brown, a fighter pilot, won out over his closest competitor, the Marine Corps commandant, Gen. David H. Berger.

The two men are believed to be good friends who consult each other regularly, their aides said, but they could not be more different — from each other and from General Milley. General Brown is quiet, firm and methodical, his colleagues say.

General Berger, by contrast, is known as an innovator whose ideas about how to remake the Corps to fight in the 21st century so angered the men who came before him that they took the rare step of publicly complaining.
Berger, too, would have been an excellent Chairman but Brown seemed the obvious choice. Both have led significant revamping of their service doctrines and force structure based on China as the pacing threat. But, all things being equal, there was no way Biden could pass up the opportunity to make history with only the second Black man in the role.
Colin Powell became Chairman almost exactly a year after I entered active duty as an Army officer—almost 34 years ago now. That there hasn't been another Black man in the role since is something I never would have predicted. That having a Black man as Secretary of Defense and another as Chairman simultaneously is still somehow politically contentious is, frankly, bizarre.
Symbolism aside, Brown has very much gotten here on the merits. Revered as Powell was, he was widely seen as a "Washington General," having spent much of his time as a senior officer wearing a business suit (White House Fellow, military assistant to Deputy SECDEFs and SECDEFs, Deputy National Security Advisor, and National Security Advisor) and thus never commanded a division and cycled through his corps and major army commands very quickly. Indeed, he was not only the first Black chairman but the youngest—and remains so to this day—assuming the post months after his 52nd birthday. He retired from the Army four years later, younger than I am now.
Brown was commissioned in 1984, four years ahead of me, and has commanded at every level, including two separate stints as a fighter squadron commander and command of US Air Forces Central Command and US Air Forces Pacific Command. While his race certainly factored into his selection, his resume is very much what one would expect for a service chief and Chairman.