Creative Class on Strike
Hollywood and the news media are roiled in labor disputes.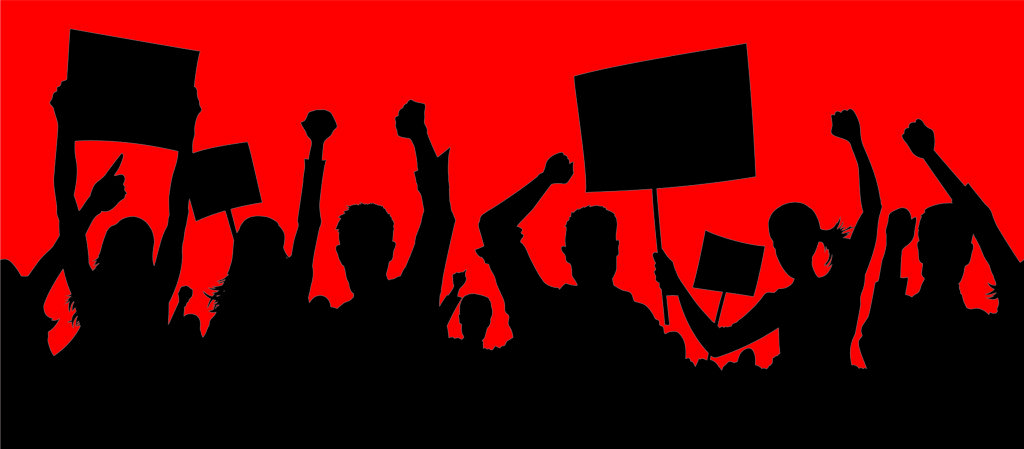 A little over a month ago, the Writers Guild of America went on strike, citing changes wrought by streaming services and potential changes coming from artificial intelligence that had disrupted their profession. Not only is that dispute still unresolved, but they have also been joined by others.
Yesterday, SAG-AFTRA members overwhelmingly authorized a strike for television and theatrical actors over similar concerns.
In a powerful show of solidarity, SAG-AFTRA members have voted 97.91% in favor of a strike authorization ahead of negotiations of the TV/Theatrical Contracts, with nearly 65,000 members casting ballots for a voting percentage of 47.69% of eligible voters.

The strike authorization does not mean the union is calling a strike. SAG-AFTRA begins negotiations on June 7 with the Alliance of Motion Picture and Television Producers. The affirmative vote on the authorization empowers the union's National Board to initiate a strike if the AMPTP won't reach a fair deal with the union. The current SAG-AFTRA TV/Theatrical Contracts expire at midnight on June 30, 2023.

"The strike authorization votes have been tabulated and the membership joined their elected leadership and negotiating committee in favor of strength and solidarity. I'm proud of all of you who voted as well as those who were vocally supportive, even if unable to vote. Everyone played a part in this achievement," said SAG-AFTRA President Fran Drescher. "Together we lock elbows and in unity we build a new contract that honors our contributions in this remarkable industry, reflects the new digital and streaming business model and brings ALL our concerns for protections and benefits into the now! Bravo SAG-AFTRA, we are in it to win it."

"I could not be more pleased with this response from the membership. This overwhelming yes vote is a clear statement that it's time for an evolution in this contract. As we enter what may be one of the most consequential negotiations in the union's history, inflation, dwindling residuals due to streaming, and generative AI all threaten actors' ability to earn a livelihood if our contracts are not adapted to reflect the new realities. This strike authorization means we enter our negotiations from a position of strength, so that we can deliver the deal our members want and deserve," said SAG-AFTRA National Executive Director and Chief Negotiator Duncan Crabtree-Ireland.
This comes on the heels of a deal reached this weekend between studios and the Directors Guild of America.
The union that represents thousands of movie and television directors reached a tentative agreement with the Hollywood studios on a three-year contract early Sunday morning, a deal that ensures labor peace with one major guild as the writers' strike enters its sixth week.

The Directors Guild of America announced in a statement overnight that it had made "unprecedented gains," including improvements in wages and streaming residuals (a type of royalty), as well as guardrails around artificial intelligence.

"We have concluded a truly historic deal," Jon Avnet, the chair of the D.G.A.'s negotiating committee, said in the statement. "It provides significant improvements for every director, assistant director, unit production manager, associate director and stage manager in our guild."

The deal prevents the doomsday Hollywood scenario of three major unions striking simultaneously. On Wednesday, the Alliance of Motion Picture and Television Producers, which bargains on behalf of the studios, will begin negotiations for a new contract with SAG-AFTRA, the guild that represents actors; their current agreement expires on June 30. SAG-AFTRA is in the process of collecting a strike authorization vote.

The entertainment industry will be looking closely at what the directors' deal — and the actors' negotiations — will mean for the Writers Guild of America, the union that represents the writers. More than 11,000 writers went on strike in early May, bringing many Hollywood productions to a halt.

Over the last month, the writers have enjoyed a wave of solidarity from other unions that W.G.A. leaders have said they have not seen in generations. Whether a directors' deal — or a possible actors' deal later this month — undercuts that solidarity is now an open question.

W.G.A. leaders had been signaling to writers late last week that a deal with the directors could be in the offing, a strategy that it said was part of the studio "playbook" to "divide and conquer." The writers and the studios left the bargaining table on May 1 very far apart on the major issues, and have not resumed negotiations.
My initial reaction was that if the directors, writers, and actors all had similar grievances, they could essentially take their ball and go home. That pretty much represents the main talent necessary to make films and television programs. Why not just band together and cut out the middle man? Of course, United Artists tried that more than a century ago with middling success.
It's not just the entertainment industry, either. The reporters for nation's largest newspaper conglomerate have also walked out.
Hundreds of journalists are walking off the job Monday and Tuesday at two dozen newspapers owned by the Gannett company. They're protesting working conditions at their papers and launching a lacerating attack on Gannett's chief executive.

The newspapers, in seven states, include The Arizona Republic, The Austin American Statesman, The Florida Times-Union, The Asbury Park Press and others. The journalists and representatives at their union, the NewsGuild, accuse Gannett of undercompensating them for years. And, they note, they are now being asked to do more than ever.

According to Jon Schleuss, the president of the NewsGuild, corporate executives have eliminated 54% of the combined workforce of Gannett Co. since it merged with GateHouse Media four years ago to make a newspaper behemoth. Financing for the merger loaded up the new Gannett Co. with debt that led to hundreds of millions of dollars in cuts.

The walkout is said to be the largest labor action in Gannett's history. Workers are focusing their ire on Mike Reed, the former GateHouse chief who now leads the new Gannett Co. The staff demanded that shareholders at an annual meeting Monday morning cast a vote of no confidence in Reed's leadership. The meeting, however, was brief with no questions taken by Reed, according to Schleuss, who said he attended the meeting.
While we've certainly seen strikes by actors, writers, reporters, teachers, and the like the pace seems much higher than in the past. There's a lot of economic disruption happening all at once and it's impacting people who previously had considerably more bargaining leverage.
Historically, labor unions—and the threat of strikes—were the province of relatively unskilled workers. People doing repetitive tasks on an assembly line didn't need considerable education or training; they were just bodies. Because they were essentially interchangeable and imminently replaceable, they were ripe for exploitation. Collective bargaining was the remedy: while replacing any particular worker was easy, replacing all of them at once was difficult. Even more so once Federal labor laws made it harder to fire workers during labor disputes.
Applying that same rubric to highly skilled workers always struck me as odd. The sort of folks we're talking about here aren't interchangeable cogs in a machine. Some directors, writers, directors, and reporters are far more valuable to the enterprise than others, so bargaining collectively makes little sense for them. It does, of course, make sense for those on the lower end of that scale—those still trying to get their start in the business or those who are simply less talented and thus more easily replaced.
Things are apparently so bad in the movie industry right now that even the likes of Tom Hanks—who's surely doing pretty well—are calling attention to it.
Tom Hanks has weighed in on the Writers Guild strike, saying that "like minds" are going to have to come together for the "common good" of the industry. Promoting his new book on CBS Mornings, Hanks was asked by co-host Gayle King about the strike, which is now in its second week. [The report is from May 9]

"The entire industry is at a crossroads, and everybody knows it," he said. "The financial motor has to be completely redefined. And there is some degree of pie here that is going to have to be equitably distributed by the people who are responsible for the content – not the folks who make the deals for the content, the folks who actually make it.

"And first up is the writers," he continued. "We do not have scripts without writers. And up next is the directors. We do not have filmed stories without directors, and the actors are coming up as well. So there is going to have to be some sit-down. And for the common good of the arts and sciences, and the business of show, like minds are going to have to come down and be equitable, and believe it or not, some type of win-win situation."
I don't even know what that looks like. One hopes that the resolution with the Directors Guild serves as a model for the others rather than as a wedge between competing interests.