Critics Find Real Depiction of 1966 Fake
Sometimes, art imitates life rather than the reverse. And sometimes reality seems stranger than fiction.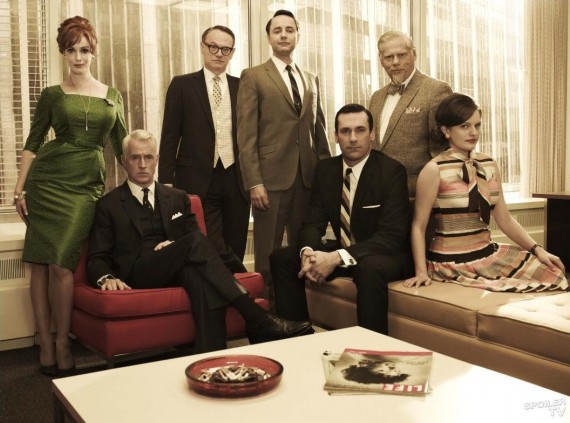 Sometimes, art imitates life rather than the reverse. And sometimes reality seems stranger than fiction.
NYT City Room ("On 'Mad Men,' an Opening Scene Straight From Page 1"):
The opening scenes of the Season 5 premiere of "Mad Men," set in 1966, depicted a sort of knucklehead-racism at work, when young men from the advertising agency Young & Rubicam dropped bags filled with water on protesters picketing on the Madison Avenue sidewalk below. Wet and angry, several protesters came upstairs to demand to know who at the firm had dropped the water bombs.

One protester said in disgust, "And they call us savages."

Some critics found the scene, broadcast on Sunday, a bit too on-the-nose. "It's a terrible line that should have been red-penciled," wrote Matt Zoller Seitz for New York magazine. Mike Hale of The New York Times called it"unfortunately ham-handed."

But no writer is to blame.

Everything in the scene really happened, written almost verbatim from an article on Page 1 of The Times on May 28, 1966.

[…]

The critics, informed that the scene that seemed to them to be wooden was in fact born of flesh and blood, stood their ground.

Mr. Hale: "There is no connection between the fact that it actually happened and the scene was taken from a New York Times article and whether the scene was any good or not." Of the "savages" quote, he said, "When she said that, it just rings so false."

Mr. Seitz: "It's good to know that all that actually happened, but it's still a terrible line in context of the scene, because it's an editorial summing-up that tells us all how to feel."
Hale's critique is odd, indeed. Whether it "rings false" or not, it's actually true!  (Or, perhaps, the creative work of a 1966 NYT reporter? Such has happened from time to time.) But Seitz' critique strikes me as valid: Just because something is accurate doesn't mean makes for effective drama. Indeed, reality is often not the recipe for great storytelling.
I found the scene largely annoying, because it took up too much time, didn't involve the shows recurring characters, and was used to spin off some rather lame plot developments back at the ad agency that's the focus of the show. But it's possible that Weiner is setting up that backstory and plans to do something more interesting with it as the season moves forward.