Debtors Prisons Alive and Well
People are still going to jail for being unable to pay their fines. And often billed for the priviledge.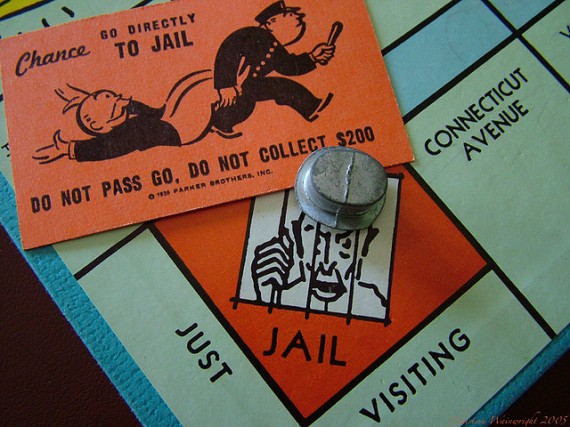 NPR's "Morning Edition" has been running a series called "Guilty and Charged," chronicling the plight of Americans forced to go to jail because they're unable to pay the court fees and fines associated with very minor infractions. The Supreme Court ostensibly outlawed the practice three decades ago but left the determination as to whether defendants are truly to poor to pay or simply unwilling to trial court judges. Not shockingly, perhaps, they almost invariably presume the latter.
You can listen to Tuesday's segment, "Unpaid Court Fees Land The Poor In 21st Century Debtors' Prisons," at the link. Unfortunately, they only have the audio and not a transcription. Aside from what I've already written in the introduction above, what really stood out to me was the sheer contempt judges displayed to indigent defendants. Despite being highly educated professionals supposedly trained in the law and selected for their ability to dispassionately way evidence and reach just results, those featured on the program were positively knee-jerk and sneering. It was as if they'd plucked some random yahoo from a Denny's, dressed him in a black robe, and had him preside over the trial.
Today's follow-up, "Supreme Court Ruling Not Enough To Prevent Debtors' Prisons," was if anything more infuriating. It dove deep into the case of Kyle Dewitt, an Iraq War vet who went to jail and got caught up in an unending series of problems with the law over catching the wrong species of bass at the wrong time of year.
Dewitt's problems began when, on a Michigan river in 2011, he thought he had caught a rock bass. But a Department of Natural Resources agent said it was a small-mouth bass, which was out of season.

At the time, Dewitt was 19 and the father of a baby boy. He had dropped out of school and lost his job bagging groceries. He says he tried to find the money to pay what he owed the court by knocking on neighbors' doors, offering to mow lawns or do chores. But he couldn't come up with the $155 he owed.

When he didn't pay, a warrant was issued for his arrest. He says there was confusion. Court officials said paperwork was mailed to Dewitt with instructions for paying off the fine in installments. But Dewitt — who as a teen moved from his grandparents' house to his mother's, to friends' houses — said he never received the letter.

He was taken to jail for non-payment. A family member was able to pay the bail bondsman. And because that payment was for $175 — more than his original ticket — Dewitt thought the ticket was paid. So when he was summoned to court a few days later, the audio tape of his appearance before District Court Judge Raymond Voet makes it clear Dewitt was confident that the issue was behind him.

But as court officials explained that day, the $175 was simply the fee for the bail bondsman. None of it applied to his original fine, which had grown to more than $200. Dewitt had come with no money, but Voet demanded payment that day.

The judge then sentenced Dewitt to three days in jail.
Naturally, Dewitt lost his job, further diminishing his ability to pay. But the judge didn't much care—rules are rules.
Voet says the court system can't work effectively if defendants are casual about things like paying court fees. There has to be respect for the law, he says, even on a minor violation.

"If I've got someone standing in front of me for something that's labeled a misdemeanor and they've failed to follow through with court orders on that," Voet says. "Am I supposed to tell the rest of the world, the rest of the law-abiding citizens that they're chumps and fools for having respected the law and respected the court's orders?"

Voet is known for holding everyone to the same rules. Last year, Voet's own cell phone went off in the middle of an attorney's closing argument. The judge held himself in contempt and fined himself $25, saying those are the rules.

Still others say the rules on fees are unfair because the costs mostly hurt the poor.

"Every day poor people go to jail because they're poor," says Aukerman, who took up Dewitt's case. "Debtors prisons are alive and well in Michigan and across the country. People go to jail because they're poor. And that's a two-tiered and unequal system of justice."
In fairness to Voet, it has to be frustrating to deal with people who are constantly in trouble, unable to sustain gainful employment, and otherwise on the fringes of society. Many of these people do in fact continue to make poor decisions, including making choices with their limited financial resources that would baffle you or me. But it can get awfully petty:
Judge Robert Swisher, a Superior Court judge in Benton County, says he'll make a judgment based on how someone presents themselves in court.

"They come in wearing expensive jackets," he says referring to defendants who wear NFL football team jackets, "or maybe a thousand dollars' worth of tattoos on their arms. And they say, 'I'm just living on handouts.'"

If the jacket or tattoos were a gift, he tells the defendant they should have asked the giver for the cash to pay their court fees instead.
But just because an individual could afford expensive tattoos or clothing at some point in time doesn't mean they've got a couple hundred—or a couple thousand—dollars at their disposal now. And it's not like they can sell their tattoos.
Beyond that, it seems rather obvious that a man unable to keep steady work ought not be sent to prison for the high crime of catching a small mouth bass out of season. Further, covered in the broadcast but not the write-up, Dewitt got out of jail not only to find that his position had been filled but that the county had sent him a bill for room and board for the time he was their guest. This, apparently, is a common practice.
In at least 41 states, inmates can be charged room and board for jail and prison stays; in at least 44 states, offenders can get billed for their own probation and parole supervision; and in 49 states, there's a fee for the electronic bracelet that monitors people when they're out of jail.

The survey also found, with the help of the Brennan Center for Justice at New York University School of Law, that in least 43 states, defendants can be billed for a public defender.

Those fees often add up to hundreds or even thousands of dollars.

When people struggle to pay those fees, they have violated probation and can go to jail. The practice is called "pay or stay" — pay the fine or stay in jail.
This is not only outrageous but obviously counterproductive.
Attorneys who defend poor clients say the Supreme Court's Bearden decision requires courts to more formally consider a defendant's ability to pay. But they say it almost never happens. Defendants don't know their right to ask for a hearing and, for judges, those could clog up the court schedule.

"It's not that it's wrong to charge people money as a way to punish them," says Miriam Aukerman, an attorney with the American Civil Liberties Union of Michigan. "But there have to be alternatives for people who can't pay. And that alternative cannot be: incarceration if you're poor, payment if you're rich."

She faults judges for not doing enough to find alternatives to fees for impoverished defendants, such as assigning more community service or even waiving some fines and fees.
I've long been of mind that we ought to do away with fines as a means of punishment altogether. Whether paying $150 for exceeding the speed limit (almost always some nominal fine for the offense and a much higher amount for "court costs," owed even if one just mails in the fine and never goes to court) is a deterrent depends entirely on one's financial circumstances. It was a big deal when I was in college; it's a nuisance now. Further, those with the means will often spend far more than the fine plus court costs to hire an attorney to plead it to an offense that doesn't come with points that go against their license or their insurance record. It's incredibly inequitable.