December Jobs Report Reveals Tepid Jobs Growth
A tepid December jobs report tops off a tepid year.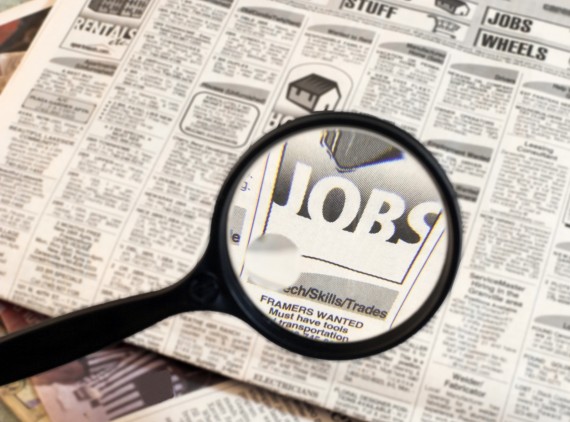 The U.S. economy ended the year with rather tepid growth in the employment sector, according to the final Jobs Report before Donald Trump becomes President:
The unemployment rate, at 4.7 percent, and the number of unemployed persons, at 7.5 million, changed little in December. However, both measures edged down in the fourth quarter, after showing little net change earlier in the year. (See table A-1.)

Among the major worker groups, the unemployment rates for adult men (4.4 percent), adult  women (4.3 percent), teenagers (14.7 percent), Whites (4.3 percent), Blacks (7.8 percent), Asians (2.6 percent), and Hispanics (5.9 pezzzzrcent) showed little change in December. (See tables A-1, A-2, and A-3.)

The number of long-term unemployed (those jobless for 27 weeks or more) was essentially unchanged at 1.8 million in December and accounted for 24.2 percent of the unemployed. In 2016, the number of long-term unemployed declined by 263,000. (See table A-12.)

The labor force participation rate, at 62.7 percent, changed little in December and was unchanged over the year. In December, the employment-population ratio was 59.7 percen for the third consecutive month; this measure showed little change, on net, in 2016. (See table A-1.)

(….)

Total nonfarm payroll employment rose by 156,000 in December, with an increase in health care and social assistance. Job growth totaled 2.2 million in 2016, less than the increase
of 2.7 million in 2015. (See table B-1.)

Employment in health care rose by 43,000 in December, with most of the increase occurring in ambulatory health care services (+30,000) and hospitals (+11,000). Health care added
an average of 35,000 jobs per month in 2016, roughly in line with the average monthly gain of 39,000 in 2015.

Social assistance added 20,000 jobs in December, reflecting job growth in individual and family services (+21,000). In 2016, social assistance added 92,000 jobs, down from an  increase of 162,000 in 2015.

Employment in food services and drinking places continued to trend up in December (+30,000). This industry added 247,000 jobs in 2016, fewer than the 359,000 jobs gained in 2015.

Employment also continued to trend up in transportation and warehousing in December (+15,000). Within the industry, employment expanded by 12,000 in couriers and messengers.
In 2016, transportation and warehousing added 62,000 jobs, down from a gain of 110,000 jobs in 2015.

Employment in financial activities continued on an upward trend in December (+13,000). This is in line with the average monthly gains for the industry over the past 2 years.

In December, employment edged up in manufacturing (+17,000), with a gain of 15,000 in the durable goods component. However, since reaching a recent peak in January, manufacturing employment has declined by 63,000.

Employment in professional and business services was little changed in December (+15,000), following an increase of 65,000 in November. The industry added 522,000 jobs in 2016.

Employment in other major industries, including mining, construction, wholesale trade, retail trade, information, and government, changed little in December.
In addition, the Bureau of Labor Statistics reported that the job creation number for October was revised down from +142,000 to +135,000, and November's number was revised upward from +178,000 to +204,000, for a net revision for the two months of 19,000 more jobs created than previously reported. With these numbers, the past three months have averaged +165,000, which was lower than the three-month average we saw last month. For the year, the economy created 2,155,000 new jobs, for an average of 179, 583 new jobs created per month, which is also a lower figure than the one we saw last month. As noted above, this annual figure is below the number of new jobs we saw in 2015 and in 2014,  which is a potential sign that we may be reaching the area that economists refer to as "full employment" where further significant jobs growth is unlikely absent far more robust economic growth than we can probably realistically hope for. At the same time, it's worth noting that there were 15,000,000 new jobs created between 2010 and 2016, for an average of roughly 1,250,000 for those six years, a decent number but hardly one to celebrate given past post-recession recoveries. Looking deeper into the report, the long-term unemployment rate now stands at its lowest rate since April 2008, suggesting that the majority of the jobs lost during the Great Recession have been replaced, although it's worth noting that in many cases it's likely they were replaced by jobs in other sectors that ended up being lower-paying that the jobs that were lost in 2007 and 2008. Additionally, the labor force participation and employment participation rates were essentially unchanged in December, and unchanged for year, suggesting that there remains a significant portion of the population that has essentially given up on finding work.
Beyond the jobs numbers, the report shows a solid increase in both average hourly wages and the average work week. For the year, earnings increased by a quite respectable 2.9% year-over-year. As I've said before, wage growth has been one of the most positive areas of the economy for the year that just concluded. In fact, during this January to December period wages grew at the strongest pace since the end of the recession. So, as we near the end of the Obama Presidency we find an economy that has been robust since roughly the summer of 2009 notwithstanding the fact that the recovery from the recession was among the slowest since the end of World War Two and one which arguably hasn't really recovered yet from the depths of the recession.
The New York Times focuses on the tepid nature of the report, and how it sets the stage for the transition to a new Presidential Administration:
The American economy added 156,000 jobs last month, capping the final full month of President Obama's term on a tepid note, even as his successor, Donald J. Trump, promises that much bigger gains could be around the corner.

The unemployment rate, which fell sharply in November, edged up to 4.7 percent, according to the Labor Department report on Friday. Before the announcement, economists had been looking for a gain of 175,000 jobs for the month.

For all his criticism of Mr. Obama's economic stewardship during the campaign, Mr. Trump inherits an economy that is fundamentally solid. Consumer sentiment, corporate profits and the stock market are all at or near multiyear highs.

To be sure, the economic worries that enabled Mr. Trump to capture the Rust Belt and in turn the White House persist: The future for Americans without a college degree or specialized skills is dim; millions of former workers are still on the sideline; and factory jobs are disappearing.

Although it is not reflected in the December figures, many low-wage workers are receiving a raise this year, as 19 states increased the local minimum wage. Some of the increases were substantial, with Arizona, Maine and Washington each raising the floor by $1.50 or more per hour.

Even in California, where the wage gain is not as steep, rising 50 cents an hour, one in 10 workers has received a raise. And minimum-wage gains can have a spillover effect, pushing up pay for workers just above the bottom salary tier.

As on many issues, Mr. Trump has sent conflicting signals on this subject, suggesting at times during the campaign that state increases were justified, but warning in primary debates that wages were "too high."

In the past, many Republicans have opposed mandated minimum-wage increases, arguing that for every lift, more low-wage jobs are cut or left unfilled as employers struggle with having to pay more and still eke out a profit.

Among economists, the costs and benefits of rising minimum wages are the subject of considerable debate, and experts will be watching sectors like retail, restaurants and food service for signs of a dip in hiring, at least in the short term.
With the election behind us, the most important question that arises out of these numbers and future economic reports is what it means for Federal Reserve policy going forward. The modest increase in interest rates that we saw in December hasn't appeared to have an immediate impact on either Wall Street or the economy as a whole, but it's arguably too early to tell if that will ultimately prove to be true. Additionally, the fate of future Fed plans to raise rates over the coming year will depend significantly on the data that comes out over the next several months regarding both the final quarter of 2016 and the opening months of 2017. These numbers will also provide us with a helpful benchmark to measure how the economy reacts to the new Administration and whatever policy proposals it may make going forward. Realistically speaking, it will be several months at the very least before we can even begin to realistically say that what we are seeing from the economy is a result of Trump Administration policies.