December Jobs Report Makes 2015 Second Best Year For Jobs Growth Since 1999
A strong month for jobs growth in . means 2015 ended on a strong note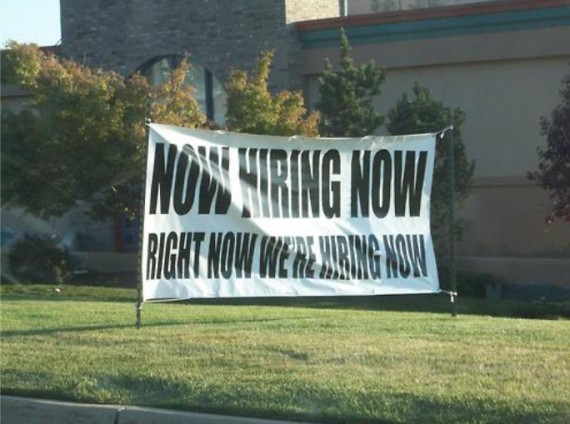 The economy closed out 2015 with one of the strongest monthly jobs reports we've seen in some time, making 2015 the second best year for job creation since 1999:
Total nonfarm payroll employment rose by 292,000 in December, and the unemployment rate was unchanged at 5.0 percent, the U.S. Bureau of Labor Statistics reported today. Employment gains occurred in several industries, led by professional and business services, construction, health care, and food services and drinking places. Mining employment continued to decline.

The number of unemployed persons, at 7.9 million, was essentially unchanged in December, and the unemployment rate was 5.0 percent for the third month in a row. Over the past 12 months, the unemployment rate and the number of unemployed persons were down by 0.6 percentage point and 800,000, respectively. (See table A-1.)

Among the major worker groups, the unemployment rate for blacks declined to 8.3 percent in December, while the rates for adult men (4.7 percent), adult women (4.4 percent), teenagers (16.1 percent), whites (4.5 percent), Asians (4.0 percent), and Hispanics (6.3 percent) showed little or no change. (See tables A-1, A-2, and A-3.)

The number of long-term unemployed (those jobless for 27 weeks or more) was essentially unchanged at 2.1 million in December and accounted for 26.3 percent of the unemployed. The number of long-term unemployed has shown little movement since June, but was down by 687,000 over the year. (See table A-12.)

The civilian labor force participation rate, at 62.6 percent, was little changed in December and has shown little movement in recent months. In December, the employment-population ratio, at 59.5 percent, changed little

(…)

Total nonfarm payroll employment increased by 292,000 in December. Employment rose in  several industries, including professional and business services, construction, health care, and food services and drinking places. Mining employment continued to decline. In
2015, payroll employment growth totaled 2.7 million, compared with 3.1 million in 2014. (See table B-1.)

Employment in professional and business services increased by 73,000 in December, with temporary help services accounting for 34,000 of the gain. In 2015, professional and business services added 605,000 jobs, compared with a gain of 704,000 in 2014.

Construction showed strong job growth for the third consecutive month, gaining 45,000 jobs in December. Job gains occurred among specialty trade contractors (+29,000) and in construction of buildings (+10,000). Over the year, construction added 263,000 jobs, compared with a gain of 338,000 jobs in 2014.

In December, health care employment rose by 39,000, with most of the increase occurring in ambulatory health care services (+23,000) and hospitals (+12,000). Job growth in health care averaged 40,000 per month in 2015, compared with 26,000 per month in 2014.

Food services and drinking places added 37,000 jobs in December. In 2015, the industry added 357,000 jobs.

Employment in transportation and warehousing rose by 23,000 in December, with a gain of 15,000 in couriers and messengers.

Within the information industry, motion pictures and sound recording added 15,000 jobs in December, offsetting a decline of 13,000 in the prior month.

Employment in mining continued to decline in December (-8,000). After adding 41,000 jobs in 2014, mining lost 129,000 jobs in 2015, with most of the loss in support activities for mining.

Manufacturing employment changed little in December, though its nondurable goods  component added 14,000 jobs. In 2015, manufacturing employment was little changed (+30,000), following strong growth in 2014 (+215,000).

Employment in other major industries, including wholesale trade, retail trade, financial activities, and government, changed little over the month.

The average workweek for all employees on private nonfarm payrolls was unchanged at 34.5 hours in December. The manufacturing workweek edged down by 0.1 hour to 40.6 hours, and factory overtime edged up by 0.1 hour to 3.3 hours. The average workweek for production and nonsupervisory employees on private nonfarm payrolls was unchanged at 33.7 hours. (See tables B-2 and B-7.)
The Bureau of Labor Statistics also reported that the jobs numbers for October were revised upward from +298,000 to +307,000, and that the numbers for November were revised upward from +211,000 to +252,000 for a net upward revision for the two months of +50,000. Pending further revisions to the November and Decemer numbers this means that the last three months of the year saw an average of 284,000 jobs created per month and job growth for the entire year hit 2.65 million jobs for an average monthly job growth number of roughly 220,000 jobs per month. That's below the more than three million we saw in 2014 but still good enough to qualify as the second best year for job growth since 1999, which in and of itself is a measure of just how weak the economy has been for much of the two opening decades of the 21st Century even when you take the Great Recession out of the equation entirely. Additionally, the Labor Force Participation Rate, which has been at or near historic lows for some time now, ticked upward last month, which may indicate that improvements in the job market led some people to start looking for work again.  On the somewhat negative side, the fact that hourly wages, hours worked, and the average workweek remained relatively unchanged across all sectors suggested that there still isn't the kind of slack in the labor market that would cause employers to need to start hiring in large numbers on a more consistent basis. Additionally, the long-term unemployment rate ticked upward slightly, although this may be a statistical anomaly. For the most part, though, this is a very good report and the fact that the unemployment rate remains at 5.0%, which historically was at least at one point considered by economists to be at or near "full employment" is worth noting as well.
The New York Times finds mostly good news as well:
The nation's labor market capped off a year of steady growth with an impressive sprint as employers added 292,000 workers to their payrolls in December, the government said on Friday.

The unemployment rate stayed at 5 percent last month, and average hourly wages stayed flat.

The jobless rate, which has declined since topping the 10 percent mark in October 2009, is now hovering just above what economists consider full employment — the point where further declines could start to push up inflation.

The average monthly gain in jobs last year were closer to the 2013 average of 199,000 a month, but short of the 260,000 figure reached in 2014.

"The remarkable thing is how consistent employment growth has been over the past three or four years," said Mark Zandi, chief economist at Moody's Analytics. "We're getting at least 200,000 jobs per month on a consistent basis. That's quite an achievement."

The country's economic fortunes will figure largely in this year's presidential campaign. Republican candidates have attacked President Obama and other Democrats' economic policies, though such criticisms could lose their sting if the employment picture continues to improve.\

Cautious optimism about the labor market contributed to the Federal Reserve's decision a few weeks ago to raise interest rates from their near-zero levels, where they had rested since 2008. Analysts are now scanning the employment and wage figures for signs of how quickly the Fed will follow up with further rate increases.

Looking at the year ahead, the biggest question is whether overall growth will remain strong enough to keep hiring steady, or whether turmoil in China and elsewhere in the global economy will weigh on the United States economy by holding down exports and further undercutting the struggling manufacturing sector.

"There are a lot of crosscurrents," Mr. Zandi said, pointing out that even though the auto industry reported record vehicle sales in 2015, "anything trade-sensitive is getting hammered because of what's going on overseas."

The report announced each month by the Labor Department is by nature a single snapshot and because of the holidays, December is always a bit anomalous.

Andrew Chamberlain, chief economist at Glassdoor Economic Research, noted that in job postings, there was a dip in December. "That's something that happens every year as people take vacation," he said, adding that he expected a reversal in the coming month. "Looking forward, January is the best time to be looking for a job. There's always a big jump in labor demand in January."

Despite the improving job market, wage growth has been sluggish. Mr. Chamberlain said worker benefits like paid parental leave and free catered lunches had significantly outpaced wage increases over the past decade. But those gains have occurred primarily at the nation's larger companies (those with more than 500 employees) and among the highest skilled workers or members of unions, which have some bargaining power.

"That's definitely part of what we're seeing here with slow wage growth," Mr. Chamberlain said.

The pain of a disappointing paycheck has been somewhat blunted by the continued decline in oil prices, which has lowered the cost of heating a home or filling up a car.

Economists say that in addition to fundamental shifts in the economy, continuing slack in the labor market is partly responsible for the lack of progress on wages. Many Americans have been forced to settle for part-time work or are too discouraged to keep job hunting after years of fruitless searching.

An analysis of long-term changes affecting the labor market released this week by the Federal Reserve Bank of St. Louis focused on how automation and offshoring were continuing to reduce the number of middle-skill jobs, like those in manufacturing and production. One result is a labor market that increasingly resembles a barbell, with jobs concentrated at the high- and low-skill ends of the spectrum.

"The picture is clear: Employment in nonroutine occupations — both cognitive and manual — has been increasing steadily for several decades," the report concluded. "Employment in routine occupations, however, has been mostly stagnant."

The report concluded that, "It is expected that the disappearance of routine jobs in the U.S. will also continue."
As is The Wall Street Journal:
Nonfarm payrolls increased a seasonally adjusted 292,000 in December, the Labor Department said Friday. The unemployment rate, obtained through a separate survey, held steady at 5% last month. The unemployment rate hasn't been below that mark since 2007.

Economists surveyed by The Wall Street Journal had expected payrolls to rise by 210,000 and the jobless rate to fall to 4.9%.

The jobs figures stand "in sharp contrast to the negative economic news emanating from China," said Beth Ann Bovino, economist at Standard & Poor's Ratings Services. In the U.S., "people are finding jobs and getting paid more for them."

Revisions showed employers added 50,000 more jobs in October and November than previously estimated. November's payroll gain of 252,000 was revised from an initially reported 211,000. October's gain was recast to 307,000 from a previously estimated 298,000. The fourth quarter was the best three-month stretch of job creation in 2015.

For all of 2015, the economy added an average of 221,000 jobs a month. That's a slowdown from the 260,000 averaged in 2014, but still the second-best year for job creation since 1999.

Meanwhile, wages held nearly steady last month. The average hourly earnings of all private-sector workers fell by 1 cent in December to $25.24. But over the past year, average hourly earnings rose 2.5%, matching the year's best 12-month gain.

Wage gains were stronger in 2015 than any of the previous five years, but they remain historically modest. The average annual increase for non-managers in the 30 years prior to the start of the most recent recession was nearly 4%. Wages for production and nonsupervisory workers increased 2.4% in December from a year earlier. Data for all private-sector workers only dates back to 2009.

Federal Reserve officials will likely view the latest jobs report as a mixed bag. The central bank cited "considerable improvement" in the labor market during 2015 when it acted last month to raise its benchmark interest rate for the first time in nearly a decade. Steady hiring and unemployment supports that view.

But still-modest wage growth remains a concern. A tighter labor market should lead to better paychecks and ultimately stoke consumer inflation. Without stronger wage gains, it will be difficult for inflation to move back toward the Fed's 2% annual target.

"A meaningful pickup in wage growth is still the missing piece of the puzzle in this recovery," said Paul Ashworth, economist at Capital Economics.

The strong overall payroll growth in 2015 is somewhat out of sync with other measures of the economy.

Economic output in the third quarter advanced 2.1% from a year earlier-about the same lackluster pace averaged throughout the expansion's first 6½ years. The latest readings on manufacturing show that sector is contracting. And falling oil prices and weak global demand are holding consumer inflation at historically low levels.

Renewed instability in China this past week threatens to put additional downward pressure on global growth prospects.
The big question about these positive numbers, of course, is whether they are sustainable heading into 2016. The final quarter of any year often sees a bump in employment thanks to the fact that manufacturers, shippers, retailers, and other businesses take on additional employees heading into the holiday season, only to cut back once January an February roll around. Additionally, the last several years have seen the first quarter of the year give us slower economic growth than the rest of the year, often due to weather conditions in the Northeast and Midwest. So far, the weather in those parts of the country has been somewhat milder than normal but winter is still young and its unclear if we'll see a similar phenomenon in the coming months or if the economy will continue it's current course of positive job growth. An additional unknown factor is China, which is currently seeing another round in the financial/stock market crisis that gripped the nation in China. That crisis has caused markets across the world to tumble this week over concerns that the 'Chinese bubble' may be about to pop, as many have anticipated. Thus, there are several factor out of the control of policy makers that are likely to have a significant impact on the economy and, of course, job growth going forward.
Now that we're into 2016, these economic statistics are taking on a renewed importance because of their implications for the races for President, Congress, and the Senate. Right now, of course, the primary focus of the race still seems to be on national security, but eventually we can expect that public attention will shift back to the economy. At that point, the state of the economy is likely to be an issue that both Republican and Democratic candidates alike will have to deal with, albeit in different ways. Led most likely by Hillary Clinton, Democrats will want to emphasize the good news about the economy and argue that continuing economic growth requires continuing President Obama's policies. Republicans will argue, not without justification, that while the economy is growing that growth remains sluggish and far too subject to outside economic shocks to be acceptable and that the Federal Government needs to adopt tax and other policies that are more geared toward economic growth. How the public receives these arguments will depend, in no small part on how the economy is actually doing and how they perceive their own personal economic situation.