Dee Mewbourne to Captain Enterprise
Captain Dee Mewbourne, who previously commanded the EISENHOWER, will skipper the ENTERPRISE.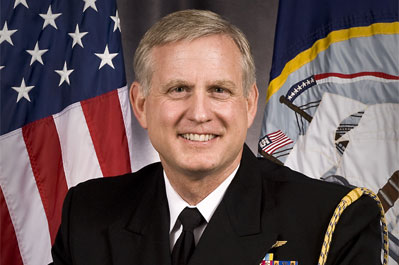 One of my colleagues alerts me to this paragraph buried at the end of the report of the firing of USS Enterprise skipper Owen Honors:
The Navy moved swiftly to replace Honors with Capt. Dee Mewbourne, who previously commanded the USS Dwight D. Eisenhower carrier and has a reputation as a hard-working and cerebral officer. Mewbourne has spent most of the past eight years at sea and will leave with the Enterprise for a seven-month deployment in a few weeks.

"He has been a superstar since we were all mids at the Naval Academy," said Ward Carroll, editor of the Military.com Web site and a former Navy aviator. By contrast, Honors was always "one of the boys," Carroll said.
I had the pleasure of meeting Captain Mewbourne a little over a year ago when I participated in a Distinguished Visitor cruise on the Ike.   A great choice.  And, certainly, one can't imagine him making raunchy videos, let alone being stupid enough to air them for his crew.