Writer Accuses Trump Of Sexual Assault in the 1990s.
Another woman has accused President Trump of sexually assaulting her some 20 years ago.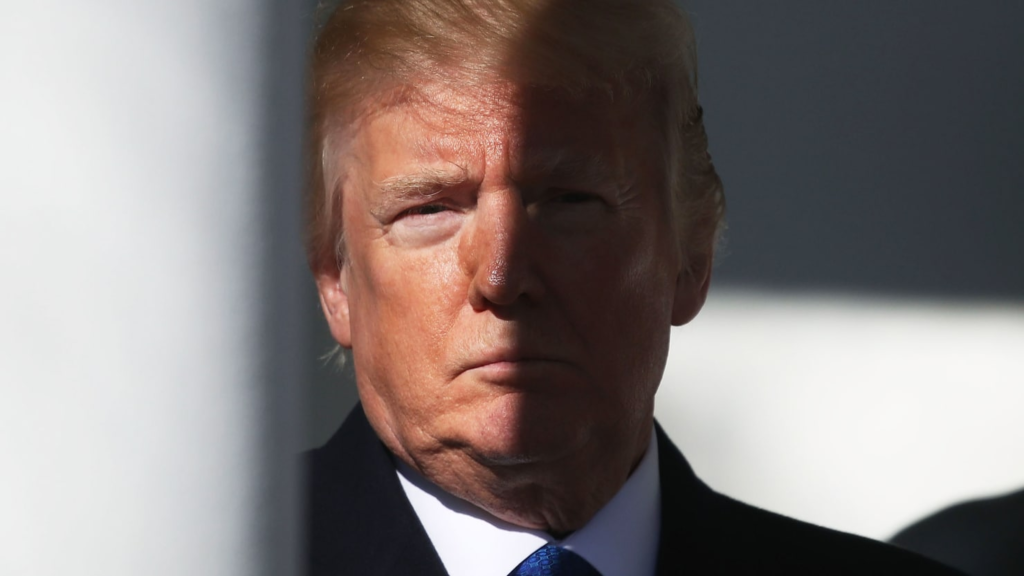 A magazine columnist and writer named E. Jean Carroll has accused President Trump of having sexually assaulted her in a department store changing room some twenty years ago:
E. Jean Carroll, a New York-based writer and longtime women's advice columnist, accused President Trump of sexually assaulting her more than two decades ago in a dressing room of an upscale Manhattan department store, an episode detailed in a book excerpt published Friday in New York magazine.

In an interview with The Washington Post on Friday afternoon, Carroll reiterated the allegations, saying that during a chance encounter with the then-real estate developer at Bergdorf Goodman in late 1995 or early 1996, Trump attacked her in a dressing room. She said he knocked her head against a wall, pulled down her tights and briefly penetrated her before she pushed him off and ran out.

She said she hoped that telling her story "will empower women to come forward and not feel bad. . . . I blamed myself and I was silent and I felt guilty. I beat up myself terrible."

Carroll, now 75, said she told two close friends about the episode at the time. One of them told The Post on Friday that Carroll described the incident to her shortly after it occurred and that she had unsuccessfully urged Carroll to go to the police.

Trump vigorously denied the accusation, calling it "fake news." He questioned why there was no video footage of the incident or witnesses in the store.

"I've never met this person in my life," the president said in a statement. "She is trying to sell a new book — that should indicate her motivation. It should be sold in the fiction section."

The New York magazine piece includes a photo provided by Carroll of what appears to be Trump pictured from behind, standing with his then-wife, Ivana, and Carroll's then-husband, John Johnson, at what Carroll said was an NBC party around 1987.

In his statement, Trump asked that anyone who has information that Carroll or the magazine were working with the Democratic Party to come forward. "It is a disgrace and people should pay dearly for such false accusations," he said.

Carroll, a registered Democrat, said she voted for Hillary Clinton in 2016. She donated $1,000 this cycle to Emily's List, which supports female candidates who back abortion rights, and $500 to President Barack Obama's reelection campaign in 2012, according to campaign finance records. On Twitter, she has posted several sharp remarks about Trump and retweets of satirical and critical articles about him.

"This is not political," Carroll said of her decision to talk publicly about Trump. "Sexual violence is not political."

(…)

Carroll's allegation about Trump is among the most violent of the accusations against him. His ex-wife, Ivana, said in a divorce deposition that he "raped" her in 1989, but later said, "I do not want my words to be interpreted in a literal or criminal sense."

Carroll said she didn't come forward in 2016 because other women did, adding that she "didn't have the guts." But now, inspired by the #MeToo movement that began in late 2017, she said, "It's time. It's time."

She said she felt like she had disappointed all the readers of her "Ask E. Jean" column in Elle magazine who have confided in her about their problems with men over the past 26 years. Like many of the women who told her they had been sexually assaulted, Carroll said she blamed herself for the incident. "I thought I was stupid," she said. "I really thought I had done it."

(…)

Carroll said her encounter with Trump began one weeknight evening, when she ran into him as she was leaving the department store. At the time, Carroll was hosting a cable television show and she said he recognized her, calling her "that advice lady."

"He was very good looking at the time and personable," she said. She said he asked her to help him pick out a present for a woman. When Carroll asked how old the woman was, she said Trump responded by asking her age. She told him she was 52, to which she said he responded, "You're so old." Trump would have been about 49 at the time.

Carroll said he considered buying a fur hat and then led her up the escalator to the lingerie department. She said the area was empty. He picked up some lingerie, a flimsy gray bodysuit, and asked her to try it on, suggesting she was "in shape, " she said. She said that she responded by urging him to put it on.

"It occurred to me it would be very funny if I could get him to try it on over his pants," she said. "I just thought this was the greatest joke in the world."

But after they walked into the dressing room, she said Trump pinned her against the wall, tried to kiss her and touched her genital area. Then he unzipped his pants and sexually assaulted her.

"It was shocking. I fought, it was against my will," Carroll said, though she didn't scream. "I laughed. That's how I deal with it. Adrenaline was pouring through my body."

Carroll provided The Post with the names of the two friends she said she had told about the incident at the time. One could not be reached Friday evening.

The other friend, who spoke on the condition of anonymity to protect her privacy, said Carroll called her either the day of the alleged attack or the next day and described the assault.

The friend, an author and former TV morning show correspondent, recalled Carroll was laughing slightly manically as she recounted what happened. "It's not funny," the friend said she told Carroll. "He raped you." She said she urged Carroll to go to the police, but she said Carroll refused, saying it was just 15 minutes of her life and she wanted to move on. The friend said Carroll made her promise to never tell anyone.
Here is most of the relevant part of the New York magazine article, it picks up from the point where Trump guides her into the dressing room:
The moment the dressing-room door is closed, he lunges at me, pushes me against the wall, hitting my head quite badly, and puts his mouth against my lips. I am so shocked I shove him back and start laughing again. He seizes both my arms and pushes me up against the wall a second time, and, as I become aware of how large he is, he holds me against the wall with his shoulder and jams his hand under my coat dress and pulls down my tights.

I am astonished by what I'm about to write: I keep laughing. The next moment, still wearing correct business attire, shirt, tie, suit jacket, overcoat, he opens the overcoat, unzips his pants, and, forcing his fingers around my private area, thrusts his penis halfway — or completely, I'm not certain — inside me. It turns into a colossal struggle. I am wearing a pair of sturdy black patent-leather four-inch Barneys high heels, which puts my height around six-one, and I try to stomp his foot. I try to push him off with my one free hand — for some reason, I keep holding my purse with the other — and I finally get a knee up high enough to push him out and off and I turn, open the door, and run out of the dressing room.

The whole episode lasts no more than three minutes. I do not believe he ejaculates. I don't remember if any person or attendant is now in the lingerie department. I don't remember if I run for the elevator or if I take the slow ride down on the escalator. As soon as I land on the main floor, I run through the store and out the door — I don't recall which door — and find myself outside on Fifth Avenue.
As noted, Trump has denied that this incident took place. He also said that he had never met Ms. Carroll even though the magazine published a photograph from roughly ten years before this alleged incident showing Trump, Carroll, and their respective spouses at the time together at a New York party. It also appears that while Carroll did not report the incident to police, she did tell two friends about what happened including the identity of her attacker.
These are what law enforcement calls "outcry witnesses." Such witnesses are people that an accuser told about an incident near in time to when it took place and are often presented in sexual assault cases by prosecutors as a means of bolstering the credibility of an accuser in a case such as this that essentially boils down to a 'she said/he said' cases that lack the kind of physical evidence that would normally be available in a sexual assault case that was immediately reported to the police. Generally speaking, the closer in time these statements to others are made, the more they tend to bolster credibility.
Outcry witnesses who are told about alleged incident years or decades after it happened are generally considered less credible and, depending on the jurisdiction, may not be permitted to testify at all due to the passage of time between when the incident took place and when they were told about it. This was one of the issues regarding the outcry witnesses identified by Christine Blasey Ford, consisting of a mental health profession and Blasey Ford's husband, both of whom were not told about the alleged attack by Justice Brett Kavanaugh in the 1970s until some 20 years later or more.
In any case, this isn't the first incident of this type involving Trump that we have heard about since he became a candidate for President:
Obviously, these prior allegations, many of which have not been proven or corroborated, do not establish Trump's culpability here. However, they do stand as examples of his behavior toward women in general and tend to put the lie to any defense that Trump may try to assert that he would never do such a thing.
Since the relevant statute of limitations has expired, there is little chance that these charges would ever be tested in a court of law. Additionally, they are unlikely to change the minds of the President's most loyal supporters. They do stand, though, as potential examples of the President's character, and they don't paint a pretty picture at all.