Deep Thoughts and Faggot Jokes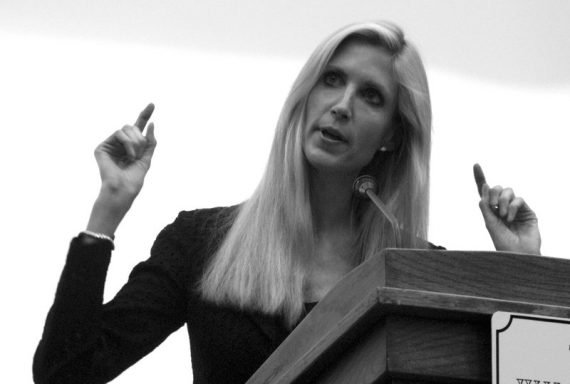 Andrew Sullivan begins a somber discussion of the implications of using anti-gay slurs as fodder for jokes with a pretty good line:
I watched Ann Coulter last night in the gayest way I could. I was on a stairmaster at a gym, slack-jawed at her proud defense of calling someone a "faggot" on the same stage as presidential candidates and as an icon of today's conservative movement.
Indeed, I often find humor works best when actually funny.
Her defense, however, is that she was making a joke, not speaking a slur. Her logic suggests that the two are mutually exclusive. They're not. And when you unpack Coulter's joke, you see she does both. Her joke was that the world is so absurd that someone like Isaiah Washington is forced to go into rehab for calling someone a "faggot." She's absolutely right that this is absurd and funny and an example of p.c. insanity. She could have made a joke about that – a better one, to be sure – but a joke.
Quite right.
This, though, is a harder sell:
But she didn't just do that. She added to the joke a slur: "John Edwards is a faggot." That's why people gasped and then laughed and clapped so heartily. I was in the room, so I felt the atmosphere personally. It was an ugly atmosphere, designed to make any gay man or woman in the room feel marginalized and despised. To put it simply, either conservatism is happy to be associated with that atmosphere, or it isn't. I think the response so far suggests that the conservative elites don't want to go there, but the base has already been there for a very long time. (That's why this affair is so revealing, because it is showing which elites want to pander to bigots, and which do not.)
While I essentially agree with his larger point, I would demur on the specifics. First, Coulter's remark was meant to be outrageous and draw attention to herself; in that, she succeeded. The idea that the crowd's instinctual reaction to that outrage was "designed to make any gay man or woman in the room feel marginalized and despised" is, however, ludicrous. It wasn't designed at all, let alone aimed at gay audience members. Indeed, my guess is that it would never occur to most CPAC-ers that any gays would be in the audience.
The immense popularity of Coulter's books and the fact that she drew far and away the longest book-signing line are surely signs that a substantial part of the base finds her appealing. Then again, by her own admission, that phrase was a schoolyard taunt; indeed, that could be said of her shtick, generally. She's not appealing to the intellectuals with that nonsense but rather those for whom "sophomoric humor" is named.
Much of the rest of Sullivan's piece is poignant, if hard to (metaphorically) hear.
What Coulter did, in her callow, empty way, was to accuse John Edwards of not being a real man. To do so, she asserted that gay men are not real men either. The emasculation of men in minority groups is an ancient trope of the vilest bigotry. Why was it wrong, after all, for white men to call African-American men "boys"? Because it robbed them of the dignity of their masculinity. And that's what Coulter did last Friday to gays. She said – and conservatives applauded – that I and so many others are not men.
While most college-educated conservatives have come to accept homosexuality as a normal variation of biology morally indistinguishable from having green eyes or red hair, we are culturally hard-wired to view effeminacy as the antithesis of masculinity. Intellectually, Sullivan is right. It's going to take a long time, I think, to change the culture of our locker rooms.