Democrats To Add Same-Sex Marriage Plank To 2012 Platform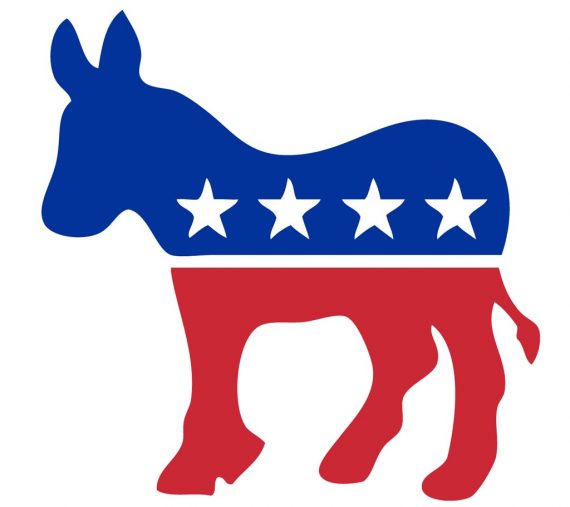 The Democratic Party will put support for legalization of same-sex marriage in the platform to be approved at the convention in Charlotte:
WASHINGTON — A Democratic Party source confirmed to The Huffington Post that the party will include a plank supporting marriage equality in its official platform at the upcoming convention.

The news, first reported by the Washington Blade, represents a historic and phenomenal win for LGBT rights groups, which could hardly have envisioned progress being made so quickly on this front.

The Democratic source relayed that officials unanimously agreed at a recent platform drafting committee meeting in Minneapolis to adopt language endorsing same-sex marriage. Several steps must be taken before the language is codified. A full platform committee will consider the draft in a meeting in Detroit in two weeks. It will then go to the convention delegates in Charlotte for final approval. But the deal is more or less final.

Retiring Rep. Barney Frank (D-Mass), a member of the drafting committee who recently married his longtime partner, told the Advocate that the decision was reached without dissent.

"The fact is, by every action that should be taken, the Democrats in Washington have repudiated DOMA," he said, referring to the 1996 law signed by President Bill Clinton that barred the federal government from recognizing same-sex marriage.

According to the Blade, the "language in the platform approved on Sunday not only backs marriage equality, but also rejects DOMA and has positive language with regard to the Employment Non-Discrimination Act. The exact wording of the language wasn't immediately available."
Some will describe this as risky, but given the general direction of opinion in the country in general and among Democrats in particular is not supporting. Indeed, the most recent Gallup poll on this subject showed that Democrats support same-sex marriage by a far wider margin than the country as a whole: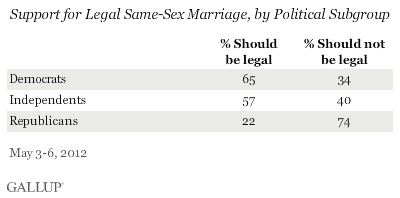 It's unlikely that a development like this will decide the election, however it is another sign of the way we are evolving rapidly on this issue.