Denial Ain't Just A River In Egypt: Karl Rove Edition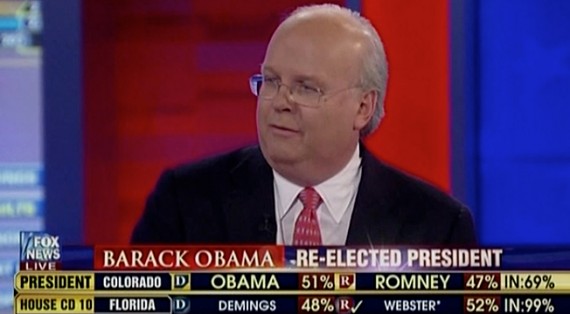 Perhaps the most amusing moments of election return watching for me last night came after all the networks had called both Ohio and the Presidential Election as a whole and I decided to switch over to Fox News Channel to see how they were handling the news. I would've done the same thing with MSNBC had Romney won because, well, it was late at night and schaudenfreude is just so much fun sometimes. What I wandered into was a five minute rant from Karl Rove trying to explain why the network that pays him was wrong to call Ohio and the race for the President:
After this was over, Megyn Kelly did a piece from the the Fox "Decision Desk" where the guy who was in charge of evaluating the numbers and making the calls, whose name escapes me now, basically explained why Rove was full of crap:
And it wasn't that hard to understand. At that point in the night, less than 50% of heavily Democratic Cuyahoga County, basically the City of Cleveland and its immediate suburbs, had not come back. Already, Romney was getting trounced in this county and it was obvious that whatever numbers might come in from elsewhere in the state were not going to be sufficient to overcome the advantage that Cuyahoga would give to the President. In the end, that's exactly what has happened.
Rove's five minute spiel, though, is just a masterful example of refusing to admit the obvious even when the numbers are right in front of your face.