Dennis Hastert Reportedly Made Payments To Conceal "Sexual Misconduct"
The next shoe drops in the Dennis Hastert case.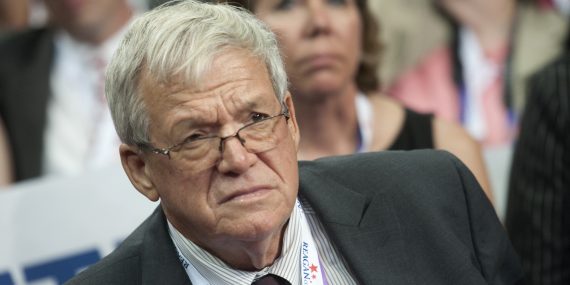 The Los Angeles Times is reporting that the payoffs that former Speaker of the House Dennis Hastert was making which led to his indictment on charges relating to structuring bank withdrawals and lying to the Federal Bureau of Investigation were being made to cover up sexual misconduct in Hastert's past

Indicted former House Speaker Dennis Hastert was paying an individual from his past to conceal sexual misconduct, two federal law enforcement officials said Friday.

One of the officials, who would not speak publicly about the federal charges in Chicago, said "Individual A," as the person is described in Thursday's federal indictment, was a man and that the alleged misconduct was unrelated to Hastert's tenure in Congress. The actions date to Hastert's time as a Yorkville, Ill., high school wrestling coach and teacher, the official said.

"It goes back a long way, back to then," the source said. "It has nothing to do with public corruption or a corruption scandal. Or to his time in office." Thursday's indictment described the misconduct "against Individual A" as having "occurred years earlier."

Asked why Hastert was making the payments, the official said it was to conceal Hastert's past relationship with the male. "It was sex," the source said. The other official confirmed that the misconduct involved sexual abuse.
In all honesty, after reading the indictment that was filed against Hastert, which I've embedded below, it seemed pretty clear that there was something like this involved in this whole story. The indictment starts out by referring to Hastert not as the former Speaker of the House but by referencing the fact that he was a High School teacher and wrestling coach in Yorkville, Illinois from 1965 to 1981 and states that the discussions between Hastert and a person identified only as "Individual A" involved "past misconduct" by Hastert. The natural conclusion from this would seem to be that Hastert was paying this person off in an effort to prevent him from going public regarding allegations of sexual misconduct while he was a teacher and coach. Even though the last of these events would have occurred thirty-four years ago, it is possible that Hastert could have still faced criminal or civil liability if the misconduct involved a minor. That would depend on what Illinois law on this issue is and whether that state has followed others in changing its laws to allow people who were sexually abused when they were minors to bring claims long after the applicable statute(s) of limitation would have expired. If that's the case, then Hastert could also face charges related to obstruction of justice. If there are no such provisions in Illinois law, then Hastert still would have faced having his reputation damaged if the person identified as "Individual A," or other persons, had gone public with their allegations.
Buzzfeed News, meanwhile, is reporting that Federal prosecutors agreed not to include details about allegations against Hastert in the indictment at the request of Hastert's attorneys:
U.S. Attorney Zachary T. Fardon agreed to withhold details of former House Speaker Dennis Hastert's alleged "prior misconduct" against an unidentified individual as part of an indictment against the Illinois Republican, two sources familiar with the case told BuzzFeed News.

Fardon announced the indictment — which charges that Hastert illegally evaded reporting transfers of large sums of money and of lying to the FBI — Thursday afternoon. Although the indictment says Hastert agreed to pay "Individual A" $3.5 million" in order to compensate for and conceal "prior misconduct" it does not include details of the alleged misconduct nor the identity of Individual A.

Fardon's spokeswoman, Kimberly Nerheim, did not respond to multiple requests for comment.

According to sources familiar with the case, Fardon had originally been prepared to move forward with a much more explicit indictment of Hastert, who prior to serving in Congress was a high school teacher and wrestling coach for more than 15 years in Yorkville, Illinois.

But Fardon's office ultimately agreed to limit the amount of information in the indictment, according to these sources, in part because of a request from Hastert's attorneys.
Buzzfeed is also reporting that Federal prosecutors had also reversed a previous decision to include regarding Hastert and a second alleged victim in the indictment, which indicates that whatever it is that Hastert is accused of is something that wasn't limited to one person. Ultimately, of course, the Federal Court that hears Hastert's case will not decide on his guilt or innocence regarding events that took place thirty years in the past. Despite that fact, though, it seems difficult to see how the details of those events will not be made public at some point. Even if Hastert ultimately pleads guilty, which seems like it would be the most likely outcome given the fact that the prosecutors seem to have an airtight case against him, the truth is likely to come out at some point. This would make a story that has come as a shock to pretty much everyone who knew former Speaker Hastert would become even more stunning and shocking.
Update: NBC News has more detail, and seemingly confirms that this involves allegations of sexual abuse of a student while Hastert was an educator:
Former House Speaker Dennis Hastert paid a man to conceal sexual misconduct while the man was a student at the high school where Hastert taught, a federal law enforcement official told NBC News on Friday.

The official spoke on condition of anonymity. Tribune newspapers reported earlier in the day that two unnamed federal officials said that Hastert paid a man from his past to conceal sexual misconduct.

Representatives for Hastert have not returned requests for comment from NBC News.

Charles Hastert, a nephew, told NBC News on Friday that his uncle "has always been as honest and clean as they come." He said he believes the charges are probably a political witch-hunt.

Jeff Jerabek, who was on the wrestling team in the mid-1970s, said he had never heard so much as a rumor of impropriety. He described Hastert as friendly and in tune with his students.

"If you had a problem, it wouldn't be hard to talk to him about it," said Jerabek, whose two older brothers were also on the team. "I remember one time I was walking along with a frown and he said, 'Hey smiley, cheer up.' Some teachers, it's just a job. Not him. He was a friendly guy."
More to come, I'm sure.