More Sexual Abuse Allegations Against Dennis Hastert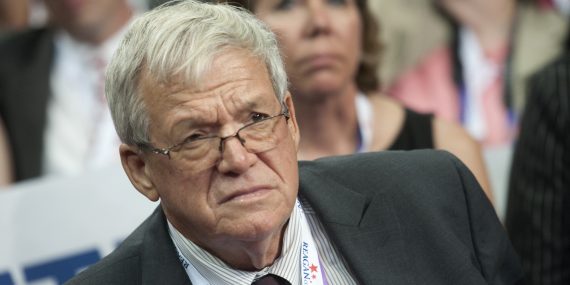 Former House Speaker Dennis Hastert, who was indicted last week on charges involving currency transaction that were later revealed to be related to charges of sexual abuse when he was a high school teacher and coach, is now being accused of abusing another minor in a case apparently unrelated to last weeks' charges:
A woman on Friday named her deceased brother as a victim of sexual abuse by J. Dennis Hastert, the former House speaker, saying the abuse took place while he was a student at the Illinois high school where Mr. Hastert was a wrestling coach.

The comments by the woman, made on ABC's "Good Morning America," marked the first time that a person has been publicly identified as a possible victim of Mr. Hastert.

The woman, Jolene Reinboldt, said her brother, Stephen, was an equipment manager at the high school in Yorkville, Ill., where Mr. Hastert was a wrestling coach in the 1970s.

Mr. Hastert, who served for eight years as speaker of the House of Representatives, was indicted last week and accused of making cash withdrawals, totaling $1.7 million, to evade detection by the authorities. The federal authorities also charged him with lying to them about the purpose of the withdrawals. Mr. Hastert is scheduled to appear in court next week in Chicago.

In May, two people briefed on evidence uncovered in an F.B.I. investigation told The New York Times that Mr. Hastert was paying a former student hundreds of thousands of dollars not to disclose that he had sexually abused him decades ago.

In the interview Friday, Ms. Reinboldt called Mr. Hastert a father figure for her brother and said Mr. Reinboldt had been part of a group that accompanied him on a trip to the Bahamas.

She said she learned of the years of abuse when her older brother revealed to her that he was gay eight years after he left high school. "I asked him, 'When was your first same-sex experience?' " she said. "He looked at me and said, 'It was with Dennis Hastert.' I was stunned."

"And he just turned around and kind of looked at me and said, 'Who is ever going to believe me?' "

Ms. Reinboldt said she believed the abuse ended when her brother moved away after his high school graduation in 1971. Mr. Reinboldt died of AIDS in 1995.

She said she had confronted Mr. Hastert when he unexpectedly came to her brother's funeral, telling him, "I want you to know that your secret didn't die here with my brother."

Mr. Hastert was a high school teacher and coach in Yorkville from 1965 to 1981, and worked with the Boy Scouts for 16 years, leading groups of teenage boys to the Bahamas and on camping trips in the West. According to the indictment, the recipient of the payments was from Yorkville and had known Mr. Hastert for decades.

Ms. Reinboldt said she tried for years to get news organizations, including ABC News, and advocacy groups to pursue the story. She began in 2006 after it was revealed that Mr. Hastert had covered up claims that Representative Mark Foley, a Florida Republican, had sent sexually explicit emails to Congressional pages.

She said she had given up on exposing Mr. Hastert. Then, two weeks ago, just before Mr. Hastert was indicted, she was contacted by the F.B.I.

"That's when I just kind of lost it and said, 'Oh my God, I can't believe — I never thought I was going to get this phone call,' " she told ABC News.

Mr. Reinboldt's senior class yearbook showed that he was a class officer every year, a member of the French and Letterman's clubs, and was student council president in his senior year. He was the manager of the wrestling team for four years.
It's really somewhat surprising that these charges didn't become public before today. Hastert, you will recall, became Speaker of the House after Newt Gingrich was forced to step aside in no small part because of revelations that had become public about his affair with a House Staffer named Callista Bisek, who is of course now his wife. Originally, Gingrich was supposed to be replaced as Speaker by Louisiana Congressman Bob Livingston, but he too was forced to step aside when his own affair became public. This was all happening, of course, in the midst of the Impeachment of President Clinton for lying about his affair with Monica Lewinsky. The fact that these charges against Hastert, which now apparently involve two victims and probably more than that, never became public at that point, or during the entire time that he was Speaker of the House is really quite astounding.