Detroit's Pre-Bankruptcy Negotiating Game May Not Be Working.
Detroit faces some immense problems. Papering over them with short term deals with creditors isn't going to solve them.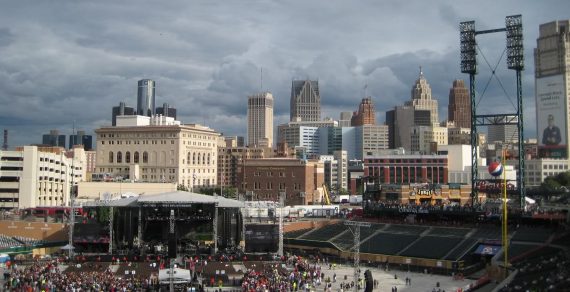 The manager appointed by the Governor of Michigan to try to turn Detroit around and save it from having to file for Bankruptcy protection has some tough news for Detroit's creditors:
DETROIT — The emergency manager who was sent to reverse the fortunes of this financially troubled city asked some of its creditors on Friday to accept pennies on the dollar as he laid out his plan for tackling Detroit's staggering debt, kick-starting negotiations that could determine whether the city is headed to bankruptcy court.

Presenting a grim take on the city's fiscal standing in a closed-door meeting, the emergency manager, Kevyn Orr, a bankruptcy lawyer from Washington who was appointed in March, made a case to dozens of bondholders and union leaders that deep cuts alone cannot save Detroit. He said that painful sacrifices must be shared.

"This is not meant to be a hostile act," Mr. Orr said at a news conference in which he discussed the session. "It isn't meant to be combative. It is meant to be an acknowledgment and recognition of the realities that we can no longer deal with."

The proposal includes an offer that amounts to less than 10 cents on the dollar on some of the city's unfinanced debt obligations like unsecured bonds and a portion of unfunded pension liabilities, which together total more than $11 billion. He will hold another meeting next week with labor leaders and retirees for further discussions on the plan, which also includes a proposal to reduce health care benefits for retired city workers.

To save money, Mr. Orr announced he would stop making some of Detroit's debt payments, including $39 million that was due to creditors on Friday. "What the average Detroiter needs to understand is that we're tapped out," he said.

On Thursday, the rating agency Moody's downgraded several of Detroit's debt obligations, and after Friday's session it raised the prospect of further action.

"We also believe the city's risk of bankruptcy has increased over the last six months," Moody's said in a statement. "All of Detroit's ratings remain under review for possible downgrade as we analyze the ongoing discussion between the city and its creditors and stakeholders."

Friday's gathering, and the talks that are expected to follow in the weeks ahead, are moving the city to a moment of truth. Some government restructuring experts speculate that it may not be long before Detroit becomes the largest municipality in the nation to file for Chapter 9 protection. Mr. Orr said the odds were 50-50.

Since he took the job, Mr. Orr has painted an ominous portrait of severe cash flow shortages, junk credit ratings and at least $17 billion in long-term obligations that, if left unchecked, would eat up about 65 percent of the city's total revenue by 2017. City operations are in desperate need of mending, he has said, including an overhaul of public services for the 700,000 residents now living in a city that once was home to 1.8 million.

The proposal presented to creditors on Friday would spend about $1.25 billion over the next 10 years on reinvestment in city services and crumbling infrastructure, including public safety and fixing city operations. Detroit has already started negotiations with its surrounding counties over a possible deal to sell its water system to an independent authority, Mr. Orr said.

City and state leaders have said bankruptcy is a last resort. It is unclear whether the mere threat will be sufficient to persuade enough creditors and union officials, some of whom feel Mr. Orr is exaggerating the problems, to embrace voluntary cuts.
Orr is clearly playing the same kind of pre-bankruptcy filing negotiation game that you often see in large corporate bankruptcies, something that Orr specializes in. In these negotiations, debtors are typically trying convince  creditors and their representatives that it would be more in their interests to work out a deal than to allow the entity go into Bankruptcy Court. In the case of unsecured creditors, this is most assuredly always true. Even in a reorganization bankruptcy, they end up near the bottom of the totem pole and will typically see only pennies on the dollar. There isn't a perfect analogy between a Chapter 9 Municipal bankruptcy and a Chapter 11 corporate reorganization, but there are plenty of similarities. In both cases, unsecured creditors will end up getting the shaft in the end, while secured creditors and, in the case of municipalities, pension obligations, will be treated somewhat better. Even those creditors, however, are likely to find themselves having a resolution that they don't necessarily like imposed upon them by a Bankruptcy Court Judge. In any case, such creditors would still need to spend considerable funds on legal presentation which in complex bankruptcy cases tend to be quite high indeed. In the end, then, reaching an agreement that averts bankruptcy would likely be in the interests of all parties.
In the corporate world, of course, not all efforts to avoid Chapter 11 end up being successful and the parties all head to Bankruptcy Court. In the case of Detroit, though, it's likely that negotiations are being made more difficult by the fact that the creditors don't necessarily believe that Detroit will pull the trigger and file a Chapter 9 petition. For one thing, such a filing would constitute the largest Chapter 9 filing in recent history. Even if the city were to emerge from court in something resembling decent financial shape, the filing alone would do immense damage to the city's credibility with creditors, contractors, and others who have done business with the city in the past. Its bonds would likely be relegated to high-interest "junk" status for the foreseeable future, contractors may decide to avoid doing business with the city in fear that they might not get paid. In general, the city may end up finding that it would not be able to successfully emerge from bankruptcy because of the financial uncertainty the bankruptcy creates. That happens all the time in the corporate world, of course, which is why many companies that emerge from Chapter 11 find themselves on the steps of the Courthouse a few years later. In the case of a municipality, though, the consequences would be far more serious as the financial crisis that led to the Chapter 9 filing reemerged at a later date in a much more painful form. In the meantime, the brain drain that has exacerbated Detroit's problems over the decades would likely only accelerate.
The truth of the matter, of course, is that the problems that Detroit, or any other number of major American cities, face at this point aren't going to be solved by rearranging the deck chairs on its fiscal Titanic. Instead, as Jazz Shaw notes, it's going to take some more creative thinking:
[A]ssuming Orr finds a path through this tangled mess and returns Detroit to at least the hope of some form of long term solvency, how will they prevent the same thing from happening all over again? Obviously it would require rethinking the entire public service sector, as well as allowing more public scrutiny of everyone who has their fingers in the food dish. More privatization might be part of the answer, but a harsh dose of reality when constructing public service contracts will be mandatory. Otherwise, all Orr is accomplishing is putting a blanket over the flames in the short term and letting the fire build back up all over again.
The problem is that these solutions are very politically unpopular and not easily implemented in a city where the powers that be still aren't willing to acknowledge the reality that they find themselves in. So, good luck to Keyn Orr. You're going to need it.