Disclaimer of the Day
An amusing lede to an exasperating column.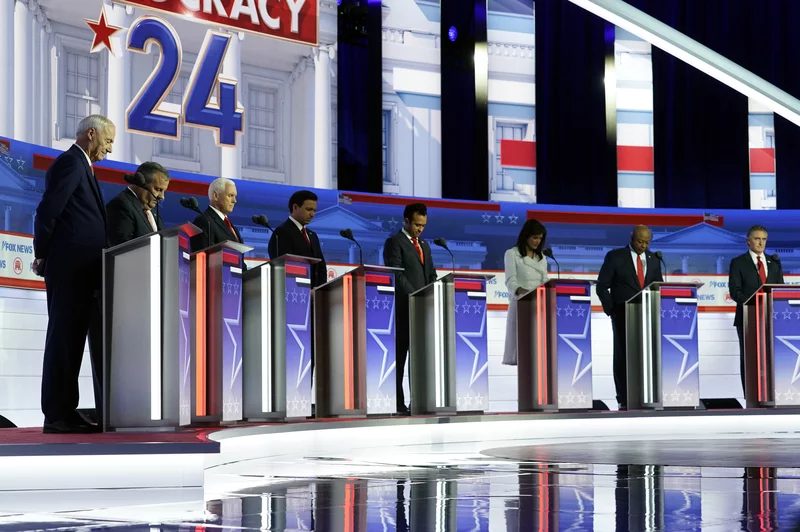 George Will's latest WaPo column is titled "Tim Scott, please drop out, urge others to follow and unite behind Haley."
It begins,
Disclosure: The columnist's wife, Mari Will, an adviser to Republican presidential candidate Sen. Tim Scott (S.C.), disagrees with this column.
One imagines not.
As to the column, the idea is hardly novel:
By catalyzing a coalescence around Haley, Scott could transform the nation's political mood. As long as the Republican race pits Donald Trump against a cluster of lagging pursuers, the nominating electorate cannot ponder a binary choice. When, however, it is Trump against one experienced, polished, steely and unintimidated adversary, voters can internalize this exhilarating reality: There is a choice suitable for a great nation.
The problems for this suggestion are manifold.
First, it's not at all obvious why Haley would be the default normie Republican. She's barely registering in the polls. To be sure, Scott is doing even worse. But the campaign has barely started and few seem to be paying much attention to the non-Trump, non-DeSantis candidates.
Second, Trump is currently at 58%. Even if all the other candidates joined Will Hurd in dropping out, endorsed Haley, and managed to persuade their nominal backers that Haley was the one, that would put here at 42%—still way behind.
Third, this ignores DeSantis and Ramaswamy, who hold the second and third spots in the polls—way behind Trump but also ahead of Haley. Even if Pence, Christie, Burgum, and Hutchinson went along with the Will-Scott gambit, there's no reason on earth that the two non-normie, non-Trumps would.
Additionally, Will posits,
Scott could mercifully end the candidates' miserable "debates," which are caricatures of real ones and diminish everyone involved. (In the Lincoln-Douglas debates, one spoke for an hour, the other for 90 minutes, then the first speaker delivered a 30-minute answer.) More 60-second simplicities about complexities will benefit only the nonparticipating candidate, who has time on his side.
Granting the non-debate nature of the so-called "debates," the chief reason they're so embarrassing this go-around is that the candidates are going out of their way to appeal to a rabid base. You know, the Republican nominating electorate, who have Trump at 58% and two Trump-like figures at 13.2% and 7.8%. That's, um, 79%. How Haley gets the nomination with the other 21% is not obvious to me.
But let's just assume she does, for funsies.
She would be heavily favored against the fast-fading President Biden. So, if her nomination becomes likely, Democratic panic might produce what Democratic prudence evidently will not: a 2024 ticket other than one joining someone no longer fit for the presidency with someone who never will be fit.
It is true that a handful of polls have Haley with a modest advantage over Biden, with an average margin of 4.3. Indeed, no poll that's less than six weeks old shows him with an advantage. Then again, not many companies are bothering to poll this incredibly unlikely matchup.