Discourse II
Expanding on yesterday afternoon's post.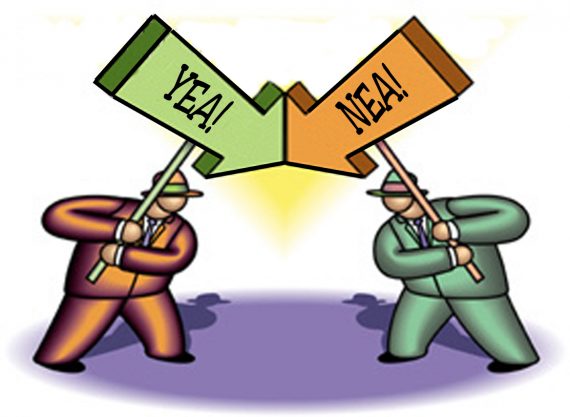 The vagueness and timing of my post "The Impossibility of Discourse" gave many the impression that it was mostly a reaction to pushback on that morning's post about Elizabeth Warren. In fact, it's a frustration that's much longer in the making.
My subtitle, "The liberal notion that people are persuadable through airing of ideas is obsolete," is certainly overstated. As commenters, including my co-blogger Steven Taylor noted in the thread, all of the three front-pagers have changed our views considerably over the many years we've been blogging, precisely as a function of back-and-forth on thousands of posts.
Then again, we're part of the "intellectual class" that I referenced in the post to pushback from some. The nature of our training and profession is such that intellectual honesty compels us to grapple with evidence and defend inconsistencies. By contrast, for example, many of my old Army buddies who I know to be decent, highly intelligent people still hold pretty much the same views as they did in 2003, if not 1983.
Most of my frustration, for understandable reasons, are with my former co-partisans who have seemingly abandoned all of their stated principles to first nominate and then elect and continue to support Donald Trump. But, as I've written many times, we've long since come to the point where the 30ish percent who are hardcore Trump supporters are simply unswayable. We're literally at the point he bragged about during the campaign, wherein he could shoot a man on Main Street and not lose their support.
But the other side has formed its own kind of echo chamber. It's not a fact-free zone in the way of the opinion side of Fox News or Breitbart/Daily Caller/etc. But, especially as carried out on Twitter and to a much lesser degree in the comments here, there seems to be more interest in virtue signaling than persuasion.
I've written many times over the last few years about particular examples but articulating a general sense of it is difficult. But there's a tendency to shut down discourse through ad hominem, poisoning the well, and other fallacies of distraction.
So, for example, any criticism of a female politician is invariably decried as misogyny, sexism, privilege, or the like. While the nature of privilege, in particular, is such that one can be blind to it, it's a rather tiresome critique when one is talking about the Speaker of the House or a leading contender for the Presidency.
More broadly, criticism of Democratic candidates tends to be met with the whataboutism that Democrats decried when applied to Hillary Clinton or Barack Obama. Any criticism of potential challengers is met as a backdoor endorsement of Trump. While that's annoying enough on Twitter, it's particularly odd here, where I've spent four years making clear the extent to which he should not be President. Ironically, the very people who spent so much time warning against "normalizing" Trump have wound up doing just that.