Donald Trump Discovers Being President Is Hard
Donald Trump seems to be surprised that being President requires actual work.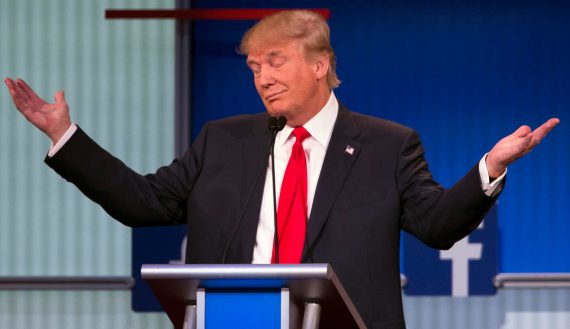 Donald Trump's recent interview with The Wall Street Journal includes this telling recounting of Trump's conversation with the President of China about the situation in North Korea. Apparently, Trump brought the subject of North Korea up and offered to the Chinese leader that he'd be willing to make concessions
President Trump acknowledged the complexity and political sensitivity of the relationship between China and North Korea this week, after China's President Xi Jinping explained the countries' relationship to him.

Trump told the Wall Street Journal on Wednesday that he was previously convinced China had "tremendous power" over North Korea. But after meeting with Xi last week Trump said he "realized it's not so easy."

"After listening for 10 minutes, I realized it's not so easy," Trump said. "I felt pretty strongly that [China] had a tremendous power over North Korea. But it's not what you would think.

Ahead of his meeting with Xi last week, Trump vowed to pressure the Chinese leader to take a tougher approach to North Korea.

The president's acknowledgement of the situation's complexity comes amid increased tension between the U.S. and North Korea. A U.S. Navy strike group was ordered into the west Pacific near the Korean Peninsula last weekend amid concerns about North Korea's advancing weapons program.
Zach Beauchamp has these observations:
Four quick observations about this:

Trump thought China could fix North Korea until the Chinese president politely informed him that North Korea is in fact complicated.
Trump seems to have required the leader of China to explain basic facts to him that he could have Googled, or at least asked one of the many US government North Korea experts about.
Trump came to a profound realization about one of the most dangerous conflicts on earth after a 10-minute conversation.
Trump is getting his information about East Asian affairs from the leader of America's largest rival in the region.
One question this does bring up, of course, is exactly who's briefing the President and what they're telling him. Presumably, there are plenty of people at the State Department, Defense Department, and National Security Council who are capable, willing, and ready to provide the President with all the background briefing he'd ever need on the issues in Korea, including the background of the complicated history of the peninsula that shapes views about both China and Japan in both North and South Korea to this day. They'd also likely to be able to explain the limitations of Chinese influence over the leadership in Pyongyang, although that has become more and more apparent in recent years to even an amateur observer of the day-by-day events in the region and the manner in which the Kim Jong-Un regime seems not willing willing, but quite eager, to basically ignore admonitions from Beijing at the same time they continue to take aid that China provides largely to avoid the chaos that would ensue if his despotic regime were to suddenly collapse. Contrary to the popular assumption in the West, which Trump apparently shared until talking to Xi, North Korea is a puppet regime of China and China can easily control what the seemingly irrational players in Pyongyang do. Since it would seem to be important for a President of the United States to understand, you would think his advisers would be telling him about. If, that is, he is even listening to his advisers.
This isn't the first time that Trump has expressed, in one way or another, how being President was harder than he thought it would be when he was running for President. Granted, it's probably the case that nobody who runs for President, with the possible exception of sitting for former Vice-Presidents who have been involved in the process themselves alongside the President they served with is fully prepared for the gross tonnage of what it is a President is responsible for. Barack Obama himself admitted that when he walked out of the first full intelligence briefing he received after being that he was overwhelmed by what he had been told that he previously didn't know because he lacked the appropriate security clearances. Other Presidents have admitted much the same thing. With Trump, though, it seems far more severe. All through the campaign, he made it seem as though only he had the knowledge and skills to deal with the problems facing the nation on the domestic and foreign policy fronts. At various points, he even claimed he knew more about the situation in the Middle East than intelligence or military officials in the government, and that he knew more about the economy than all the expert employed by the government and private industry. Indeed, this myth of Trump as the all-knowing multi-billionaire who can fix all our problems is something that has been part of Trump's carefully crafted public image since the 1980s.
In recent weeks, though, Trump has said publicly that he's discovered that things aren't what he thought they were. This includes getting some form of health care reform passed, working with Congress, building his so-called wall on the southern border with Mexico and getting Mexico to pay for it, and tax reform. Now, you can add North Korea to that list, and the fact that he apparently had to be educated by the President of China is particularly embarrassing. Of course, if he'd had any experience in government at all, he'd know that none of what a President needs to do is easy. Whether that will have any impact on him going forward remains to be seen.