Drug Sniffing Dogs Create Probable Cause Where None Existed Says Supreme Court
The Fourth Amendment got even weaker yesterday.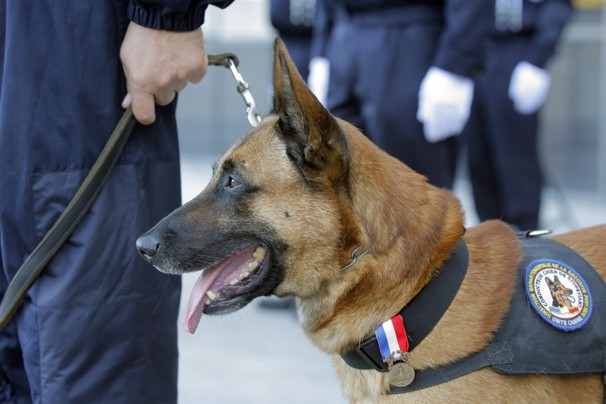 A search with no probable cause by a police dog that turns up evidence creates probable cause, thus justifying the search, the Supreme Court ruled Tuesday.
USA Today ("Supreme Court rules in favor of drug-sniffing dog"):
The high court ruled unanimously that a Florida police officer's use of a drug-sniffing dog to search a truck during a routine traffic stop was appropriate, even though the drugs found were not what the pooch was trained to detect.

Justice Elena Kagan wrote the unanimous opinion for the court – and for Aldo, a retired drug-detection dog. "The record in this case amply supported the trial court's determination that Aldo's alert gave (Canine Officer William) Wheetley probable cause to search the truck," she said.

The case was one of two involving drug-sniffing dogs heard on Halloween. In the other case, a dog was used to sniff for drugs on the doorstep of a private home. While the court did not decide that case Tuesday, justices were far more skeptical of the legality of that search during oral arguments.

[…]

On the other hand, Scalia and Justice Anthony Kennedy appeared to align with the court's four liberals against Franky, who detected marijuana in a Miami grow house only after spending several minutes sniffing around the front door. Kagan called that "a lengthy and obtrusive process." Justice Ruth Bader Ginsburg said it could lead to random searches of "any home, anywhere."

Both cases hinge on the Fourth Amendment's protection against unreasonable searches — a protection the high court held in high esteem during its last term, when it ruled unanimously that police should have obtained a warrant before placing a GPS device on a drug suspect's car.
That individuals have a lower expectation of privacy in their cars than their homes is a long-established principle. Still, the notion that police have a right to search a car for drugs—and make no mistake, that's what bringing a dog trained to sniff out drugs is: a search—without probable cause is outrageous.
I've got no sympathy for people who endanger the public safety driving stoned—much less those who do it in inherently dangerous commercial trucks. But, absence erratic driving or other indications that the operator was impaired, the Constitution rather clearly requires a search warrant issued by a magistrate.
The Supreme Court has over the years carved out enough exceptions to the Fourth Amendment to render it a dead letter. Vehicular searches have long been among them, on the grounds that the expectation of privacy is low and that the mobility of the vehicle creates a major risk of the evidence being moved and destroyed before a warrant can be issued. Further, the small confines of the interior make it easy for an officer to spot contraband–creating probable cause–in a way that's not possible in a house.
But on what grounds do police have a right to introduce dogs to search that which is not in plain sight, especially without some indication that drugs are present? It reverses the entire basis of the Fourth Amendment. And, yet, none of the Justices seem offended by that fact.