Dumping Russian Vodka is Stupid
It might feel good but it has zero impact on Putin.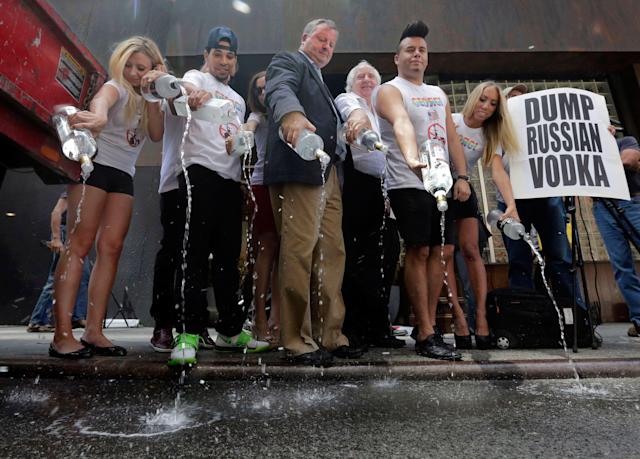 We've been seeing a lot of stories like this over the last couple of days:
As world governments step up their penalties against Russia over its invasion of Ukraine, businesses and consumers are protesting the country with sanctions of their own.

A growing range of Russian businesses, organizations and individuals are facing boycotts over their country's invasion of Ukraine.

Governments and alcohol regulators across North America have either proposed or enacted boycotts against Russian vodka.

The governors of both Utah and New Hampshire this past week ordered Russian-branded and Russian-made vodka to be pulled from the shelves in government-run liquor stores. In Ohio, Gov. Mike DeWine moved to halt the purchase and sale of all vodka made by Russian Standard, a Russian-owned maker that sells its liquor under two names in the state.

One of the world's largest alcohol buyers, Canada's Liquor Control Board of Ontario, said it's removing all products made in Russia from its 679 stores.
This is cute and allows people to feel like they're somehow doing something to show solidarity with Ukraine. But, of course, dumping out or refusing to re-sell vodka you've already purchased does nothing to punish Russia. They already have the money!
Even worse, most of the vodka in question isn't actually Russian.
Some establishments are confused about what products actually come from Russia. A Vermont ski resort bar worker was not alone in pouring Stolichnaya down the drain. But as Mark Schrad, an associate professor of political science at Villanova University, notes, the Stoli vodka Americans drink is actually made in Latvia. A boycott in 2013, ahead of the Sochi Olympics, also targeted the distiller.

"The only Russian brands that you might find on the store shelves are Russian Standard and Green Mark vodkas, yet even their sales in North America make up only a minuscule amount of their global sales," said Schrad, who wrote the 2014 book Vodka Politics: Alcohol, Autocracy and the Secret History of the Russian State. "So even if you start mixing your martinis with Absolut or Ketel One instead of Russian Standard, it is really not going to make much of a difference, especially when compared to some of the big, country-level economic sanctions that have been levied on Russia."
I make my martinis with gin, as the good lord intended. The only reason I stock vodka at all is for Bloody Marys and I've never owned a bottle of Russian Standard or Green Mark. Indeed, I'm not sure I've even seen those on the shelf.