Egyptian Forces Massacre Morsi Supporters, Hundreds Dead
Hundreds are dead as Egypt's military government crack down on supporters of the democratically elected government they ousted.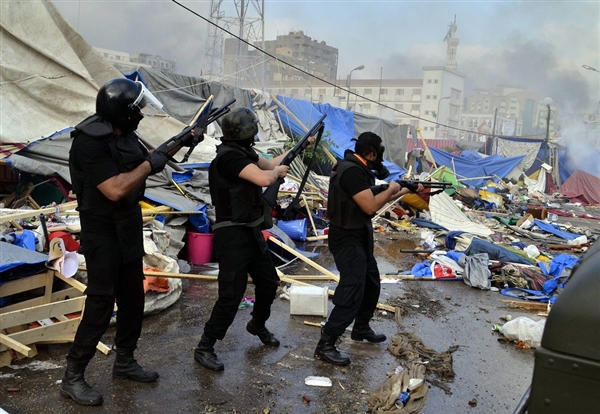 Hundreds are dead as Egypt's military government crack down on supporters of the democratically elected government they ousted.
Sky News ("Egypt: 'Hundreds Die' In Raids On Morsi Camps"):
Hundreds of people have reportedly been shot dead by Egyptian security forces who tried to clear two protest camps loyal to deposed president Mohamed Morsi.

Sky's Middle East Correspondent Sam Kiley, reporting from inside the Rabaa al Adawiya camp in Cairo, said it was "under very heavy gunfire" and was a "massive military assault on largely unarmed civilians in very large numbers".

He said government forces were using machine guns, snipers, M16s, AK-47s and were firing into the crowd.

Kiley added: "There are machine gun rounds, and snipers on the roof, that are preventing people from getting any closer to the field hospital (in the camp).

"I haven't seen any evidence yet of any weapons on the side of the pro-Morsi camp. The camp is very full of women and children."

He said it was a scene of "extreme chaos and bloodshed" and "many hundreds of troops and interior ministry police and special forces are involved".

"The dead and dying are on the steps of this improvised field hospital. The scenes here are absolutely graphic.

"I have covered many wars and this is as severe a battlefield as I have witnessed, with the exception of scenes in Rwanda. There are dozens and dozens of people who have been shot in the head, neck and upper body."
Shadi Hamid is almost certainly right that this is the beginning of something even worse rather than a bloody crackdown that will restore order: "After today's events, there can't be an inclusive pol[itical] process. There will be no nat'l reconciliation. Its early days, and this will be long."
The Brotherhood and its supporters are already calling for counter-action:
The National Alliance to Support Legitimacy has called on "all Egyptian people" to take to the streets "to stop the massacre" after police attacked its two sit-ins in Cairo's Nahda and Rabaa El-Adaweya squares early on Wednesday.

The alliance, an Islamist group led by the Muslim Brotherhood in support of ousted president Mohamed Morsi, asked their supporters to head to the sites of the sit-ins.

They determined a number of gathering points including El-Istiqama Mosque in Giza, El-Fath Mosque in downtown Ramses, El-Nour Mosque in Abbassiya, Assad El-Furat Mosque in Dokki and Al-Alf Maskan Mosque near Heliopolis district.

[…]

Meanwhile, vice-chairman of the Brotherhood's Freedom and Justice Party Essam El-Erian condemned the attacks, saying Morsi supporters will remain defiant.

"Hundreds of martyrs will fall and our determination will never be broken … So we shall live freely in a free country," he said.

Brotherhood spokesman Gehad El-Hadad wrote on Twitter, "You will not bend our will or break our resolve with your audacity to kill. We will always stand high in face of any tyranny."

The Brotherhood holds Defence Minister Abdel Fattah El-Sisi and interior minister Mohamed Ibrahim "fully responsible of every blood drop and any life lost," the group's spokesman Ahmed Aref said.
There are gruesome pictures going around on Twitter of bodies stacked like cord wood. The pile is certainly going to grow. The likely result is civil war.