Elon Musk Beneficiary of $4.9 Billion in Government Subsidies
Billionaire wunderkind Elon Musk has had a lot of help from taxpayers.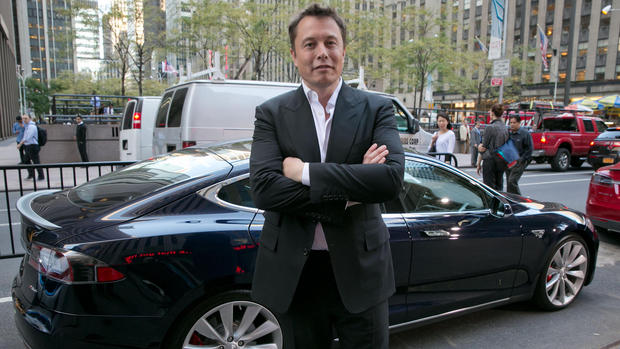 Billionaire wunderkind Elon Musk has had a lot of help from taxpayers.
LAT ("Elon Musk's growing empire is fueled by $4.9 billion in government subsidies")
Los Angeles entrepreneur Elon Musk has built a multibillion-dollar fortune running companies that make electric cars, sell solar panels and launch rockets into space.

And he's built those companies with the help of billions in government subsidies.

Tesla Motors Inc., SolarCity Corp. and Space Exploration Technologies Corp., known as SpaceX, together have benefited from an estimated $4.9 billion in government support, according to data compiled by The Times. The figure underscores a common theme running through his emerging empire: a public-private financing model underpinning long-shot start-ups.

[…]

Tesla and SolarCity continue to report net losses after a decade in business, but the stocks of both companies have soared on their potential; Musk's stake in the firms alone is worth about $10 billion. (SpaceX, a private company, does not publicly report financial performance.)

Musk and his companies' investors enjoy most of the financial upside of the government support, while taxpayers shoulder the cost.

The payoff for the public would come in the form of major pollution reductions, but only if solar panels and electric cars break through as viable mass-market products. For now, both remain niche products for mostly well-heeled customers.

Musk declined repeated requests for an interview through Tesla spokespeople, and officials at all three companies declined to comment.

The subsidies have generally been disclosed in public records and company filings. But the full scope of the public assistance hasn't been tallied because it has been granted over time from different levels of government.

[…]

Subsidies are handed out in all kinds of industries, with U.S. corporations collecting tens of billions of dollars each year, according to Good Jobs First, a nonprofit that tracks government subsidies. And the incentives for solar panels and electric cars are available to all companies that sell them.

Musk and his investors have also put large sums of private capital into the companies.

But public subsidies for Musk's companies stand out both for the amount, relative to the size of the companies, and for their dependence on them.

"Government support is a theme of all three of these companies, and without it none of them would be around," said Mark Spiegel, a hedge fund manager for Stanphyl Capital Partners who is shorting Tesla's stock, a bet that pays off if Tesla shares fall.
Musk contends that the report is misleading:
"The article makes it seem as though my company is getting some huge check, which is fundamentally false," he told CNBC's "Power Lunch."

[…]

Musk said that "none of the incentives are necessary, but they are all helpful," referencing incentive packages some of his companies received to build factories in states like Nevada. He said that the reason these incentives exist is because "voters want a particular thing to happen, and faster than it might otherwise occur."

"That is all that these incentives achieve," he added.

Musk said that the only incentives he bargained for directly were state-level incentives. These include a small launch site in Texas for SpaceX and a Tesla gigafactory in Nevada. He explained that such incentive packages have existed long before his companies received some of them.

"The incentives that Telsa and SolarCity receive are a tiny, tiny, pittance compared to what the oil and gas industry receives every year," he said.

Brian Thevenot, deputy business editor at the Times, responded to Musk's comments by saying that he doesn't need to defend the story because it speaks for itself.

"I'm actually surprised that he had such a sensitive reaction to this story because, really at its core, it's basically a business strategy story that's merely factual," he said in an interview on CNBC's "Closing Bell."

"It paints a picture that I think Elon Musk would agree with, that his business strategy is to incubate high-risk, high-tech companies that promote green technology with the help of billions of dollars of government money," he said.
The focus here shouldn't really be on Musk, who's mostly taking advantage of existing incentives to do worthwhile work. Rather, it should be on the policies themselves.
Given the longstanding goal of eliminating our dependence on Middle Eastern oil imports, public investment in the creation of alternative energy sources and alternative vehicle types is reasonable. The barriers to entry are enormous and unlikely to be met by the market on its own—especially given the massive government subsidies to existing technologies. But it strikes me as odd, indeed, for the taxpayer to shell out huge subsidies to Tesla without also getting a commensurate stake in the company. Why should the taxpayer take the risk directly and get the reward only indirectly?