A Crucial Test Flight For NASA And SpaceX
Early tomorrow morning, NASA and SpaceX will be testing a crucial part of America's return to manned space flight.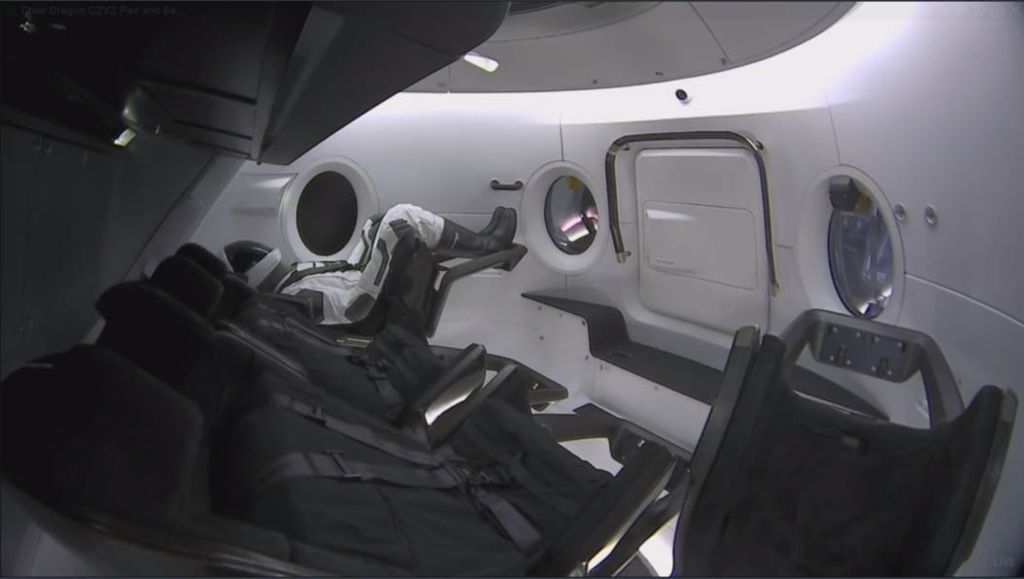 Early tomorrow morning, SpaceX and NASA will launch a test flight that will mark a new milestone in the effort to develop new ways to get American astronauts into orbit:
The space shuttle Atlantis rolled to a stop on a runway at NASA's Kennedy Space Center in Florida on July 21, 2011, its last flight. That ended an era of American spacecraft carrying astronauts to space.

"Mission complete, Houston," said Christopher J. Ferguson, the mission commander. "After serving the world for over 30 years, the space shuttle has earned its place in history, and it's come to a final stop."

Nearly eight years later, a replacement for the space shuttles is finally on the launchpad, not far from where Atlantis landed. During that time, NASA astronauts have flown to the International Space Station aboard Russian Soyuz spacecraft.

Reflecting a new reliance on the private sector, NASA hired two companies, SpaceX and Boeing, to design and build transportation for its astronauts.

After years of delays, the first of those systems — SpaceX's Crew Dragon capsule — is scheduled for liftoff on Saturday at 2:49 a.m. Eastern Standard Time on top of one of the company's Falcon 9 rockets. Forecasts call for an 80 percent chance of favorable weather.

"This is an invaluable exercise for us to learn in the space environment how these systems will be working," said Kathryn Lueders, the manager of NASA's Commercial Crew program, during a news conference on Thursday.

The capsule is not yet ready for astronauts, but the flight is intended as an end-to-end test, doing everything that one with astronauts would do, including docking with the International Space Station early Sunday morning. Then on March 8, it is to leave the space station, and parachute into the Atlantic Ocean a few hours later.

During a previous news conference last week, William H. Gerstenmaier, the NASA official who oversees the human spaceflight program, said problems were to be expected.

"I guarantee everything will not work exactly right, and that's cool," Mr. Gerstenmaier said. "That's exactly what we want to do. We want to maximize our learning so we can get this stuff ready so when we put crew on, we're ready to go do a real crew mission, and it'll be the right safety for our crews."

A subsequent flight with people aboard could come later this year. Boeing's first test flight for its capsule, named Starliner, could be launched as soon as next month.

The Crew Dragon is an upgraded, sleeker version of the SpaceX Dragon capsule that has been taking cargo to the space station since 2012.

Crew Dragon's powerful thrusters serve as part of the escape system to power astronauts to safety in case of a problem with the rocket. It also has the ability to autonomously dock with the space station, instead of relying on an astronaut aboard the station to grab and guide the capsule with the station's robotic arm.

The SpaceX capsule also includes up to seven seats and consoles displaying information for the astronauts. For this flight, one of the seats will be occupied with a sort of artificial person — what NASA calls an A.T.D. or "anthropomorphic test device" — which will be wearing a SpaceX spacesuit. The device includes sensors to measure forces and accelerations that a person would experience on the trip.

The SpaceX engineers named it Ripley, after the heroine in the Alien movies played by Sigourney Weaver.

Similar to how SpaceX broadcast video of a spacesuit-clad "Starman" in a Tesla roadster launched by its Falcon Heavy rocket last year, there will be cameras inside the Crew Dragon capsule. "It will give you a perspective that you would have if you were inside," said Hans Koenigsmann, SpaceX's vice president for build and flight reliability.

SpaceX has faced scrutiny for decisions like planning for the crew to be onboard while the rocket is fueled. In the past, NASA has considered that too risky, but SpaceX prefers to use supercooled liquid oxygen and kerosene, which are more efficient but cannot remain at those temperatures for very long. Fueling begins just 35 minutes before liftoff.

The space agency has tentatively approved SpaceX's approach, known as "load and go." "We came to the conclusion that this was an acceptable risk that we were willing to take," said Patrick G. Forrester, chief of NASA's astronaut office.

Other issues still to be resolved before a crewed flight include certification of the parachutes and fixing a design issue with the thrusters where pieces can break off if they get too cold.
As The Washington Post notes, this test launch represents a crucial first step for both NASA and SpaceX:
KENNEDY SPACE CENTER, Fla. — The Securities and Exchange Commission is all over him. The Air Force inspector general is auditing his launch certifications. And even NASA, one of his most ardent supporters, is reviewing the safety culture at SpaceX after Elon Musk smoked a joint on a podcast.

If that weren't enough pressure, the billionaire entrepreneur is facing one of the most crucial moments in SpaceX's history early Saturday, when the spacecraft designed to carry humans is scheduled to lift off from a storied launch site here.

Although the Dragon spacecraft won't be carrying astronauts — only a mannequin named "Ripley" with sensors and about 400 pounds of cargo — the flight will mark a significant step toward the restoration of human spaceflight from U.S. soil since the space shuttle was retired nearly eight years ago.

The heat isn't just on SpaceX and Musk, who has drawn scrutiny from the SEC over his leadership of his electric car company, Tesla, but on NASA, as well. Years ago, it placed a bold bet on the private sector and outsourced human spaceflight to the International Space Station to two companies: SpaceX and Boeing. The companies won the contracts, worth a combined $6.8 billion, in 2014.

Since then, both companies have faced setbacks and delays as they struggled to meet NASA's rigorous safety requirements. But now NASA says they are poised at long last to make their first flights with humans this year — a timeline many in the industry believe may be optimistic given the immense challenge.

Since the space shuttle retired in 2011, NASA has had to purchase seats on a Russia spacecraft, the Soyuz. Those seats runs out by the end of this year, so if SpaceX and Boeing's spacecraft are not ready, NASA would have to purchase additional seats or face the prospect of not having an American astronaut on board the space station, in which the United States has invested about $100 billion.

With so much at stake, SpaceX's launch, scheduled for 2:49 a.m. Saturday, "is an absolutely critical first step," William Gerstenmaier, NASA's associate administrator for Human Exploration and Operations, said during a news briefing last week.

For SpaceX, a successful flight would mark a crucial next step in its quest to make routine human spaceflight possible. And it would be another triumph for a company that improbably upended the launch industry by pulling off such feats as landing and reusing rocket boosters, usually discarded after each use.

A failure, however, would be devastating. Two SpaceX rockets have exploded: one in 2015 while flying cargo to the space station and another on the launchpad in 2016 ahead of an engine test fire. The company has bounced back from those failures and flown nearly 70 successful missions. But recently the Air Force inspector general announced it is reviewing the certifications granted to SpaceX that allow the company to fly national security missions, a key source of revenue.

NASA officials said that although they are confident about the flight, and have signed off on it after multiple flight reviews, SpaceX must still address several technical issues before flying people later this year.

SpaceX also said it is ready. The company has done "an incredible amount of testing to make sure that everything is safe and ready to go," Hans Koenigsmann, SpaceX's vice president for build and flight reliability, told reporters Thursday.
It's worth noting that this project is designed primarily to develop a means for the United States to deliver astronauts to the International Space Station (ISS) and, if necessary, evacuate them in the event of an emergency without having to rely on the Russians and their Soyuz space capsules, which are based on the same technology that was around in the 1970s. Other projects, under more direct NASA control, are aimed at launch systems and crew vehicles for projects such as a return trip to the Moon sometime in the 2020s and, eventually, a mission to Mars that is likely not going to be feasible until the 2030s at the earliest. For SpaceX and Boeing, successful development of a commercial manned program would be a significant boost for their business model, especially for SpaceX, which has, but for a few setbacks, developed a successful and reliable launch capability that has been used to send supplies to the ISS as well as putting commercial and military satellites into orbit.
s I've noted before the success of companies such as SpaceX and Blue Origin are evidence in favor of the argument that many people made in the wake of the end of the Space Shuttle program, namely that the nation was abandoning space exploration and placing its future in the hands of Russia and other nations. Instead what we have seen in the intervening years is something quite to the contrary. While SpaceX and its fellow private companies have concentrated their efforts on development of launch vehicles, NASA continues to pursue its own heavy launch vehicle that will send men back to the Moon and beyond, and the unmanned probes it has launched such and New Horizon, Juno, and Cassini, have sent back thrilling pictures and groundbreaking information regarding Pluto, Jupiter, and Saturn. Additionally, space telescopes such as Hubble and Kepler have provided us with new insights regarding the origins of the universe and the existence of Earth-like planets outside the Solar System. Rather than an abandonment of space, the last seven years have shown that both privately and publicly, the United States is still going strong in the space race and will be for a long time to come.
Unless it gets scrubbed due to weather conditions or for other reasons, tomorrow's test flight launch will take place while most of us are asleep, at just before 3:00 a.m. on the East Coast and near midnight on the West Coast. If you're so inclined, though, you can watch via SpaceX's webcast.
Photo of interior of SpaceX Crew Dragon via Elon Musk's Twitter feed.