SpaceX Unveils Model Of Ship It Would Send To Mars
SpaceX unveiled a model of the "starship" it would send to Mars but there's still a lot of work to do.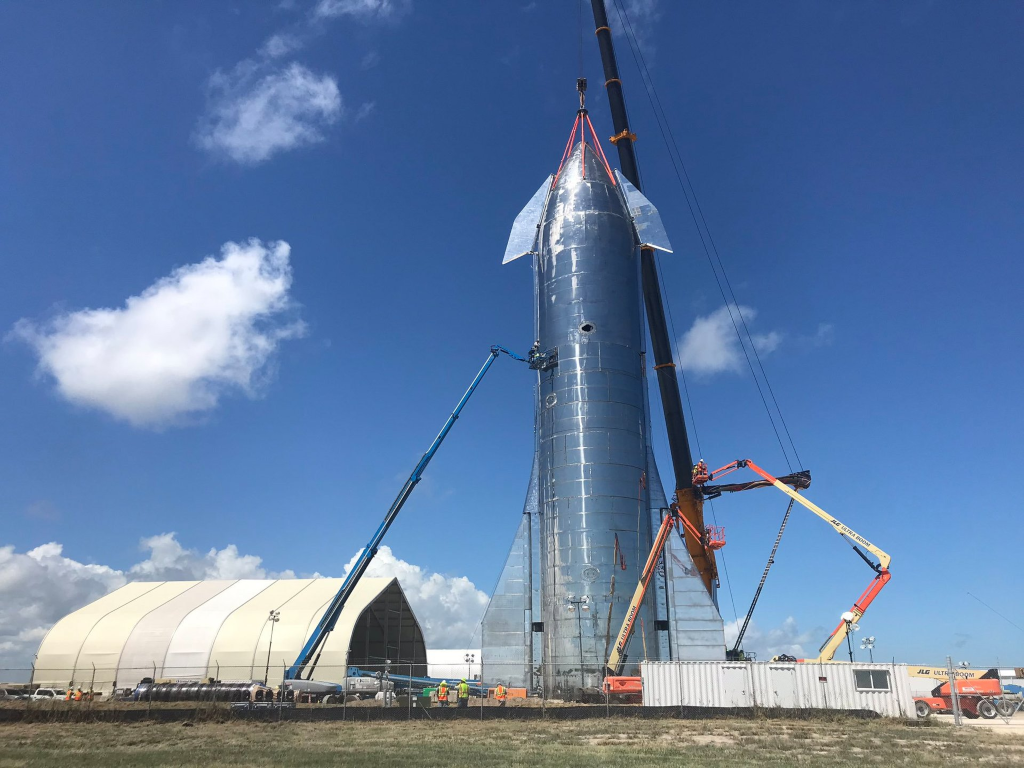 Over the weekend, SpaceX unveiled the massive rocket that it hopes will take crews to the Moon and Mars:
The update on his mega-rocket was timed to coincide with the anniversary of SpaceX's first successful launch 11 years ago. SpaceX has a steady business putting satellites in orbit and carrying cargo to the International Space Station. But whether the company can meet its founder's aims of taking people to Mars is yet to be seen.

The company's earliest rocket, Falcon 1, was just 68 feet high, 5.5 feet in diameter and could carry a payload of 400 pounds.

Starship, by comparison, is 164 feet high and 30 feet in diameter. It will be paired with a behemoth booster stage called the Super Heavy, and the full rocket will be 387 feet tall and able to lug more than 220,000 pounds to orbit. That would be about as powerful as the Saturn 5 rocket that took NASA astronauts to the moon 50 years ago, but able to fly again and again and again.

By making rockets more like other forms of transportation where the vehicle is not thrown away after one trip, the cost of going to space could plummet.

Mr. Musk said an orbital test flight of a refined Starship prototype and the Super Heavy booster could come in less than six months.

"I think we could potentially see people flying next year," he said.

Mr. Musk, who spoke to a couple of reporters after the public portion of the event, said SpaceX could still meet timelines he set out a few years ago — landing a Starship on the moon and Mars within the next few years. Mr. Musk, however, has a history of setting aspirational schedules that turn out to be too optimistic.

Despite such futuristic ambitions, the Starship, made of stainless steel, reflected an imperfect, handcrafted sheen of an earlier era.

"It's like you drove into a Flash Gordon movie or something," said Andrew Goetsch, who lives in the nearby hamlet of about 30 homes and is thrilled to have a front row view of Mr. Musk's space dreams, a sentiment not shared by all of his neighbors.

"It's not often they build a rocket where you can get close enough for it to fall on you," Mr. Goetsch said.

There are good engineering reasons for the choice of material.

Mr. Musk originally had planned to use high-tech carbon fiber, but switched to denser stainless steel. It is cheaper, easier to work with, becomes stronger in the ultracold temperatures of space and has a higher melting temperature that can more easily withstand the heat of re-entry into Earth's atmosphere.

The Starship is to belly flop in the upper atmosphere at a 60-degree angle, Mr. Musk said. Then as it slows and nears the ground, it will rotate to vertical and land.
More from Space.com:
BOCA CHICA VILLAGE, Texas — Elon Musk has a Starship, and one day he expects it will help SpaceX reach other worlds.

Standing beneath a towering Starship Mk1, a prototype for SpaceX's massive reusable launch system, Musk laid out his plan for interplanetary travel at the company's South Texas test site here on Saturday (Sept. 28) — the 11th anniversary of the first successful orbital launch of SpaceX's first rocket, the Falcon 1.

The new version of Starship (and its Super Heavy booster) will be able to carry up to 100people to the moon, Mars or other destinations in space or around Earth, he said. It will stand 387feet (118meters) tall and be completely reusable, with quick turnarounds.

This is the rocket that will launch the billionaire Japanese entrepreneur Yusaku Maezawa and a handful of artists on a trip around the moon in the 2020s. SpaceX unveiled that planned space tourist trip last year (but did not disclose how much Maezawa paid).

"This is, I think, the most inspiring thing I have ever seen," Musk told a crowd of about 200 SpaceX employees, guests and reporters at the company's site near Boca Chica Village, just outside of Brownsville. "Wow, what an incredible job by such a great team to build this incredible vehicle. I'm so proud to work with such a great team."

Musk has long said that the main goal of SpaceX, since its founding in 2002, has been to help make humanity a multiplanet species. The company has developed reusable Falcon 9 and Falcon Heavy rockets, as well as reusable Dragon cargo capsules and a new Crew Dragon ship for astronauts. It has launchpads in Florida, California and now Boca Chica, where the company broke ground on its test site in 2014.

But Mars, Musk has said, has remained the true objective.

"This is the fastest path to a self-sustaining city on Mars," he said Saturday night, referring to the Starship-Super Heavy architecture.
While Musk talks about ambitious manned missions to the Moon and Mars, though, things aren't quite so copasetic with respect to other projects:
NASA is still waiting for SpaceX to complete the Crew Dragon spacecraft that will fly astronauts to and from the International Space Station. The space agency has picked SpaceX (and another company, Boeing) to provide commercial crew flights to the station.

While SpaceX did launch an unpiloted Crew Dragon test flight to the space station this year, a subsequent abort system test failed, leading to the destruction of the vehicle. SpaceX aims to resume abort system tests later this year ahead of the first crewed test flight.

NASA Administrator Jim Bridenstine, it seems, is not happy with the years-long delays of Crew Dragon, as well as Boeing's Starliner spacecraft, especially after seeing SpaceX build Starship Mk1 this year ahead of its own test flight.

"I am looking forward to the SpaceX announcement tomorrow," Bridenstine wrote on Twitter Friday. "In the meantime, Commercial Crew is years behind schedule. NASA expects to see the same level of enthusiasm focused on the investments of the taxpayer. It's time to deliver."
Musk's ambitions are certainly ambitious, and one hopes that they succeed, but it's a long way from where we are now and a ship capable of taking a crew to the Moon, never mind the extended trip that would be required for a mission to Mars. As things stand now, SpaceX, which has admittedly had a remarkable level of success in a complicated area, has yet to manage to send a crew to the International Space Station. They did get a step closer to that goal earlier this year with the successful launch and return of an unmanned Crew Dragon, It is anticipated that the first manned flight of the Crew Dragon will take place later this year but it could end up being delayed until 2020. If it is successful, then SpaceX will be able to provide NASA with an alternative to Russia as a means to get astronauts to and from the International Space Station in the future.
The Starship project, on the other hand, is still in basically what amounts to the theoretical stage. What Musk unveiled over the weekend isn't an operational rocket, for example, but merely a mock-up of what they hope to be able to launch in the next several years. Before getting to that stage, there's still a lot of testing to do, and probably no small degree of failure along the way. Getting a crew to the Moon will take years of testing and training. Getting one to Mars is likely to take longer. I appreciate Musk's enthusiasm but I have to wonder if he isn't getting a bit far out over his skis here.