Once Again, The United States Has Not Abandoned Space Exploration
The arrival of Discovery in Washington D.C. has led to another lament about "national greatness."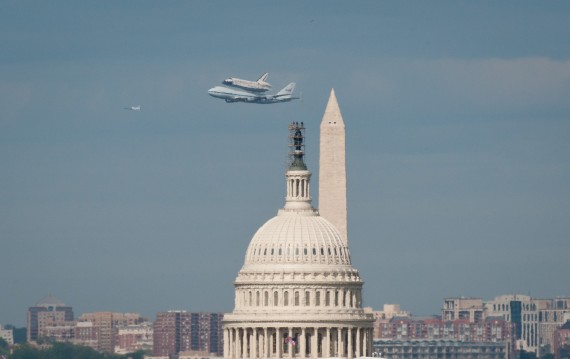 On Tuesday, to much fanfare, the Shuttle Discovery paid a visit to the Washington, D.C. area attached to the back of NASA's specially equipped 747s. As you can imagine the event pretty much brought the D.C. area to a standstill for about an hour or so as people in the city and Northern Virginia paused to glimpse a flight of the oldest surviving Space Shuttle as it made its way to the Smithsonian Institution's Udvar-Hazey Air And Space Museum Annex at Dulles Airport where it will replace the test shuttle Enterprise. It was an amazing sight to see for those lucky enough to be in an area where it could be observed, but for Charles Krauthammer it was an opportunity to bemoan the alleged end of the American space program:
Is there a better symbol of willed American decline? The pity is not Discovery's retirement — beautiful as it was, the shuttle proved too expensive and risky to operate — but that it died without a successor. The planned follow-on — the Constellation rocket-capsule program to take humans back into orbit and from there to the moon — was suddenly canceled in 2010. And with that, control of manned spaceflight was gratuitously ceded to Russia and China.

(…)

Well, you say, we can't afford all that in a time of massive deficits.

There are always excuses for putting off strenuous national endeavors: deficits, joblessness, poverty, whatever. But they shall always be with us. We've had exactly five balanced budgets since Alan Shepard rode Freedom 7 in 1961. If we had put off space exploration until these earthbound social and economic conundrums were solved, our rocketry would be about where North Korea's is today.

Moreover, today's deficits are not inevitable, nor even structural. They are partly the result of the 2008 financial panic and recession. Those are over now. The rest is the result of a massive three-year expansion of federal spending.

(…)

NASA will tell you that it's got a new program to go way beyond low-Earth orbit and, as per Obama's instructions, land on an asteroid by the mid-2020s. Considering that Constellation did not last even five years between birth and cancellation, don't hold your breath for the asteroid landing.

Nor for the private sector to get us back into orbit, as Obama assumes it will. True, hauling MREs up and trash back down could be done by private vehicles. But manned flight is infinitely more complex and risky, requiring massive redundancy and inevitably larger expenditures. Can private entities really handle that? And within the next lost decade or two?

Neil Armstrong, James Lovell and Gene Cernan are deeply skeptical. "Commercial transport to orbit," they wrote in a 2010 open letter, "is likely to take substantially longer and be more expensive than we would hope." They called Obama's cancellation of Constellation a "devastating" decision that "destines our nation to become one of second or even third rate stature."

"Without the skill and experience that actual spacecraft operation provides," they warned, "the USA is far too likely to be on a long downhill slide to mediocrity." This, from "the leading space faring nation for nearly half a century."

Which is why museum visits to the embalmed Discovery will be sad indeed. America rarely retreats from a new frontier. Yet today we can't even do what John Glenn did in 1962, let alone fly a circa-1980 shuttle.
We heard this argument before, of course, both when the cancellation of the Constellation program was announced in 2010 and then last summer when Atlantis lifted off on the final mission of the shuttle program. Some commentators compared to the closing of the frontier of the Old West, others said that it was condemning us to mediocrity, and one member of the Senate (who happens to be from Florida) compared manned space flight to the 19th Century belief in Manifest Destiny, which led some to wonder if he wants to eventually colonize Proxima Centauri and convert the residents thereof to Christianity.
As I noted at the time, these appeals to "national greatness" that some critics of current space policy have used are basically nonsense:
Would it be cool to spend billions of dollars that we don't have to send men to Mars? Most assuredly it would, but what, exactly would we have accomplished. It's been nearly 40 years since we last set foot on the moon and the manned space flight program has been stuck orbiting the planet over and over and over again. Our unamned program, meanwhile, has sent probes to Mars, the outer planets, a comet, and, most recently Mercury.  Three probes that we launched in the 1970s — Pioneer 10 and Voyagers I and II — have traveled further than any other manned made object in human history and are still sending back data as the plunge into the unknown world of interstellar space. At our current rate of development, it will be centuries before human begins can accomplish anything similar to what our machines have been able to do for us.Wouldn't it make more sense to invest money in this method of exploration while trying to find faster, cheaper methods of propulsion ?
Which leads into the argument that Kevin Drum made yesterday in his response to Krauthammer's column, where he points out that we have not abandoned space at all and that there's absolutely nothing wrong with thinking about priorities:
[T]he most annoying part of this column is that Krauthammer shamelessly sidles around the most important fact of all: the United States isn't retreating from space. We're only retreating from manned space flight. Our technology for boosting satellites and unmanned probes into space remains unmatched, and the technology that goes into those satellites and unmanned probes is phenomenal — and getting more phenomenal every year. They are marvels of advanced technology. If you want to insist that the federal government should spend gazillions of dollars making sure that there are always a few American citizens orbiting the earth, that's fine. But that's the argument you need to make. And when you make it, you need to keep in mind one of the oldest jokes about the shuttle program:

The purpose of the space shuttle is to take astronauts up to the space station. The purpose of the space station is to give the shuttle someplace to take the astronauts.
Ultimately, this was the problem with the Space Shuttle program. It became a program in search of a mission. To some degree, this happened because the Challenger disaster in 1986, and to some extent Columbia in 2003, meant that some of the initial plans for the shuttle program were abandoned. The civilians-in-space idea went out the window after Challenger blew up, for example, unless you count the Senators that accompanied shuttle missions in the 199os (and one of the was a former astronaut anyway). Once the Internati0onal Space Station came into existence, though, the shuttles basically just became a really expensive vehicle for bringing people and supplies to and from the station which, in retrospect, seems like an incredibly expensive waste of a vehicle that was the most advanced machine of its time when it was first constructed. For years, people lamented the fact that Americans had seemingly lost interest in the space program, but that's easy to understand given that the shuttle had basically turned into a giant flying delivery truck.
While Atlantis was engaged in its final mission in July,  an unmanned probe called Dawn had entered orbit around an asteroid named Vesta on a mission that would last several years and eventually include a stop at Ceres, a minor planet in the Asteroid Belt. As I noted at the time, this wasn't the only active, or planned, American space mission:
Dawn isn't the only NASA mission that will be launched in the coming years. In August, Juno will be launched on a mission to Jupiter with an expected arrival date in August 2016. Later in the year, the Mars Science Laboratory, which includes a new Mars Rover named Curiosity,  will head toward the red planet with an expected arrival date in August 2012 and is expected to operate for at least one Martian year (slightly under two Earth years). In February 2012, the Nuclear Spectroscopic Telescope Array a space-based X-ray telescope, will be launched as part of the continuing mission to explore deep space and the origins of the universe. Sometime in 2017-2018, the James Webb Space Telescope, a space-based infrared telescope intended to replace the Hubble Space Telescope, will be launched and begin its mission.  While this is going on, private entities like Space-X will be developing the commercial side of orbital launch vehicles, and NASA will be working on what is currently referred to as the Shuttle-Derived Heavy Lift Launch Vehicle, a next-generation heavy-lift rocket designed to get manned American spacecraft into orbit, and beyond. In the meantime three U.S. launched probes — Pioneer 10,Voyager 1 and Voyager 2 — have left the confines of the Solar System for the vast unknown beyond.
So the idea that the American space program is dead is simply nonsense. The manned program may be taking a pause, but considering that it had completely lost focus during the final years of the Shuttle program and that Constellation seemed focused on re-enacting the 1960s, perhaps that isn't such a bad idea. I wouldn't necessarily object to spending money on a manned program. Compared to most of what the government wastes money on it's the far better alternative in most cases, and I'd rather see us spend money exploring the solar system than fighting another pointless war. But the federal budget is not a gravy train and I'd be really interested to know where people like Krauthammer think we're going to get all this money we'd need to live up to this nonsensical idea of "national greatness." Because it's not worth bankrupting ourselves to do it.