Ending the Forever Wars
It's easy if you try.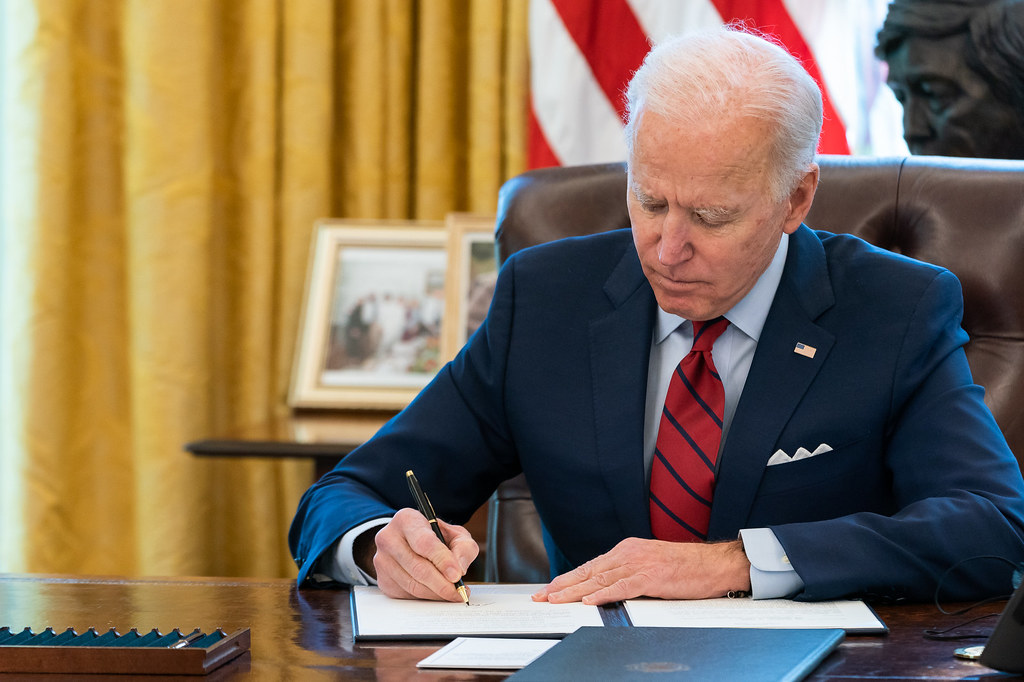 President Biden is rightly working with Congress to rein in overseas military ventures. But, as Commander-in-Chief, he is under no obligation to wait.
POLITICO ("Biden backs new war powers vote in Congress, White House says"):
President Joe Biden intends to work with Congress to repeal the war authorizations that have underpinned U.S. military operations across the globe for the past two decades and negotiate a new one that reins in the open-ended nature of America's foreign wars, the White House said Friday.

In a statement to POLITICO, press secretary Jen Psaki said the president wants to "ensure that the authorizations for the use of military force currently on the books are replaced with a narrow and specific framework that will ensure we can protect Americans from terrorist threats while ending the forever wars."

The olive branch to Capitol Hill marks the first time as president that Biden has publicly endorsed jettisoning resolutions passed by Congress a generation ago that have been used to justify military operations in places few envisioned at the time. The AUMFs include one passed after the Sept. 11 terrorist attacks and another passed in the fall of 2002 ahead of the U.S.-led invasion of Iraq in 2003.

It comes just two days after a bipartisan group of senators, led by Tim Kaine (D-Va.) and Todd Young (R-Ind.), introduced a bill to repeal the 2002 Authorization for the Use of Military Force and one passed in 1991 ahead of the first Iraq War.

Senators proposed the measure amid bipartisan anger over Biden's decision to launch retaliatory airstrikes against Iran-backed militia groups in Syria last week without first seeking congressional approval. The operation frustrated many of Biden's allies on the Hill and renewed longstanding concerns among Democrats and Republicans alike that Congress has abdicated its constitutional role in declaring war and authorizing military operations.

"Tim Kaine has been a leader on questions of war powers throughout his time in the Senate," Psaki said in her statement, "and has helped build a strong bipartisan coalition that understands the importance of Congress's constitutional prerogatives."

A spokesperson for Kaine said the senator "is already in bipartisan discussion with his colleagues and the administration."

"Sen. Kaine believes that President Biden, who has a deep understanding of both congressional and executive responsibilities, is in a unique position to help America restore balance in how we make decisions about war and peace," the spokesperson said.

An ideologically diverse group of senators has signed onto the Kaine-Young effort — a reflection of the fact that reining in presidential war powers has long been a bipartisan priority.

Their effort comes amid escalating tensions between the U.S. and Iran; the U.S. believes an Iran-backed group was responsible for rocket attacks Wednesday that targeted an Iraqi base housing American troops.

Still, in the days following Biden's Syria strikes, lawmakers have questioned the White House's rationale and legal justification for the attacks. Biden said he ordered the strikes in "self defense" after Iran-backed militia groups targeted U.S. forces in the region in recent rocket attacks.

That explanation hasn't satisfied top Democrats, who have used the strikes to revive their years-long push to scale back presidential war powers.

Kaine in particular has warned of the potential for a tit-for-tat military conflict between the U.S. and Iran that could explode into a full-blown war. And Democrats more broadly have criticized the Biden administration for its lack of engagement with Congress in the days since the strikes.
Rolling back the AUMFs, which I fully support, would do nothing to stop Biden or any future President from launching one-off retaliatory strikes. While patently illegal under both US and international law, every President in the modern era has claimed the right to do so under their broad Article II powers as Commander-in-Chief of the armed forces. Unless Congress is prepared to impeach Presidents for transgressions—and they're clearly not—that's not going to change.
To the extent Biden is committed to ending the "forever wars" in the greater Middle East, he can simply . . . end the "forever wars" in the greater Middle East. While consultation with Congress is my preferred practice in almost every instance, to the extent we're using force abroad because Presidents have stretched the AUMFs beyond recognition, Biden can simply stop doing that. He's surrounded by capable national security professionals who can advise him how to do so prudently rather than recklessly.