Engineers Warned of Condo Structural Damage
A tragic story gets more complicated.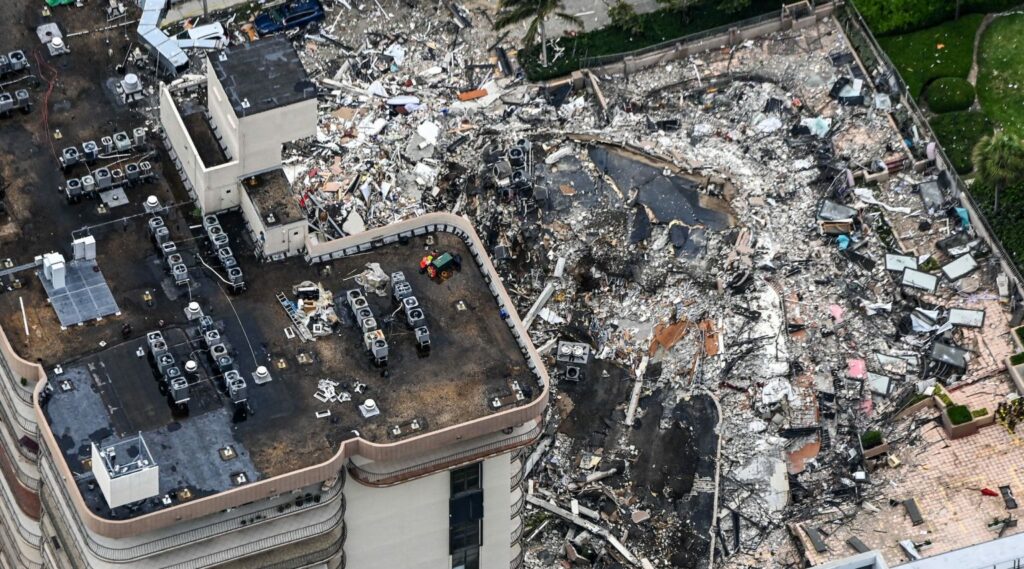 NYT ("Engineer Warned of 'Major Structural Damage' at Florida Condo Complex"):
Three years before the deadly collapse of the Champlain Towers South condominium complex near Miami, a consultant found alarming evidence of "major structural damage" to the concrete slab below the pool deck and "abundant" cracking and crumbling of the columns, beams and walls of the parking garage under the 13-story building.

The engineer's report helped shape plans for a multimillion-dollar repair project that was set to get underway soon — more than two and a half years after the building managers were warned — but the building suffered a catastrophic collapse in the middle of the night on Thursday, crushing sleeping residents in a massive heap of debris.
This news will naturally spur recriminations and years of costly litigation. But it's more complicated than the headline or the lede imply.
For one thing, the report didn't exactly warn on imminent collapse:
"Though some of this damage is minor, most of the concrete deterioration needs to be repaired in a timely fashion," the consultant, Frank Morabito, wrote about damage near the base of the structure as part of his October 2018 report on the 40-year-old building in Surfside, Fla. He gave no indication that the structure was at risk of collapse, though he noted that the needed repairs would be aimed at "maintaining the structural integrity" of the building and its 136 units.
Mostly, though, it's just incredibly expensive to repair a building of this size and it's really hard to get a condo association to agree to pay for it.
But solving the problem of water leaking down from the pool area into the garage was going to involve major work and cost millions of dollars. Brad Sohn, a lawyer representing at least one resident who has filed a lawsuit against the Champlain Towers South Condominium Association, said on Saturday that residents were facing assessments ranging from $80,000 to as high as $200,000.

Mr. Sohn said he was still trying to understand why repairs had not begun immediately after the 2018 report outlining the major problems with the building.

"There is no acceptable answer to that question — period, full stop," he said.
But Sohn answers his own question. Most people don't have $80,000 to $200,000 laying around or even the ability to absorb that sort of additional loan hit to stay in their homes. And, again, the report didn't make it obvious that there was a huge hurry:
Donna DiMaggio Berger, a lawyer who represents the resident-led association that operates the building, said on Saturday that while the report outlined problems to fix, the condo board had no warning that there was a major safety risk.

"If there was anything in that report that really outlined that the building was in danger of collapse, or there was a hazardous condition, would the board and their families be living there?" she said. She noted that one board member, Nancy Kress Levin, was missing in the collapse, as were her adult children.
Regardless, as noted in the intro, the association was moving—just too slowly.
The association had taken out a $12 million line of credit to pay for the repairs and was going through a careful, step-by-step process to get them done, Ms. Berger said. She said that such a process could seem more like moving a commercial tanker than a speedboat, always involving pushback and debate as board members decided on what to tackle first and how much of a cost to impose on homeowners. "Nobody likes a special assessment," she said.

The coronavirus pandemic also slowed progress on getting repairs underway, she said.
There's a whole lot more to the story, including a 1974 incident that led to major regulatory reform in the city and the fact that a collapse of this magnitude likely had multiple causes.