ESPN Was Right to Suspend Bill Simmons for Calling Roger Goodell a Liar
The Worldwide Leader has a conflict of interest. But it handled it correctly in this case.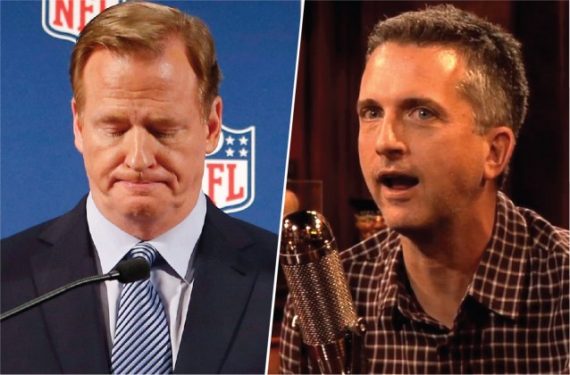 ESPN has issued a three-week suspension to star personality Bill Simmons for a rant against the commissioner of the NFL.  In his podcast, the Grantland editor-in-chief had some strong words for Roger Goodell. According to Mediaite [WARNING: Vulgar language]:
"Goodell, if he didn't know what was on that tape, he's a liar," Simmons said Monday. "I'm just saying it. He is lying. I think that dude is lying. If you put him up on a lie detector test that guy would fail. For all these people to pretend they didn't know is such fucking bullshit. It really is — it's such fucking bullshit. And for him to go in that press conference and pretend otherwise, I was so insulted. I really was."

Later, Simmons dared someone at ESPN to penalize him for speaking out against the NFL. "I really hope somebody calls me or emails me and says I'm in trouble for anything I say about Roger Goodell," he said. "Because if one person says that to me, I'm going public. You leave me alone. The commissioner's a liar and I get to talk about that on my podcast."

"Please, call me and say I'm in trouble," he added. "I dare you."
To no one's surprise, the ESPN brass did just that:
Every employee must be accountable to ESPN and those engaged in our editorial operations must also operate within ESPN's journalistic standards. We have worked hard to ensure that our recent NFL coverage has met that criteria. Bill Simmons did not meet those obligations in a recent podcast, and as a result we have suspended him for three weeks.
Naturally, the outrage ensued, many employing a meme apparently started by Judd Legum:  "ESPN suspended Simmons longer for criticizing Roger Goodell than Goodell suspended Rice for punching his girlfriend."
It's true! Goodell originally suspended Baltimore Ravens running back Ray Rice for two weeks before ultimately suspending him indefinitely, ostensibly in light of "new information" presented by TMZ when they aired the full videotape showing the incident in all its graphic glory. The Ravens also terminated Rice's contract.
Others are weighing in similarly.  Scott Lemieux asks, "How Far Up The NFL's Rectum Can ESPN Get?" and observes, "I'll also guarantee that if Simmons had used similar language to criticize a player who claimed not to use steroids or something, nobody at the Worldwide Leader would have considered suspending him for a second."
That's hardly clear. ESPN seems to suspend its on-air personalities constantly for rants which embarrass the company or violate some unspecified standard.
In a more thoughtful posting at Think Progress ("ESPN Suspends Bill Simmons For Calling Roger Goodell A Liar, After ESPN Reported Roger Goodell Is A Liar"), Legum adds,
According to reports, ESPN justified the suspension by saying that Simmons offered no proof to support his claim that Goodell lied and violated "journalistic standards." But just a few days ago ESPN, citing multiple sources, reported that Roger Goodell claimed he did not know the contents of the videotape until he watched it but was not being truthful.

[…]

Simmons comments differed in tone, but not in substance, from ESPN's own reporting. (The Simmons comments included profanity, which was bleeped out.) Simmons explicitly challenged his bosses to discipline him for his comments, but the comments themselves didn't diverge from things that have already been said on the network.
But tone—and word choice—actually matters. "Liar" is inflammatory. Indeed, it has been branded a "fighting word" by the US Supreme Court and thus entitled to limited First Amendment protection. As Legum notes in the post, Simmons has been hammering Goodell on this issue "for weeks" without consequence. It's the use of the word "liar," then, that triggered the suspension.
Further, the facts here do not support that label. I agree with Simmons that Goodell knew when he issued the original two-game suspension that Rice had punched his then-fiancee in the face. I believe that because I "knew" that it had happened from the various press accounts. The public "knew" it as well, which is why so many were outraged by a sentence they perceived as too light. But it's undeniable that seeing the video changed public perception of the incident. If in fact Goodell had not seen the unedited video—and I can't prove that he had—then it's conceivable that the visual evidence constituted "new information" in his mind, despite not offering any new facts. (For example, I've studiously avoided watching any of the various terrorist beheading videos over the years. I don't think watching them will provide any information that I don't already have and am not interested in snuff films. But it's quite possible that actually seeing the videos would alter my analysis of the crimes, simply because of the emotional reaction.)
Does ESPN have something of a conflict of interest here?  Sure. It has "a $15 billion contract with the NFL to air Monday Night Football through 2021." That means they're both supposed to objectively report on the League and are at the same time a partner with a vested interest in protecting its brand, not to mention their own right to continue bidding for future contracts. That's problematic but I don't see how the conflict can be avoided; live sports broadcasts are huge business but sports news and commentary are also highly sought after and relatively cheap to produce. It's a winning combination but one fraught with journalistic peril. (The network has similar conflicts with the NCAA and other leagues.)
By and large, I think they do a reasonable job balancing this conflict. As Legum himself notes, Simmons has been a brutal critic of Goodell, repeatedly calling for his firing, without any penalty. Several other ESPN personalities have done the same. Indeed, the NFL's problems with domestic violence seems to be all that anybody at ESPN has wanted to talk about for months, and very little of that coverage has been positive for the League.
But, yeah, there has to be some modicum of professionalism in the presentation. A foul-mouth tirade calling the commissioner of the most important sports league on your network a liar is unprofessional.