Everyone Wants 5G; Nobody Wants Towers
NIMBY is still alive and well in the age of the Internet of Things.

WaPo's Robert McCartney reports on "The ugly side of 5G: New cell towers spoil the scenery and crowd people's homes." None of it is likely to surprise you.
The telecom giants promise that 5G technology will thrill us with dramatically expanded, ultrafast wireless service. But they don't mention that it also means installing vastly more equipment, including cell towers, in ugly and intrusive ways.

Property owners and local governments across the country are pushing back with a surge of grass-roots objections pressing the industry not to erect poles that spoil a view or crowd a home and potentially reduce its value.

Such a protest in Dewey Beach, Del. — summer playground for thousands of Washingtonians — has drawn national attention. The resort has emerged as a champion of the movement after persuading Verizon to promise to remove three of five towers that marred the scenery along the dunes.
If the accompanying photo is representative, I'm at least mildly sympathetic: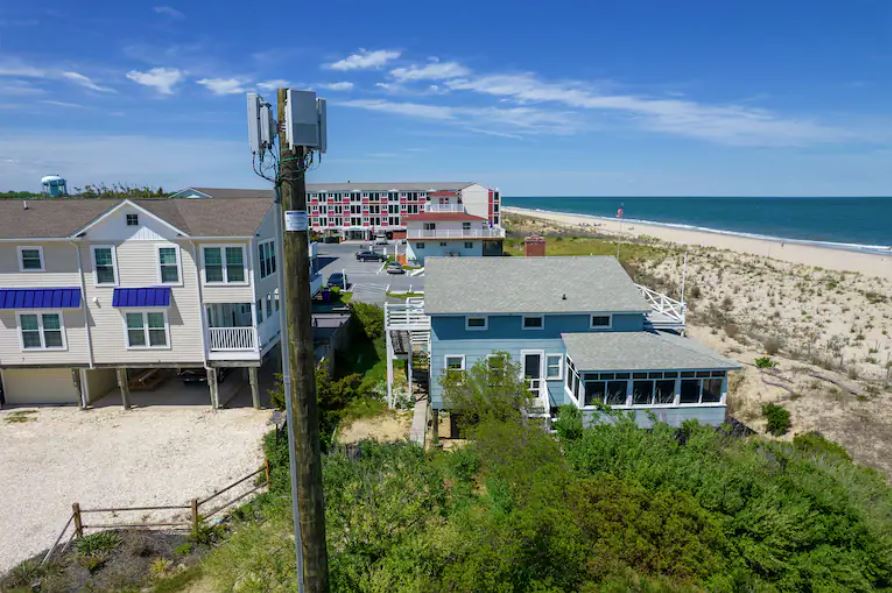 Obviously, if you're sitting in a condo right on the beach, you want to look at the seascape, not blight. On the other hand, I'm guessing every occupant of the spaces carries a mobile phone with them constantly and wants spotless coverage and blazing speed.
The battle is playing out in the suburbs, too. The Montgomery County [Maryland] Council on Tuesday will study a zoning change that would make it possible to install 5G antennas within 30 feet of homes in residential areas, as long as they're on existing poles or replacement poles in the same locations. Neighborhood resistance has long delayed the move, partly because of purported health fears but also because of aesthetic concerns.
The health fears are hokum but aesthetic concerns are real. And, the report notes, it's a widespread problem across the country.
The challenge facing the critics is that they are battling federal law and the financial and legal might of major companies such as Verizon, AT&T and T-Mobile.

The Federal Communications Commission has effectively ruled that state and local governments cannot "materially prohibit" carriers from offering 5G service. It wants to encourage the country to take advantage of the new technology as quickly as possible.

Local governments can use their zoning powers in many cases to block unsightly 5G installations. But they often are reluctant to do so, for fear of being sued by the telecom companies or their contractors.
The fights have been longstanding, of course, going back to well before the days of 5G. Where I lived previously, Verizon installed a tower maybe a quarter-mile from my house, in a park no less, poorly disguised as a tree. Still, 5G is amplifying the problem:
5G, which stands for "fifth generation," promises to raise Internet speeds by as much as a hundredfold over fourth-generation technology.

5G needs many more cellular antennas, called "small cells," than 4G. That's because it uses higher-frequency radio waves, which carry much more data but have shorter ranges.

Many small cells are about the size of a large suitcase or a narrow refrigerator. They can often be attached to existing poles. But providers also erect new poles to ensure adequate wireless coverage. Sometimes they put up taller, wider replacement poles to handle the new equipment's weight.
But balancing aesthetics and the demand for ever-better service is challenging:
Many critics — though not all — are perfectly content to have the 5G equipment installed. They just want the carriers and their contractors to do more to preserve landscapes and stay away from homes.

That was the approach in Dewey Beach. Dan Dionisio, who formed the group Save Dewey Beach, did not object to 5G's arrival but asked Verizon to find some place for its new poles other than spots where people crossed the dunes to reach the beach.

"The issue isn't about not wanting better cell service or not having it along our national coastlines. It is an issue of where these poles are being located and what amount of thought is going into those decisions," Dionisio said.
Which, again, is reasonable as a goal but perhaps unachievable in practice. In densely-populated areas, every possible location for a tower is going to be in someone's sightline.