Facts? Donald Trump Don't Need No Stinkin' Facts
Welcome To The Donald Trump Campaign. Where the facts are made up, and the truth doesn't matter.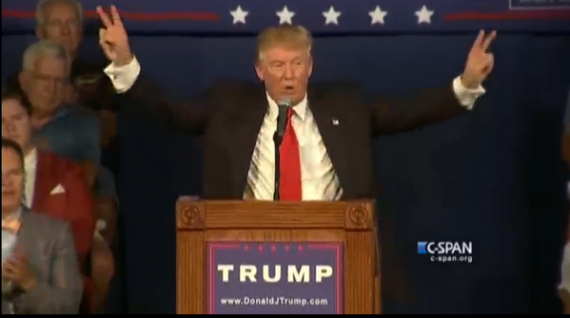 In an exchange with Bill O'Reilly Monday night, Donald Trump summed up so much of his Presidential campaign in one short statement:
File this in the already-knew-it-but-can't-believe-he-said-it category: Donald Trump doesn't fact-check his tweets.

On Fox News Channel on Monday night, "O'Reilly Factor" host Bill O'Reilly called out the Republican presidential candidate for a bunch of bogus homicide statistics he retweeted over the weekend. The stats, which grossly inflated the rate at which black people kill white people, have been thoroughlydebunked and widely labeled as race baiting.
Here's the Tweet in question:
"@SeanSean252: @WayneDupreeShow @Rockprincess818 @CheriJacobus pic.twitter.com/5GUwhhtvyN"

— Donald J. Trump (@realDonaldTrump) November 22, 2015
Trump's response when O'Reilly correctly pointed out just how bogus these statistics are? Well, here it is:
O'Reilly: This bothered me, I gotta tell ya. You tweeted out that whites killed by blacks — these are statistics you picked out from somewhere — at a rate of 81 percent. And that's totally wrong. Whites killed by blacks is 15 percent, yet you tweeted it was 81 percent. Now …

Trump: Bill, I didn't tweet, I retweeted somebody that was supposedly an expert, and it was also a radio show.

O'Reilly: Yeah, but you don't wanna be. … Why do you want to be in that zone?

Trump: Hey, Bill, Bill, am I gonna check every statistic? I get millions and millions of people, @RealDonaldTrump, by the way.

O'Reilly: You gotta, you're a presidential contender, you gotta check 'em.

Trump: I have millions of people. You know what? Fine. But this came out of radio shows and everything else.

O'Reilly: Oh, come on, radio shows?

Trump: Excuse me. All it was, was a retweet.
Or, as Homer Simpson put it:
You can't make this stuff up, folks.