Family of Covington Teen Sues WaPo
While I'm sympathetic to his plight, he has no case.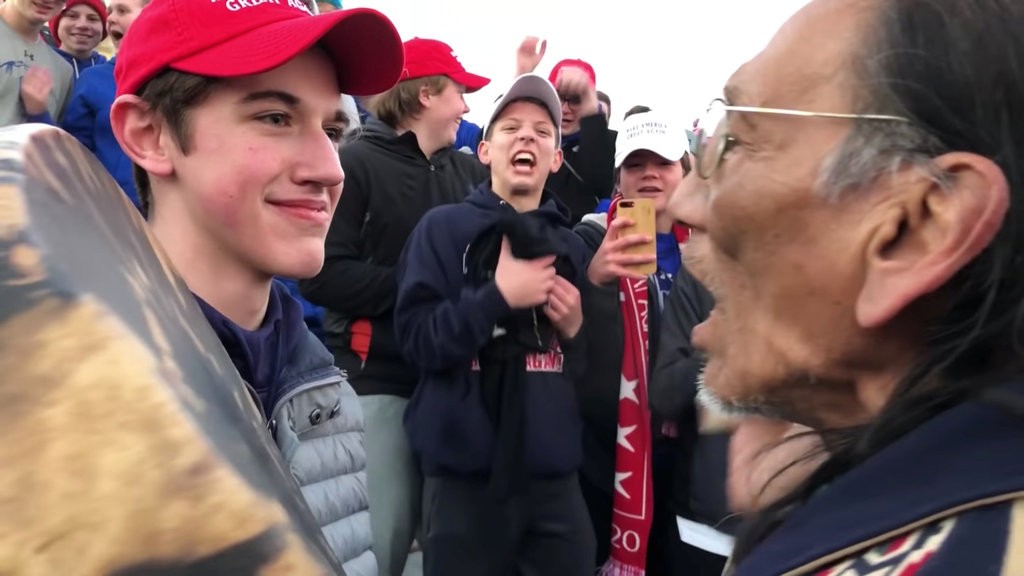 WaPo "The Washington Post sued by family of Covington Catholic teenager"
The family of the Kentucky teen who was involved in an encounter with a Native American advocate at the Lincoln Memorial last month filed a defamation lawsuit against The Washington Post on Tuesday, seeking $250 million in damages for its coverage of the incident.

The suit alleges that The Post "targeted and bullied" 16-year-old Nicholas Sandmann in order to embarrass President Trump. Sandmann was one of a number of students from Covington Catholic High School in Kentucky who were wearing red "Make America Great Again" hats during a trip to the Mall when they encountered Nathan Phillips, a Native American activist.

News accounts, including in The Post, and videos of their encounter sparked a heated national debate over the behavior of the participants.

"In a span of three days in January of this year commencing on January 19, the Post engaged in a modern-day form of McCarthyism by competing with CNN and NBC, among others, to claim leadership of a mainstream and social media mob of bullies which attacked, vilified, and threatened Nicholas Sandmann, an innocent secondary school child," reads the complaint.

It added, "The Post ignored basic journalist standards because it wanted to advance its well-known and easily documented, biased agenda against President Donald J. Trump by impugning individuals perceived to be supporters of the President."

The suit was filed by Sandmann's parents, Ted and Julie, on Nicholas's behalf in U.S. District Court in Covington. It seeks $250 million because Amazon chief executive Jeffrey P. Bezos paid that amount for the newspaper when he bought it in 2013.
I'm sympathetic to Sandmann here. The reporting was phenomenally shoddy. Aside from journalistic competition, there was simply no reason to rush to press with the story without due diligence. Beyond that, a 16-year-old kid who was in no way a public figure should not have been the subject of a whirlwind of national media scrutiny over a misinterpreted smirk.
That said, the lawsuit is a joke on its face. The whole "modern-day form of McCarthyism" angle is absurd and undermines the credibility of the suit. Beyond that, the 1st Amendment, as interpreted by the courts over the years, provides a high barrier to those seeking to get damages.
While I happen to think the "public figure" exception carved out by the Supreme Court in NYT vs. Sullivan is interpreted too widely, it's possible that Sandmann would be under that umbrella (at least as a "limited purpose public figure") given the public nature of the demonstration. That would require proving "actual malice" on the part of the Post, which is not only extremely difficult but almost certainly not true.
If Sandmann is deemed not to be a public figure, then his lawyers would only need to prove carelessness. While I do think WaPo and others were, in fact, careless in a lay sense, they almost certainly weren't careless to the extent required to be liable. The parallel that comes to mind is that of hapless security guard Richard Jewell, who was briefly treated by the national media as the perpetrator of the bombing of the 1996 Atlanta Olympics when he was actually a minor hero. While his life was turned upside down by the false claims—including revelations of a lot of embarrassing but legal activity during said scrutiny—he and his estate repeatedly failed to win damages over a fifteen year legal battle that concluded years after his untimely death.
The Pennsylvania News Media Association has a quick guide, excerpted from Bruce W. Sanford's Synopsis of the Law of Libel and the Right of Privacy, on "Avoiding Libel."
Avoid slipshod, indifferent or careless reporting. Whenever a statement could injure someone's reputation, treat it like fire. The facts of a story should be confirmed and verified, as far as practicable and in accordance with usual news gathering procedures.
Truth is a defense, but good intention in reporting an untruth is not. Remember, there may be a vast difference between what's true and what can be proved to be true to a jury. When in doubt as to whether a story is libelous, do not publish or broadcast it until you are sure it is not libelous. Remember, a retraction is not a defense to a libel action but serves merely to mitigate or lessen damages.
Make reports of arrests, investigations and other judicial or legislative proceedings and records precisely accurate, full, fair and impartial. Use of unsubstantiated information from law enforcement officers has ensnared many reporters in libel lawsuits. Limit comment or criticism to matters of public interest based on facts which are fully stated in the comment and which are true.
Try to get the "other side of the story." A good reporter sticks to the facts and not to some bystander's opinion of what might be the truth if the facts were known. The eventual "write‑up" of a story should be objective and never colored by the enthusiasms or opinions of the reporter.
Particular care should be taken in publishing quotations. The fact that a person is quoted accurately is not in itself a defense to a subsequent libel action, if the quoted statement contains false information about someone.
Never "railroad" a story through, but instead write it, check it out and edit it carefully to make sure it is accurate and says precisely what you want to say.
Avoid borderline cases of invasion of privacy, since the law of the right of privacy is still developing.
Avoid gossip and the unauthorized use of names and pictures for advertising or other commercial or promotional purposes. Use the name or picture of a person only when identified relative to the subject matter of the publication. Never use unidentified pictures to illustrate social or other conditions, when pictures of people who expressly consent, including professional models or staff members, will suffice and are readily obtainable.
If an error has been made, always handle demands for retractions that come from a lawyer for a potential plaintiff with the advice of legal counsel. A well ­meaning but unnecessary or poorly worded correction may actually prejudice a publisher's or broadcaster's defenses in a subsequent lawsuit.
The Covington teens and the general public would have been better served had WaPo and other major media outlets treated the story "like fire" rather than "railroading" it through. Still, they almost certainly stayed within the letter of the law by sticking to the facts and putting the early analysis in via quotations from officials and observers on the scene.
Update (Doug Mataconis): For those interested, here's  copy of the Complaint:
Sandmann vs. Washington Pos… by on Scribd
UPDATE 2 (James Joyner): I made some minor corrections in wording to avoid confusion as to the defamation standard for private figures.