Federal Judge Bars Enforcement Of Restrictive D.C. Concealed Carry Law
A Second Amendment victory in the District of Columbia,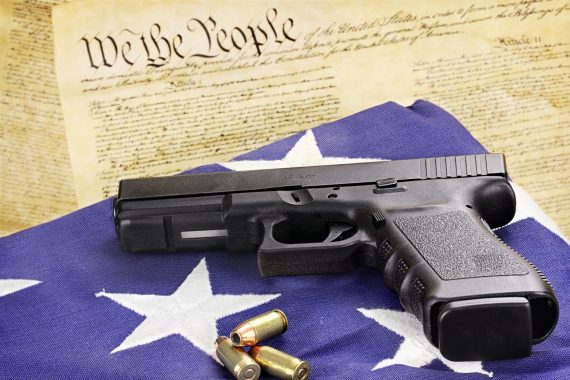 A Federal District Court Judge in Washington, D.C. has issued a preliminary injunction preventing enforcement of the District's law regulating who would be entitled to a license to carry a concealed weapon:
Ten months after striking down the District's long-standing ban on carrying firearms in public as unconstitutional, a federal judge Monday ordered the city to halt enforcing a key provision of the new gun-permitting system itadapted in response.

As passed by the D.C. Council, the District's new carry legislation remains among the strictest in the nation, requiring applicants to state good reason to carry a weapon in order to obtain a permit from police, matching laws in Maryland, New Jersey and New York.

However, in a 23-page opinion, U.S. District Judge Frederick J. Scullin Jr. ruled that condition — known as the "good reason/proper reason" requirement — still "impinges on Plaintiffs' Second Amendment right to bear arms," because it fails to target dangerous people or specifically how or where individuals carry weapons.

"The issue here is not whether the . . . requirement is a reasonable or wise policy choice. Rather, the issue is whether this requirement, no matter how well intended, violates the Second Amendment," Scullin wrote.

The ruling, issued late in the day, runs counter to some federal appellate rulings and guts a law drafted by D.C. Council Chairman Phil Mendelson (D) with mayoral and police officials that allows city residents who own properly registered handguns, as well as nonresidents with a state carry license, to apply for a permit to bear a concealed weapon in the District.

Under a provision the city now cannot enforce, the law, passed in September, gave police discretion to grant licenses to applicants who showed "good reason to fear injury to his or her person or property" or "any other proper reason for carrying a pistol," such as employment transporting cash or other valuables.

Applicants still must pass background checks and training requirements, with Police Chief Cathy L. Lanier issuing final licensing decisions.

Firearms also still cannot be carried in the District in schools, hospitals, government buildings, public transportation vehicles, establishments that serve alcohol, stadiums or arenas, or within 1,000 feet of a dignitary under police protection.

(…)

Scullin's ruling runs counter to decisions by federal judges upholding similar "may-issue" discretionary laws in Maryland and New Jersey, including the U.S. Court of Appeals for the 4th Circuit. The U.S. Court of Appeals for the 9th Circuit in March set aside a three-judge panel's ruling relied upon by Scullin, and the full court will rehear arguments next month.

In his opinion, Scullin said the city failed to show that people with "good reason" to carry a firearm are any less likely to misuse it or pose a criminal or other threat than other people.

"Is the Court to conclude that people who do not have a heightened need for self-protection are more likely to commit violent crimes?" he asked.
In addition to the rulings noted above, there have also been rulings at the Federal level that have struck down laws restricting gun owner's ability to carry a concealed weapon. The most notable of those decisions came from the Seventh Circuit Court of Appeals, which struck down Illinois's restrictive concealed carry law. Rather than appealing that ruling, the state revised their laws in a manner that at least tried to comply with the Court's holding in the case. So far, that new law has not been challenged, so it's unclear whether it would pass Constitutional muster or not, but the result has been that it is now far easier for Illinois residents to carry weapons in public legally. In addition to the 7th Circuit case, the 9th Circuit ruled in February 2014 that California's concealed carry permit system was too restrictive and that the requirement to show "good cause" before being issued a concealed carry permit violated the rights protected by the Second Amendment. That case is, as noted above, currently pending an en banc hearing before the full 9th Circuit.
In addition to these other rulings, there have also been a handful of other cases that have made their way through the Federal Court system.  As of now, however, the Supreme Court has not accepted any of these cases for review. Indeed, the Court has not ruled on a truly significant Second Amendment case since McDonald v. Chicago, which held that the Second Amendment, and the Court's holding in District of Columbia v. Heller, applied to the states. Since then, we have seen a number of lawsuits at the state and local level challenging concealed carry laws and other restrictions, and the rulings from the Federal Courts have been all over the place. Given the fact that Second Amendment jurisprudence was essentially non-existent prior to the Heller case, this isn't entirely surprising. As I noted one of the first times I wrote about the Heller case seven years ago, the most likely outcome of the case would be that it would set off years of lower court litigation as Courts try to determine how to apply the rules the Supreme Court set to other issues arising under the Second Amendment. Until the Justices speak for themselves, that's exactly what we're going to see.
As a general rule, though, it seems fairly clear to me that at least part of the right protected by the Second Amendment includes the right to carry that weapon in public. The question becomes what conditions, if any, states and localities can impose on that right. On some level, I would argue that the answer to that question may depend on the kind of jurisdiction in question and that the rules should arguably be different for a rural or suburban area than they are for an urban area. In either case, though, laws such as the one at issue in the District that but an overly large amount of discretion in the hands of local authorities by requiring citizens to meet some amorphous and undefined standard such as "good cause," especially when there is no objective definition of what constitutes "good cause" in the law itself and no way to determine if an officials decision is based in anything other than individual opinion. This is the basic distinction between concealed carry laws where the laws says that the state "may" issue a permit, and those that say that the state "shall" issue the permit. Under the first type of law, it seems obvious that local and state officials are granted far more discretion than the Second Amendment allows.
This doesn't mean, of course, that states and localities aren't allowed to set any standards at all for concealed carry permits. Regulations that bar people with criminal records or a history or mental health problems would likely be considered acceptable. Reasonable requirements that permit holders demonstrate a knowledge of basic gun safety would also probably pass muster, What seems unacceptable, though, are laws that allow government officials to use the permit process so much discretion that they can effectively bar anyone from getting a permit. That's the kind of law that the District of Columbia had, and that's why they lost in Court.
Here's the opinion: