Federal Jury Orders Rolling Stone To Pay $3 Million In University Of Virginia Case
A Federal Jury orders Rolling Stone to pay up.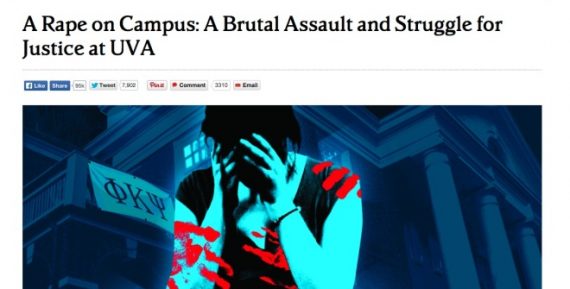 A Federal Jury has ruled that Rolling Stone owes  $3,000,000 to a University of Virginia administrator in connection with an article alleging a rape on campus that apparently never occurred and the defamation claims that resulted from it:
CHARLOTTESVILLE, Va. — A federal jury on Monday ordered Rolling Stone and one of its writers to pay $3 million in damages to a University of Virginia administrator over a discredited article two years ago about a supposed gang rape at the university.

The jury in Charlottesville, Va., had already decided on Friday, after a two-week trial, that Rolling Stone; Wenner Media, its parent company; and Sabrina Rubin Erdely, the author of the article, were all liable for defamation in a case that centered on faulty reporting and a failure to apply basic fail-safes in editing.

After deliberating for less than two hours on Monday, the jury of eight women and two men decided that Ms. Erdely was liable for $2 million of the total, and Rolling Stone and Wenner Media for $1 million. In her suit, filed in May 2015, the administrator, Nicole P. Eramo, had asked for $7.5 million in damages.

The jury found that assertions made in the story, as well as public statements made after publication by Ms. Erdely and Rolling Stone, were made with "actual malice," the legal standard for libel against public figures. To meet that standard, a publisher must be found to have known that the information it published was false, or to have had reckless disregard for the truth.

Rolling Stone has not said whether it would appeal the verdict. Scott Sexton, a lawyer for Rolling Stone, said on Monday that according to its agreement with Ms. Erdely, the company was obligated to cover "all liability arising out of the article."

Ms. Erdely and her legal team declined to answer questions after the decision was read.

In its decision, the jury made no distinctions about what portion of the damages was tied to the article and what was tied to other comments made by Ms. Erdely and Rolling Stone after publication.

Outside the courtroom on Monday night, Deborah J. Parmelee, a teacher who was the jury forewoman, read a brief statement from the jury that said, in part: "With careful consideration of the facts in evidence for determining damages, the jury made its determination. We were proud to execute our civic duty."

Ms. Parmelee declined to answer any further questions about the case.

(…)

Testifying on Monday in the damages hearing, Ms. Eramo wept repeatedly as she recounted personal and professional difficulties after the article was published. She spoke of a loss of self-confidence and a change of her job at the university.

Some members of the jury could be seen dabbing tears during Ms. Eramo's testimony.

Rolling Stone's lawyers pointed out that since the article was published, Ms. Eramo has gotten two raises, and her salary is now set at $113,000 a year. They also noted that a report from the United States Department of Education backed up the magazine's general findings by criticizing how the University of Virginia handled sexual assault cases.

David Paxton, a lawyer for Rolling Stone, also stressed how much the article had already damaged the magazine's reputation.

"This has been a badge of shame," he said, "for Rolling Stone and Ms. Erdely."

But Ms. Eramo found that response wanting.

"It took two years and all this to get an apology," Ms. Eramo said, gesturing around the courtroom. "And I still don't believe it is a real apology. The regret I see is that they're in the position they're in today."
The verdict comes just a few days after the same jury found Rolling Stone and the other Defendants guilty of defamation of the Plaintiff notwithstanding the magazine's defense that the First Amendment protected its investigation and publication from liability. In all honesty, given the egregiousness of the magazine's behavior, I was surprised that the verdict, but at least part of that may be due to the fact that Virginia juries tend to be far more conservative in their damage awards than juries in other parts of the country. Additionally, the fact that the Plaintiff had limited her damage request to $ 7.5 million, including punitive damages, meant that the jury was limited in what it could award. Finally, since I wasn't in the Courtroom I have no idea what kind of evidence the Plaintiff put on with regard to damages. All of these factors, plus the degree to which the magazine, reporter, and editor should be punished, were weighed by the jury along with the damages evidence that the Plaintiff submitted. No doubt, the fact that the Plaintiff kept her job was a factor in the award itself since it limited the amount that the Plaintiff could properly claim as damages and gave the magazine an opening to argue that any damages she did suffer were limited at best.
This isn't the only damage award that Rolling Stone may be facing. As noted when the initial verdict was handed down last week, the magazine also faces a defamation lawsuit from the fraternity that was targeted in its report and that lawsuit has the potential to result in a larger damage award since the fraternity will be able to point to actual damage, such as the actions taken against it by the University of Virginia and the fraternity national office in the immediate wake of the article. That case is still pending, however, and given the result in this trial, it's likely that Rolling Stone may seek to settle the remaining case rather than take it to trial. If they lost this case brought by an administrator who wasn't even directly named in the article then they've got little hope of getting a different verdict in future lawsuit(s).
The bigger question is whether or not this lawsuit will actually change behavior either at Rolling Stone or elsewhere with regard to allegations of this type. Too often, reporters and editors are far too eager to please sources and advocate agendas rather than do real investigative reporting, and the result often ends in disaster for people who are completely innocent. Additionally, this ought to be an object lesson for journalism students and those who engage in journalism as a profession. They need to start doing their jobs, and stop being advocates for ideas or movements.