Feds Force Bank to Remove 'Merry Christmas' Sign
Fed examiners made a bank take down a "Merry Christmas, God With Us" sign. Then the "system" kicked in.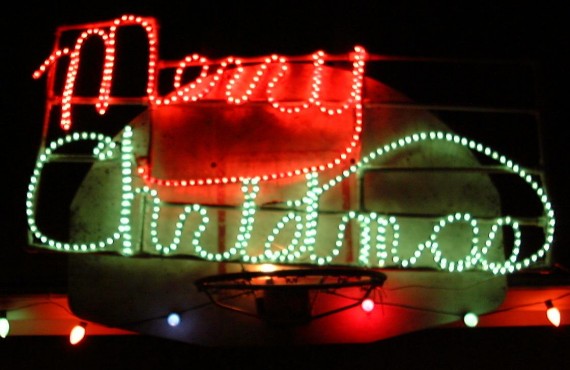 Seeing the KOCO headline "Feds Force Oklahoma Bank To Remove Crosses, Bible Verse" at memeorandum, I was fully expecting a hysterical reaction to a mundane regulatory decision. Not so much.
Federal Reserve examiners come every four years to make sure banks are complying with a long list of regulations. The examiners came to Perkins last week. And the team from Kansas City deemed a Bible verse of the day, crosses on the teller's counter and buttons that say "Merry Christmas, God With Us." were inappropriate. The Bible verse of the day on the bank's Internet site also had to be taken down.

[…]

Specifically, the feds believed, the symbols violated the discouragement clause of Regulation B of the bank regulations. According to the clause, "…the use of words, symbols, models and other forms of communication … express, imply or suggest a discriminatory preference or policy of exclusion."

The feds interpret that to mean, for example, a Jew or Muslim or atheist may be offended and believe they may be discriminated against at this bank. It is an appearance of discrimination.
I'm grumpier than the average atheist but even I find that absurd.   I can't imagine many American Jews or Muslims — let alone those banking in Oklahoma — would be offended by being wished a merry Christmas.  And, while I don't know what the fragment "God With Us" means, precisely, I wouldn't interpret it as a challenge to my non-belief or a signal that I wasn't welcome.  (I don't know if the buttons in question were the one pictured above, which I found online.  If so, they're definitely Christian rather than nondenominational.  But my reaction would still be the same.)
But, in a rare sign that our political system isn't completely broken, this one has been quickly resolved.  The above report was published Thursday.   The next day, the policy was overturned after bank officials contacted their congressional representatives.
Lawmakers Call Out Bernanke After Feds Force Bank To Remove Crosses
U.S. Sen. Jim Inhofe and U.S. Rep. Frank Lucas issued a joint letter to Federal Reserve Chairman Ben Bernanke on Friday over what the two view as a "distressing interpretation of Federal Reserve Regulation B" concerning a bank in Perkins.

[…]

"This is an all-out assault on the faith, values and rights of the bank, its employees and the people of Perkins they serve," Inhofe said. "It is absolutely ridiculous for the regulation to be interpreted this way, and it unduly discriminates against a person's faith in Christ and their constitutionally protected freedom to publicly express that faith. It is simply another case of liberals in Washington overstepping their bounds and intruding in the lives of individuals. I expect the Federal Reserve to rectify this situation quickly."

Lucas also responded and said, "The recent actions taken by the Federal Reserve at Payne County Bank are of great concern to me. I do not agree with its interpretation of Regulation B in this circumstance and believe that it infringes upon fundamental constitutional rights afforded to all Americans. I encourage the Federal Reserve to review the situation and take the appropriate action to address it."
After Outcry, Feds Back Down; Banks Can Display Crosses:
The president of Payne County Bank, Lynn Kinder, said he spoke with the second in command at the Federal Reserve late Thursday evening. Both sides agreed to work out the issue. "The federal reserve immediately took action, " Kinder said in a statement. "And allowed us to restore our Christian display of items and verses on our television and website until a final determination is made. It appears that the matter will be resolved."
Apparently, the fact that "The story garnered national attention overnight from bloggers and Twitter users who posted links to KOCO.com's story" helped, too.
This is how the system is supposed to work.  An overzealous regulator makes a legally defensible but boneheaded call.  Congress performs its oversight function.  A more clearheaded interpretation follows.
Technically, this isn't over.  But I'd be truly shocked if the Fed decided to restore the original interpretation of that regulation.  And, if they do, Congress will take more formal action.