Florida Vote Weirdness
The votes for President and the ballot measures don't seem to line up.
The Sunshine State, which went down in American electoral infamy after the debacle that was the 2020 election, was called for President Trump shortly after I turned in in the wee hours. That's not shocking; while I predicted that it would narrowly go the other way, the polls had it as a Trump squeaker.

But the same voters who put Trump over the top overwhelmingly voted for a ballot measure to gradually raise the state's minimum wage to $15. That would suggest a rather heavy Democratic lean in the electorate.
Indeed, the ballot measures don't line up in any obvious-to-me way: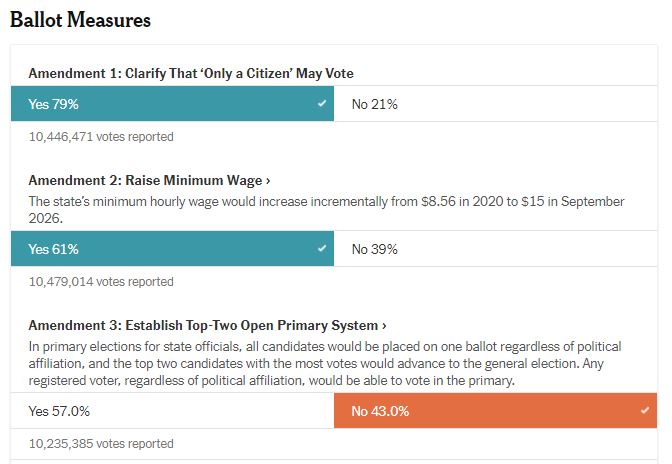 One presumes Amendment 1 was touted in a rather xenophobic manner but the titular concept is so banal that I'm a bit surprised a fifth of the electorate was opposed.
And I'm not sure what to make of the open primary result. I'm four-square opposed to the concept but it's being marked as a win for No despite it getting a much lower percentage than Biden, who lost.
Florida. Go figure.
UPDATE: Yes, I'm being a sleepy policy wonk. No, people aren't ideologically consistent.
Thanks, Garance.