Why Moral Persuasion is So Hard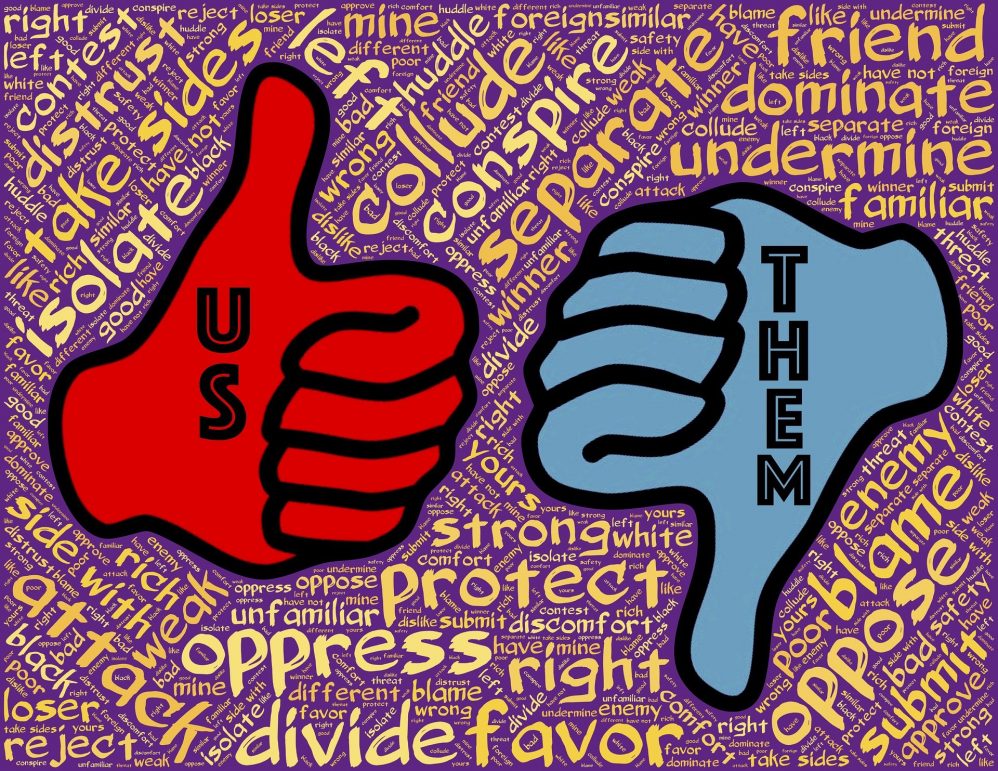 As noted in Friday's podcast recommendation, I enjoyed Julia Galef's conversation with social psychologist Jonathan Haidt on "Understanding moral disagreements." The audio and a PDF transcript are available at the link but the discussion introduced me to Moral Foundations Theory, of which Haidt is a key developer.
As he introduced it in the interview:
A lot of psychologists have used the metaphor of language: Language is
universal, but languages differ. But I found that the metaphor of taste
works better: So, we all have the same taste buds on our tongue with
sweet, sour, salt, bitter, and umami, which is a meat flavor. But our
cuisines differ around the world. This, to me, has been the most fruitful
metaphor.

So the question is what are the taste buds of the moral sense? By just
looking at what are the places where there's an existing evolutionary
theory, and it shows up in lots of cultures — what are those connections?
His original "taste buds" were "fairness versus cheating, loyalty
versus betrayal, authority versus subversion, [and] sanctity versus desecration."
As summarized on his website:
[T]he theory proposes that several innate and universally available psychological systems are the foundations of "intuitive ethics." Each culture then constructs virtues, narratives, and institutions on top of these foundations, thereby creating the unique moralities we see around the world, and conflicting within nations too. The five foundations for which we think the evidence is best are:

1) Care/harm: This foundation is related to our long evolution as mammals with attachment systems and an ability to feel (and dislike) the pain of others. It underlies virtues of kindness, gentleness, and nurturance.

2) Fairness/cheating: This foundation is related to the evolutionary process of reciprocal altruism. It generates ideas of justice, rights, and autonomy. [Note: In our original conception, Fairness included concerns about equality, which are more strongly endorsed by political liberals. However, as we reformulated the theory in 2011 based on new data, we emphasize proportionality, which is endorsed by everyone, but is more strongly endorsed by conservatives]

3) Loyalty/betrayal: This foundation is related to our long history as tribal creatures able to form shifting coalitions. It underlies virtues of patriotism and self-sacrifice for the group. It is active anytime people feel that it's "one for all, and all for one."

4) Authority/subversion: This foundation was shaped by our long primate history of hierarchical social interactions. It underlies virtues of leadership and followership, including deference to legitimate authority and respect for traditions.

5) Sanctity/degradation: This foundation was shaped by the psychology of disgust and contamination. It underlies religious notions of striving to live in an elevated, less carnal, more noble way. It underlies the widespread idea that the body is a temple which can be desecrated by immoral activities and contaminants (an idea not unique to religious traditions).

We think there are several other very good candidates for "foundationhood," especially:

6) Liberty/oppression: This foundation is about the feelings of reactance and resentment people feel toward those who dominate them and restrict their liberty. Its intuitions are often in tension with those of the authority foundation. The hatred of bullies and dominators motivates people to come together, in solidarity, to oppose or take down the oppressor.
Interestingly, while most people and cultures share these foundations, they emphasize them differently. Of particular interest to me is Haidt's contention that,
The current American culture war, we have found, can be seen as arising from the fact that liberals try to create a morality relying primarily on the Care/harm foundation, with additional support from the Fairness/cheating and Liberty/oppression foundations. Conservatives, especially religious conservatives, use all six foundations, including Loyalty/betrayal, Authority/subversion, and Sanctity/degradation. The culture war in the 1990s and early 2000s centered on the legitimacy of these latter three foundations. In 2009, with the rise of the Tea Party, the culture war shifted away from social issues such as abortion and homosexuality, and became more about differing conceptions of fairness (equality vs. proportionality) and liberty (is government the oppressor or defender?). The Tea Party and Occupy Wall Street are both populist movements that talk a great deal about fairness and liberty, but in very different ways, as you can see here, for the Tea Party, and here, for OWS.
Haidt fleshes this out in considerable detail in his 2012 book The Righteous Mind: Why Good People are Divided by Politics and Religion and provides a full copy of Chapter 7, "The Moral Foundations of Politics," on the site.
So, why does that matter? Haidt argues that, because people from different cultures and subcultures emphasize these foundations differently, it's exceedingly hard to have moral arguments with those in other groups because "people use words, and we each think we understand what the other person means because we use the word, but often they mean something very different."
And this comes down to humans simply being less rational than we like to think?
Intuition comes first, strategic reasoning second.

Second principle is there's more to morality than harm and fairness,
which we already talked about.

And the third principle is "morality binds and blinds." And this is just a
thing about humans, is that we like to make something sacred. We circle
around it, then we worship it together and then we can't think clearly
about it. And we get mad at people who say true things about it.
To be clear, he's not arguing that liberals (like himself!) are less morally developed than conservatives. Rather, he's trying to understand why their appeals are less effective:
[Liberals] have the receptors, they can have the feelings, but they don't couch their arguments in those terms. And that's what I was trying to convey in The Righteous Mind, that all around the world, at least in the Western world, the left tends to underperform politically because they don't make appeals on these foreign… They leave, they cede a lot of the moral landscape to conservatives.

So when there's a surprise, when there's an electoral surprise, how often is it the case that you wake up in the morning and, "Oh, surprise, the left
swept everything." No, that almost never happens. When there's a
surprise it's usually, "Oh my God, Brexit passed. Oh my God, Trump got
elected. Oh my God, this neo-Nazi just almost won the…" Whatever. It's usually the case that the right surprises, because most people have these
concerns, they build on these moral foundations, but left leaning parties
tend not to address them.
He cites research that has "shown that if you ask people to make an argument to the other side, they make it in their own preferred moral foundations, and they're not persuasive. But if you teach them about moral foundations theory and you say, "Now try to make an argument for environmental policy or whatever using loyalty, authority, or sanctity," they can do it. And then they're more persuasive.
He references the novel Flatland by Edwin Abbott, written way back in 1884. The Wikipedia plot summary:
The story describes a two-dimensional world occupied by geometric figures, whereof women are simple line-segments, while men are polygons with various numbers of sides. The narrator is a square, a member of the caste of gentlemen and professionals, who guides the readers through some of the implications of life in two dimensions. The first half of the story goes through the practicalities of existing in a two-dimensional universe as well as a history leading up to the year 1999 on the eve of the 3rd Millennium.

On New Year's Eve, the Square dreams about a visit to a one-dimensional world (Lineland) inhabited by "lustrous points". These points are unable to see the Square as anything other than a set of points on a line. Thus, the Square attempts to convince the realm's monarch of a second dimension, but is unable to do so. In the end, the monarch of Lineland tries to kill A Square rather than tolerate his nonsense any further.

Following this vision, he is himself visited by a three-dimensional sphere. Similar to the "points" in Lineland, the Square is unable to see the sphere as anything other than a circle. The Sphere then levitates up and down through the Flatland, allowing Square to see the circle expand and retract. The Square is not fully convinced until he sees Spaceland (a tridimensional world) for himself. This Sphere visits Flatland at the turn of each millennium to introduce a new apostle to the idea of a third dimension in the hope of eventually educating the population of Flatland. From the safety of Spaceland, they are able to observe the leaders of Flatland secretly acknowledging the existence of the sphere and prescribing the silencing on. After this proclamation is made, many witnesses are massacred or imprisoned (according to caste), including the Square's brother.

After the Square's mind is opened to new dimensions, he tries to convince the Sphere of the theoretical possibility of the existence of a fourth and higher spatial dimensions, but the Sphere returns his student to Flatland in disgrace.

[…]

The Square recognises the identity of the ignorance of the monarchs of Pointland and Lineland with his own (and the Sphere's) previous ignorance of the existence of higher dimensions. Once returned to Flatland, the Square cannot convince anyone of Spaceland's existence, especially after official decrees are announced that anyone preaching the existence of three dimensions will be imprisoned (or executed, depending on caste). Eventually the Square himself is imprisoned for just this reason, with only occasional contact with his brother who is imprisoned in the same facility. He does not manage to convince his brother, even after all they have both seen. Seven years after being imprisoned, A Square writes out the book Flatland in the form of a memoir, hoping to keep it as posterity for a future generation that can see beyond their two-dimensional existence.
Essentially, Haidt argues, people like Julia (and myself), who attempt to understand the world through empirical observation and application of reason are squares living in a three-dimensional world. While Haidt himself is largely in agreement with her (and me) on how we should govern, he makes some significant modifications to compensate for the fact that most people have those other dimensions and simply need sanctity, authority, and the like to thrive.
People, human beings, the way we are, we crave meaning. We tend to
infuse meaning in things. We need groups. We thrive in groups. And we
sometimes lose sight of these facts, especially people who are rationalist
or libertarian.

In fact, the idea that I'm proudest of in The Righteous Mind, which
nobody has ever referred to other than me, is what I call Durkheimian
utilitarianism. That is, if we're going to do public policy, if you're going to
look for what should the laws be based on in the United States or in the
state of New York or whatever, ultimately, if you're a legislator, there is no basis other than consequentialism. […] So that's the utilitarian part, but the problem is that utilitarians tend to not understand that people need these ties. They need irrational things. They need either religion or something like religion.
Even though he's a liberal Jewish atheist, his solution is rather conservative. To oversimplify, it's local control, so that people in red states and rural areas can be governed according to their morality and those in blue states and big cities can be governed according to theirs. (He doesn't really address how to reconcile the overarching role of the national governement but, really, that's outside the scope of the conversation.)
While I've seen bits and pieces of all of this before, putting it together in one place—particularly in the context of the last five years or so of American politics—helps clarify a lot of frustrations I've had discussing politics with both the OTB commentariat who are more organically liberal than me and Army and high school friends on Facebook who have remained much more conservative.
I took Haidt and company's moral foundations quiz, with which I have some quibbles, and mapped this way: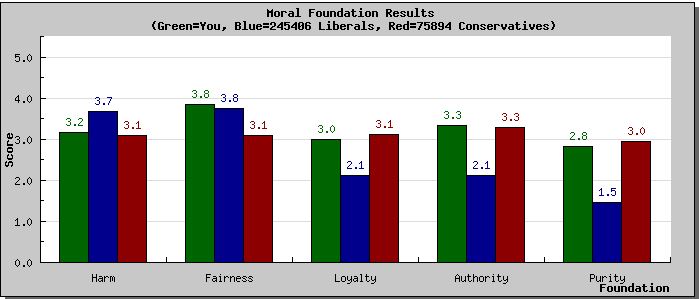 I'm closer to conservatives on four of the five dimensions but exactly matched with liberals on the fairness dimension.
To some degree, that's not surprising. I grew up as the son of a career soldier, spent my young adulthood as a cadet and Army officer, and have spent the last 7-1/2 years teaching at the Marine Corps' staff college. And I've lived exclusively in the South (if you include Texas) or military bases my entire life.
On the other hand, I'm an academic by training and a rationalist by temperament. While I still technically live in the South, I've been in the deep blue Northern Virginia suburbs of DC for close to twenty years now. And my policy preferences have shifted significantly to the left (albeit almost certainly owing to engaging in policy debates here and elsewhere vice geography) over that period.
This would intuitively seem like an advantage. I'm not a Flatlander at all but rather a would-be rationalist who scores very high on all five of the measured dimensions. But rationalist arguments don't work well with conservatives and, while I'm in many ways a traditionalist, I'm not religious. Meanwhile, liberals tend to simply reject arguments from tradition, loyalty, and sanctity as prejudice.
I need to think about this more. But this is beyond the cognitive psychology literature that people tend to have various anchoring biases that lead them to seek confirmation of their priors.