Former Astronaut Mark Kelly Enters 2020 Senate Race Against Martha McSally
Former Astronaut Mark Kelly, the husband of Gabby Giffords, is running for Senate in Arizona against Martha McSally.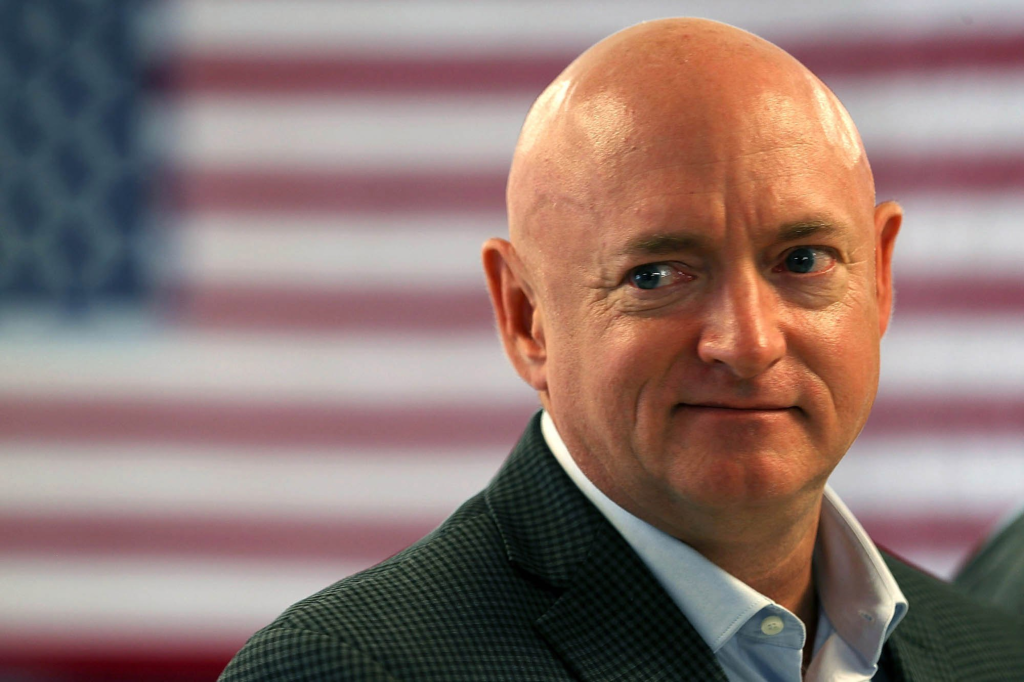 Former Astronaut and Navy combat veteran Mark Kelly, the husband of former Congresswoman Gabby Giffords, announced this morning that he is running as a Democrat against Arizona Senator Martha McSally:
Retired Astronaut Mark Kelly on Tuesday said he will run for a Senate seat in his adopted home state of Arizona, giving Democrats an early chance at a seat they have not held since the late Sen. Carl Hayden (D) retired in 1969.

Kelly spent more than 54 days in space across three NASA missions. He has turned to politics in the years since his wife, former Rep. Gabrielle Giffords (D), survived an assassination attempt in a 2011 mass shooting that claimed the lives of six others.

Announcing his campaign in a video posted to Twitter, Kelly leaned hard into his career as a Navy aviator and astronaut — and on his wife, who appeared with him.

"It becomes pretty obvious pretty early when you get into space that we're all in this together," Kelly said in the video.

Kelly will face another former aviator, Sen. Martha McSally (R), who held the same seat in Congress that Giffords once held.

McSally was appointed to fill the remainder of the late Sen. John McCain's (R) term after McCain's first replacement, Jon Kyl, stepped down at the end of last year. McSally had run for an open Senate seat last year, losing narrowly to Sen. Kyrsten Sinema (D).

Kelly's interest in running for the seat was a poorly guarded secret. He met with Senate Minority Leader Chuck Schumer (D-N.Y.) and Democratic Senatorial Campaign Committee chief Catherine Cortez Masto (D-Nev.) earlier this year to discuss the race, and he had identified a campaign manager by last month, sources told The Hill.

He has been working with Rodd McLeod, a veteran Arizona Democratic strategist who worked on Giffords's first race.

The Arizona Democrat said Tuesday he would work to ensure affordable health care and wage growth, standard Democratic talking points. But he struck a tone similar to Sinema, who ran her 2018 campaign by tacking more toward the middle of the ideological spectrum than toward the left.

"Partisanship and polarization and gerrymandering and corporate money have ruined our politics, and it's divided us," Kelly said. "We've seen this retreat from science and data and facts, and if we don't take these issues seriously, we can't solve these problems."

Arizona and national Democrats see Kelly as their ideal candidate against McSally in a state that has moved left in recent years. No Democrat has won Arizona's presidential electoral votes since Bill Clinton in 1996, but Hillary Clinton came within three and a half points of winning there in 2016.

Sinema became the first Democrat to win a Senate seat from Arizona since Dennis DeConcini in 1988, and Democrats now hold five of the state's nine congressional districts.
More from AzCentral.com:
Mark Kelly, the retired astronaut and husband of former Congresswoman Gabrielle Giffords, announced in a video Tuesday he is launching a campaign to run for the U.S. Senate seat once occupied by the late John McCain.

Kelly is the first Democrat to enter the field ahead of 2020 and is widely seen as a formidable candidate given his biography and likely ability to raise the millions of dollars needed to take on the GOP's established candidate, Sen. Martha McSally.

McSally was appointed to the seat by Gov. Doug Ducey late last year and it is unclear if she will face a competitive primary challenger as she did in 2018. McSally lost her run for the office to Democrat Kyrsten Sinema.

Kelly announced his run during a four-minute video featuring cinematic views of the desert and intimate video of him with his wife, who survived an assassination attempt at a 2011 constituent event near Tucson. Six people died and 12 others were

In the video, Kelly recounts his flights to space, his childhood, and his service in the U.S. Navy Combat pilot and engineer. He recalls seeing his wife for the first time after the shooting, and helping advocate for her in the years that followed. He learned from her how policy can be used to improve people's lives.

"Arizonans are facing incredibly challenging issues here in the years to come: access to affordable healthcare, the stagnation of wages, job growth, the economy, as the climate warms we're going to have more drought here in the desert," Kelly says.

"Solving some of the hardest problems requires one thing, and that's teamwork … Partisanship and polarization and gerrymandering and corporate money have ruined our politics and it's divided us. I care about people. I care about the state of Arizona. I care about this nation. So because of that, I've decided that I'm a campaign for the United States Senate.
Here's Kelly's campaign video:
My next mission… #FullSpeedAhead #ForArizona pic.twitter.com/5E36z7aztH

— Mark Kelly (@ShuttleCDRKelly) February 12, 2019
As noted, Kelly's announcement comes after a fairly aggressive effort by state and national Democrats to get him to enter the race. There have been similar efforts to entice Kelly to run but it was clear at those times that he either wasn't interested or wasn't prepared to make the jump into electoral politics as his wife had done prior to her shooting. In recent months, though, there had been some signals that Kelly had changed his mind on the issue, and there was at least some interest on his part in entering the political fray. Given the fact that Kelly has in many ways become the political voice of his family since Giffords shooting, especially on the issue of gun control, this move isn't entirely surprising. The video, though, shows that he intends to base his campaign on more than just gun issues, which is probably wise in a state such as Arizona.
In any case, while Kelly's strengths as a candidate seem obvious, he may not have a clear path to the Democratic nomination.  Congressman Ruben Gallego, who has represented the state's 7th Congressional District has said he is considering entering the race as is Congressman Greg Stanton, a former Mayor of Phoenix who currently represents the state's 9th Congressional District. In that case, it's unclear what chances Kelly has at the nomination. At the same time, though, despite a lack of previous political experience Kelly seems like an ideal candidate for the Senate in a year when Democrats are likely also hoping to flip Arizona, which went for Donald Trump by just four points in 2016, into their column in 2020. Whether he'll be able to withstand the political fire remains to be seen.