Former President Carter Announces He Has Cancer On His Brain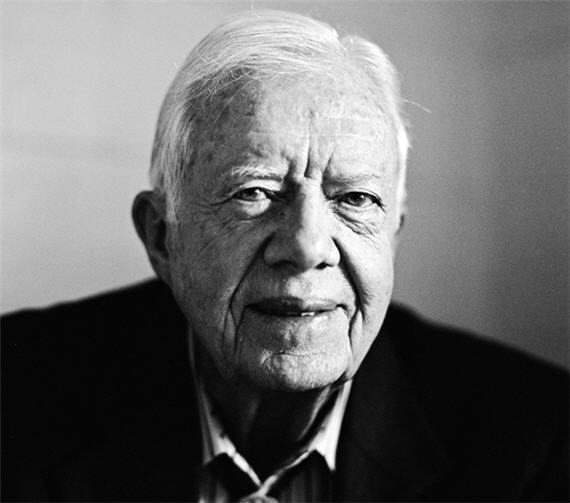 Former President Jimmy Carter announced this morning that he has cancer which has spread to his brain:
ATLANTA — Former President Jimmy Carter said Thursday that doctors had found cancer on his brain and that he would begin radiation treatments later in the day.

During a news conference at the Carter Center here, Mr. Carter said that he had four melanoma spots on his brain and that another cancerous mass had been removed from his liver during a procedure on Aug. 3. He had announced last week that he had cancer, but Thursday's appearance was the first time that he publicly detailed his condition.

"I'm perfectly at ease with whatever comes," Mr. Carter said. "I do have a deep religious faith, which I'm very grateful for."

He acknowledged, however, immediate feelings that he "had just a few weeks left" when he first learned of the cancer on his brain.

Mr. Carter, dressed in a blazer and bluejeans, was by turns clinical and homespun as he outlined his treatment plans, including months of radiation.

He announced that he would curtail his schedule and work at the Carter Center, the nonprofit he co-founded in 1982, the year after he left the White House. But he said he still hoped to travel to Nepal in November to work with Habitat for Humanity, an organization he has long supported.

Mr. Carter's doctors began to scrutinize his health closely after he caught a cold while traveling in Guyana this spring. His doctors, at Emory University in Atlanta, noticed a mass on his liver that they believed was cancerous, but surgery was delayed because Mr. Carter was scheduled to begin a book tour.

After the Aug. 3 procedure, which Mr. Carter's office described at the time as "elective," doctors concluded that the cancer was also in his brain. Mr. Carter, whose wife, Rosalynn, sat nearby on Thursday, said that his doctors had scheduled four radiation treatments at three-week intervals, and that he would receive another treatment intravenously.
Cancer has been a particular problem in the Carter family as his mother, his brother Billy, and both of his sisters all died of pancreatic cancer, with his siblings all passing at relatively young ages. The fact that the former President has lived this long without succumbing to the same issues is fortunate for him, and possibly for his immediate future since there is no sign that the cancer has spread to his pancreas as of yet. Nonetheless, when cancer has spread to multiple parts of the body, and especially the brain, it is obviously a serious situation. Here's hoping the best for the former President and his family going forward.