Former White House Communications Director Heads To Fox
Hope Hicks jumps from one pro-Trump venue to another.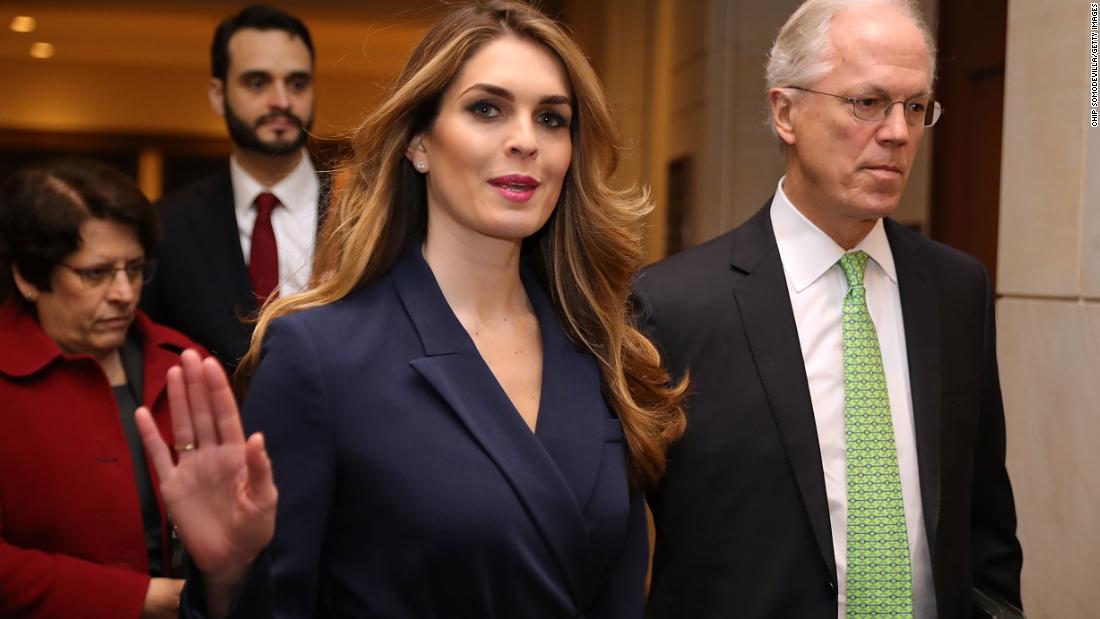 F0rmer White House Communications Director Hope Hicks is taking a new job as Communications Director for the corporate parent of Fox News Channel:
The Murdoch family, in the throes of reshaping its media empire, is bringing on a lieutenant with experience in chaotic environments: President Trump's former communications director, Hope Hicks.

Starting next year, Ms. Hicks, one of the most recognizable alumni of Mr. Trump's White House, will become the chief communications officer of Fox, the new entity to be spun out of the Walt Disney Company's acquisition of most of 21st Century Fox.

She plans to move to Los Angeles in connection with her new job. A native of Greenwich, Conn., she had been living in Manhattan since leaving the White House this year.

Ms. Hicks, 29, was an obscure public relations aide with zero political experience when Mr. Trump plucked her from his family business in 2015 to serve as press secretary for his nascent presidential bid. What followed was a remarkable ascent, as Ms. Hicks weathered staff shake-ups and a knives-out office environment to become the closest aide to the most powerful man in the world.

Her new role also signals the ambitions of Lachlan Murdoch, the elder son of the mogul Rupert Murdoch, as he prepares to lead the next version of his family's empire.

The reconstituted Fox corporation includes Fox Business, Fox Sports and a national broadcast network. But its central asset is Fox News, the highly profitable cable network with close ties to the Trump administration. The channel's prime-time stars are relentless boosters of Mr. Trump, and its former co-president, Bill Shine, became Mr. Trump's deputy chief of staff for communications in July.

The addition of Ms. Hicks to Lachlan Murdoch's core management team offers him another boost in replicating his father's influence at the upper echelons of government.

In the West Wing, Ms. Hicks was seen by many journalists and network executives as a key point of contact, able to channel the thinking of her tempestuous boss and single-handedly wrangle time for interviews with Mr. Trump in the Oval Office.

In addition to her A-list contacts in the news media, Ms. Hicks has a track record of working well with heirs to dynastic families — a desirable trait for the Murdoch clan, whose financial and personal lives play out in the public eye.

(…)

A former model and college lacrosse star, Ms. Hicks cut her teeth in public relations at Hiltzik Strategies, the high-powered New York communications firm. She worked there with Joshua Raffel, who also ended up in the Trump administration and recently landed his own post-White House job, handling communications for the e-cigarette giant Juul.

Ms. Hicks's White House tenure was not without controversy. Her role in a statement by Donald Trump Jr., about a 2016 meeting with Russian operatives at Trump Tower, attracted attention from federal investigators, and she testified for eight hours before the House Intelligence Committee shortly before leaving the West Wing.
For a time, it seems like Hicks was going to stay close to the Trump orbit after leaving the White House, possibly including taking a position similar to her White House role in Trump's already active 2020 re-election campaign. While that never materialized, Hicks has been seen as a frequent guest at the White House and has been seen departing or boarding Air Force One several times during the summer as the President traveled to and from his golf resort in Bernardsville, New Jersey. It's always possible, of course, that Hicks could end up returning for the campaign or the White House at some point, but given the fact that she'll be earning a lot more money at Fox than she ever would in government it's likely that she'll stay where she is as long as she can.
In any case, as many are no doubt likely to observe, there isn't really that much of a difference between working as the Communications Director at the White House and working as the Communications Director as Fox. For better or worse, the news side of the Fox business is, with a handful of exceptions such as Chris Wallace, Shephard Smith, and Bret Baier, little more than propaganda for the White House and the President in addition to being the President's chief source of news and information and, of course, the inspiration for the vast majority of his tweets throughout a given day. In that sense at least, Hicks's new job isn't that much different from her old job. She's just earning a lot more money.