Former Trump Aide Hope Hicks To Testify Before Congress
Hope Hicks, a former top aide to Donald Trump during the campaign and in the White House, will testify before the House Judiciary Committee.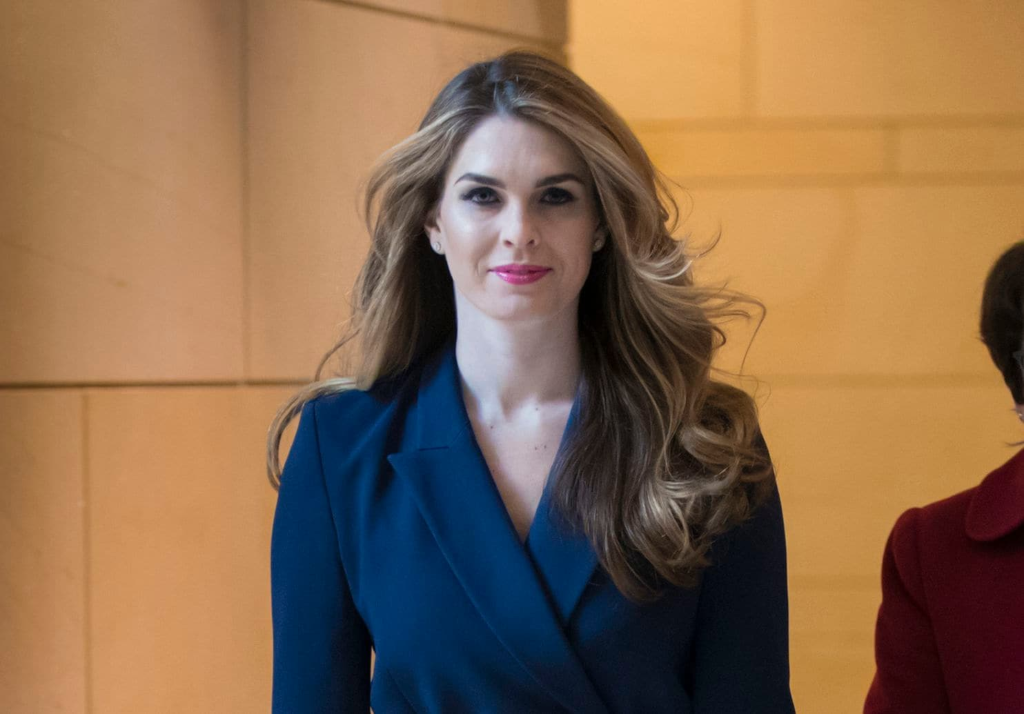 Hope Hicks, formerly a top aide to Donald Trump during the campaign and at the White House who now works in the private sector, has agreed to sit for a non-public interview before the House Judiciary Committee:
WASHINGTON — Hope Hicks, one of President Trump's closest former campaign and White House aides, has agreed to participate next week in a transcribed interview with the House Judiciary Committee on topics stemming from the special counsel's investigation, the panel's chairman said on Wednesday.

The hearing will be the first time that an aide to Mr. Trump has taken the witness stand in the committee's investigation into whether the president obstructed justice by trying to curtail inquiries into his campaign's ties to Russia. It could theoretically kick-start Democrats' efforts to build a case against Mr. Trump.

But there is no guarantee that Ms. Hicks will be forthcoming. Given Mr. Trump's claims of executive privilege over the blacked-out portions of the report by the special counsel, Robert S. Mueller III, and the evidence underlying it, Ms. Hicks could choose to try to use the president's objections as a shield to fend off questions she does not want to answer about her time at the White House.

Representative Jerrold Nadler of New York, the committee's chairman, hinted at that possibility on Wednesday. In a statement, he reiterated Democrats' views that Mr. Trump's executive privilege assertion, made after the material in question was already shared with nongovernment lawyers and then Mr. Mueller's investigators, would not stand up in court. Nor, they say, can it conceivably be applied to Ms. Hicks's work on the campaign.

"Ms. Hicks understands that the committee will be free to pose questions as it sees fit, including about her time on the Trump campaign and her time in the White House," Mr. Nadler said. "Should there be a privilege or other objection regarding any question, we will attempt to resolve any disagreement while reserving our right to take any and all measures in response to unfounded privilege assertions."

Sorting that out could be further complicated by an agreement the Justice Department made this week to begin producing key evidence assembled by Mr. Mueller that Mr. Trump had previously declared privileged. Some of that material now available to Democrats could touch on topics pertaining to Ms. Hicks.

A lawyer for Ms. Hicks, Robert Trout, declined to comment on Wednesday. News of her planned testimony was first reported by The Washington Post.

(…)

Ms. Hicks, who served as White House communications director before leaving the government last year, is referred to on more than two dozen pages of Mr. Mueller's 448-page report. She was also present for many of the Trump administration's early pivotal moments.

The Judiciary Committee issued a subpoena for Ms. Hicks in May compelling her to testify on June 19 and produce by last week any documents she had that were mentioned in Mr. Mueller's report or were related to key episodes of possible obstruction. Those include the firing of James B. Comey as F.B.I. director; efforts to get Jeff Sessions, then the attorney general, to reassert control over the Russia investigation; and any communications about the investigation.
Jennifer Rubin calls Hicks's anticipated testimony a "crack" in Trump's wall of silence:
While the testimony will occur behind closed doors, this is frankly a minor concession to lure in a very big fish. Apparently, a transcript will be released immediately, so we will know exactly what she said. Although a member of the White House Counsel's Office will be in the room, unjustified attempts to silence Hicks might be ignored, or alternatively form the basis of a record that will support a court order telling the White House to back off.

This is actually the second time a Trump confidante has crossed the president. Faced with a contempt vote, Attorney General William P. Barr blinked and began to provide materials from Mueller's investigation. The House will be learning much more regarding who said exactly what about Trump and what the strength of the evidence was.

It cannot be stressed how damaging to Trump Hicks's testimony may be. As a close confidante, she would have had communications not only with him but others in the White House. If Trump made self-incriminating statements there is no more powerful witness than Hick
When it was first announced last week that the committee wanted to speak with Hicks and other aides who had worked with Trump on the 2016 campaign and in the White House, the White House responded by trying to shut the inquiry down. Specifically, Last week, the White House instructed Ms. Hicks not to comply with the request for documents that accompanied the subpoena. In the end, Hicks did turn over documents, but they were limited to documents related to her time working on the campaign and not anything related to her time at the White House. These documents, of course, could not be included in a claim of Executive Privilege since they relate to a time when Trump was not President. The White House also strongly hinted that Hicks should decline to appear before the committee but many people suggested that she would ignore that part of the instructions due to the fact that she now holds a high-profile corporate position that could be placed in jeopardy if she were to risk a legal confrontation with the United States House of Representatives.
It's unclear exactly what the committee believes Hicks may know or be able to testify to. She was close to Trump and his top campaign officials, though, and held several key positions in the White House before stepping down as Communications Director in March of last year. According to many reports, she has retained at least some of her close ties to the Trump inner circle even after transitioning to the non-political world after leaving the White House. As such, her testimony could provide some interesting insights into what went on in the campaign and in the White House during the early years of the Administration. The question is how forthcoming she's willing to be about what she knows.